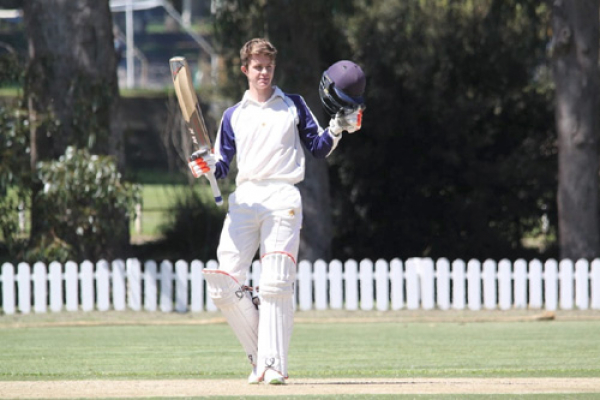 KES put together one of their finest wins of 2018 when they took on the KZN powerhouse, Hilton College at the Oppenheimer Festival which helps to nudge them up to the second spot on this week's First XI Top 50 Rankings.
Despite a well struck 107 runs by the Hilton run machine James Ritchie, KES managed to fashion a tense 6 wicket win over the top team in the country. KES made a clean sweep at the Oppenheimer Festival winning all four of their matches as they look to finish the season strongly.
Hilton College however were able to regroup and record three good wins over St Andrews College, Jeppe and Westlake from New Zealand which included a 150 from Sclanders.
At the Cape Schools Festival Grey High School came close to winning all four of their matches but had to hang in for a draw against Wynberg who managed thanks to Tando Ntini to post a total that was challenging. However Luke Beaufort was in impressive form for Grey High ending the festival with an average of 117 runs!
Rondebosch were the other form team as they too went unbeaten although they had to settle for a draw against a strong St Andrews School side. Guy Sheena spun his way to 5/92 in that match but it was not enough to separate the two teams.
Lehan Botha struck an imperious 174 not out in Rondebosch's victory over Dale College while Gabriel Gad hammered an unbeaten 116 against Queens College to underline the batting strength of the Bosch team.
Other noticeable performances from the past week included Jono Bird of Bishops getting to three figures against Selborne College with 119 runs and Kai Curran from SACS putting together a fine innings of 122 against the same opposition.
Garnett Tarr from St Andrews School also reached a century (106) in what turned out to be a big win over Wynberg College. Sadly for St Andrews School they were unexpectedly undone by an over watered pitch in their match against PRG in what was otherwise a good week for the Free State team.
Please send through your results to [email protected]
FIRST XI CRICKET RANKINGS 9 October, 2018

RANK

TEAM

PLAYED

AVG BONUS POINTS

1

HILTON COLLEGE

23

10.39

2

KES

27

8.66

3

GREY HIGH SCHOOL

30

8.40

4

RONDEBOSCH

43

7.98

5

AFFIES

26

7.92

6

GREY COLLEGE

25

7.82

7

JEPPE

18

7.71

8

MENLOPARK

25

7.67

9

ST ANDREWS SCHOOL

26

7.56

10

MARITIZBURG COLLEGE

15

7.55

11

ST BENEDICTS

15

7.29

12

SELBORNE COLLEGE

21

7.12

13

WATERKLOOF

34

7.09

14

SACS

28

7.07

15

ST STITHIANS

30

6.97

16

PRETORIA BOYS HIGH

27

6.80

17

KEARSNEY COLLEGE

19

6.65

18

PAUL ROOS GYM

31

6.65

19

CLIFTON

21

6.44

20

NOORDHEUWEL

25

6.26

21

ST DAVIDS

19

6.18

22

CENTURION

24

6.13

23

MICHAELHOUSE

17

5.95

24

PAARL GIM

21

5.90

25

PIETERSBURG

8

5.89

26

ST ANDREWS COLLEGE

22

5.87

27

MARAIS VILJOEN

31

5.61

28

NORTHWOOD

23

5.56

29

POTCH VOLKIES

23

5.50

30

GLENWOOD

22

5.47

31

NELSPRUIT

13

5.32

32

WOODRIDGE

11

5.31

33

ST CHARLES COLLEGE

17

5.31

34

BISHOPS

31

5.28

35

PAARL BOYS HIGH

17

5.28

36

GRAEME COLLEGE

25

5.22

37

GARSFONTEIN

13

5.17

38

HANS MOORE

32

5.16

39

WYNBERG

33

5.13

40

HUDSON PARK

20

5.11

41

ST ALBANS COLLEGE

35

5.01

42

ST JOHNS COLLEGE

22

4.61

43

WESTVILLE

22

4.56

44

KINGSWOOD

8

4.35

45

RUSTENBURG

17

4.34

46

HELPMEKAAR

14

4.30

47

MONTANA

18

4.14

48

MIDSTREAM

9

3.73

49

CAMBRIDGE

16

3.36

50

FRAMESBY

14

3.31

51

SOMERSET COLLEGE

12

3.31

52

MONUMENT

9

3.26

53

BEN VORSTER

10

3.11

54

DHS

12

3.08

55

NORTHCLIFF

8

2.98

56

UPLANDS

9

2.64

57

DINAMIKA

10

1.35

58

NOORD KAAP

13

1.08