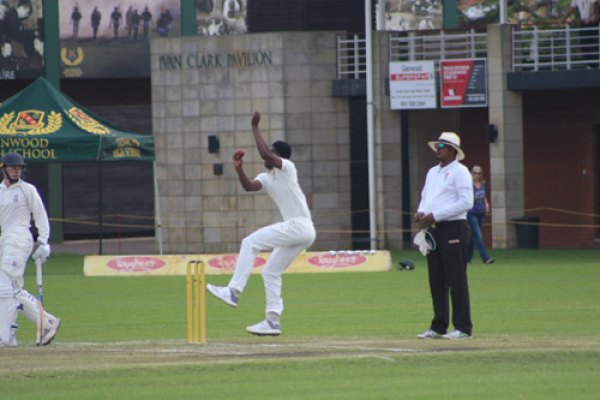 Selborne College kicked started their season with a fairly comfortable win over Hudson Park which helps to nudge them further up this week's First XI Rankings.
It was Matt Dewar who helped to steer Selborne to their 5 wicket win with a brilliant 105 runs not out which proved to be a vital contribution against Hudson Park who will be hoping to bounce back after this defeat.
Dian Forrester from Affies was also in fine form with the ball as he went about ripping the heart out of Centurion who put up a good fight but at the end the 5/33 wicket haul by Forrester proved their undoing in a run chase that never really got going.
Garsfontein will also be happy with their victory over Waterkloof who were soundly beaten thanks in part to several good contributions with the bat. Jaundre Scheepers who was left unbeaten on 115 runs along with Ralff Schmidt (86 runs) and a half century by Raynard van Niekerk helped to set a target that was out of reach of Waterkloof on the day.
Please send through your team's results to [email protected]
FIRST XI CRICKET RANKINGS 18 SEPTEMBER,2018

RANK

TEAM

PLAYED

AVG BONUS POINTS

1

HILTON COLLEGE

19

10.11

2

GREY HIGH SCHOOL

26

8.18

3

KES

22

8.00

4

SELBORNE COLLEGE

15

7.97

5

RONDEBOSCH

38

7.93

6

AFFIES

19

7.88

7

ST BENEDICTS

13

7.48

8

JEPPE

12

7.48

9

ST ANDREWS SCHOOL

22

7.35

10

SACS

19

7.29

11

KEARSNEY COLLEGE

15

7.19

12

PAARL GIM

16

7.08

13

NOORDHEUWEL

20

6.65

14

GLENWOOD

12

6.58

15

ST STITHIANS

24

6.57

16

WATERKLOOF

27

6.51

17

PAUL ROOS GYM

25

6.48

18

ST DAVIDS

19

6.18

19

MARITIZBURG COLLEGE

11

6.18

20

CLIFTON

17

6.16

21

MENLOPARK

17

6.07

22

ST CHARLES COLLEGE

12

5.97

23

GREY COLLEGE

17

5.90

24

MICHAELHOUSE

12

5.88

25

ST ANDREWS COLLEGE

17

5.79

26

MARAIS VILJOEN

23

5.73

27

PRETORIA BOYS HIGH

19

5.62

28

GARSFONTEIN

12

5.52

29

WYNBERG

21

5.32

30

CENTURION

18

5.31

31

WOODRIDGE

11

5.31

32

NORTHWOOD

13

5.29

33

ST ALBANS COLLEGE

24

5.29

34

GRAEME COLLEGE

20

4.99

35

PAARL BOYS HIGH

13

4.93

36

HUDSON PARK

16

4.74

37

NELSPRUIT

10

4.70

38

ST JOHNS COLLEGE

16

4.63

39

HELPMEKAAR

13

4.62

40

WESTVILLE

12

4.35

41

KINGSWOOD

8

4.35

42

POTCH VOLKIES

17

4.34

43

BISHOPS

21

4.20

44

MONTANA

18

4.14

45

HANS MOORE

22

4.00

46

MIDSTREAM

9

3.73

47

CAMBRIDGE

14

3.66

48

RUSTENBURG

12

3.64

49

DHS

8

3.40

50

BEN VORSTER

9

3.40

51

FRAMESBY

13

3.08

52

NORTHCLIFF

8

2.98

53

MONUMENT

8

2.93

54

UPLANDS

9

2.64

55

SOMERSET COLLEGE

10

2.34

56

DINAMIKA

9

1.48

57

NOORD KAAP

8

1.10