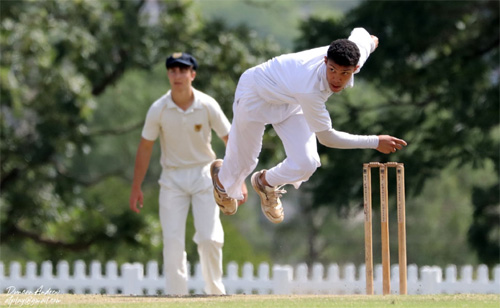 Many teams took a break this past weekend but there were some notable results that have a bearing on this week's First XI School Cricket Rankings.
Paarl Gim pulled off their result of the decade with an unexpected win over high flying Rondebosch who although missing two of their SA U19 players would have still backed themselves to win.
SACS, thanks to a bowling spell of 4/17 by Liyema Waqu, were able to get a victory over Paarl Boys High who hang on to their top 10 spot.
Wynberg's Kyle Williams hammered the Parel Vallei attack scoring 109 whilst Naas Beets snatched 5/12 to give Wynberg the win.
Adam du Plessis was in fine form for Selborne College as he notched up 116 runs to give them a narrow win over a competitive Kingswood College.
Please send through your results to [email protected]
FIRST XI CRICKET RANKINGS 2 NOVEMBER,  2021

RANK

TEAM

 PLAYED

AVG BONUS POINTS

1

HILTON COLLEGE

6

16.50

2

AFFIES

10

15.35

3

RONDEBOSCH

17

15.18

4

GREY COLLEGE

11

13.67

5

GREY HIGH SCHOOL

15

12.90

6

SACS

16

12.71

7

KES

9

12.51

8

MICHAELHOUSE

6

12.43

9

WATERKLOOF

17

12.09

10

PAARL BOYS HIGH

13

11.78

11

MARITIZBURG COLLEGE

10

11.77

12

POTCH VOLKIES

11

11.45

13

MENLOPARK

10

11.32

14

ST ANDREWS SCHOOL

12

11.24

15

WESTVILLE

15

10.95

16

GLENWOOD

7

10.90

17

WYNBERG

15

10.87

18

BISHOPS

13

10.86

19

ST STITHIANS

18

10.62

20

 PAUL ROOS GYM

9

10.37

21

POTCH GIM

7

10.31

22

PAARL GIM

9

9.91

23

RUSTENBURG

7

9.71

24

ST JOHNS COLLEGE

18

9.61

25

NOORDHEUWEL

5

9.60

26

SELBORNE COLLEGE

8

9.33

27

ST CHARLES COLLEGE

5

9.24

28

KINGSWOOD

5

8.94

29

JEPPE

14

8.74

30

HANS MOORE

6

8.60

31

PRETORIA BOYS HIGH

8

8.46

32

CURRO DURBANVILLE

12

8.28

33

ST ANDREWS COLLEGE

12

8.19

34

CLIFTON

8

8.08

35

PARKTOWN

2

7.95

36

ST ALBANS COLLEGE

6

7.73

37

GARSFONTEIN

3

7.57

38

QUEENS COLLEGE

13

7.45

39

FRAMESBY

3

7.30

40

PEARSON

13

7.25

41

NORTHWOOD

15

7.19

42

DHS

5

7.14

43

KEARSNEY COLLEGE

6

7.07

44

CENTURION

17

6.84

45

GRAEME COLLEGE

11

6.65

46

VICTORIA PARK

3

6.43

47

ST DAVIDS

14

6.02

48

THOMAS MORE COLLEGE

3

6.00

49

ST BENEDICTS

11

5.94

50

PAREL VALLEI

6

5.87

51

DALE COLLEGE

6

5.85

52

WOODRIDGE

6

5.72

53

Middelburg HS

5

5.66

54

HUDSON PARK

4

5.23

55

DURBANVILLE

5

5.16

56

NELSPRUIT

7

5.04

57

MILNERTON

4

4.93

58

DF MALAN

3

4.77

59

SOMERSET COLLEGE

11

4.72

60

CURRO HILLCREST

5

4.70

61

BOLAND LANDBOU

5

4.40

62

HTS DROSTDY

4

4.38

63

DAN PIENAAR

3

4.33

64

MUIR

4

4.18

65

MARAIS VILJOEN

13

4.02

66

MONTANA

4

3.50

67

QUEENS HIGH

6

3.22

68

TRINITY HOUSE

2

2.50

69

STELLENBERG

3

2.37

70

NICO MALAN

2

2.30

71

NORTHCLIFF

3

1.50

72

BRACKENFELL

3

1.07

73

CBC BOKSBURG

3

0.53

74

CAMBRIDGE

2

0.50
Photo: Andrew Duncan