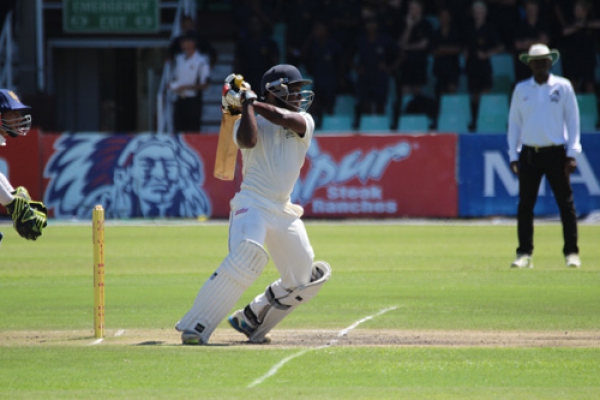 The St. Stithians machine rumbled on last week to complete another three wins for the season and in so doing remain unbeaten justifying their No.1 position on the First XI Belgotex Top 50 Rankings for this week.
Josh Richards has been in prolific form for Saints and he was at it again when he took the game away from Waterkloof, scoring 68 runs in their T20 victory over the traditionally strong Klofies team.
With mid-term break affecting several of the leading private schools there was no movement on the table for Michaelhouse and Hilton but Grey High School and St. Andrews College will be happy with their week's work as they make steady progress up the rankings.
Sine Qeshile from Hudson Park put Queen's College to the sword in a fine displaying of batting scoring 104 not out and setting up a 132 run win over the struggling Queen's College side. Hudson Park are not back into the top ten zone and could still challenge for a higher spot as the season progresses.
Please send through your outstanding results to [email protected] to ensure they are all captured in the rankings system.
FIRST XI CRICKET RANKINGS 20 February, 2017

RANK

TEAM

PLAYED

AVG PTS

1

ST STITHIANS

12

10,58

2

MICHAELHOUSE

7

8,87

3

HILTON COLLEGE

6

8,65

4

WYNBERG

16

8,61

5

GREY HIGH SCHOOL

14

7,99

6

RONDEBOSCH

16

7,93

7

ST ANDREWS COLLEGE

10

7,93

8

WESTVILLE

8

7,70

9

HUDSON PARK

11

7,58

10

PAUL ROOS GYM

12

7,54

11

NELSPRUIT

8

7,45

12

MARITIZBURG COLLEGE

6

6,97

13

SELBORNE COLLEGE

11

6,95

14

ST ANDREWS SCHOOL

8

6,90

15

ST BENEDICTS

5

6,80

16

WOODRIDGE

10

6,36

17

PAARL GIM

14

6,22

18

GLENWOOD

12

6,17

19

WATERKLOOF

16

6,05

20

SACS

15

6,03

21

BISHOPS

12

5,87

22

ST DAVIDS

11

5,86

23

CLIFTON

11

5,83

24

CENTURION

9

5,73

25

PAARL BOYS HIGH

14

5,68

26

MENLOPARK

8

5,63

27

DURBANVILLE

7

5,56

28

PEARSON

14

5,51

29

MARAIS VILJOEN

6

5,48

30

POTCH VOLKIES

11

5,21

31

NORTHCLIFF

11

4,95

32

MONTANA

8

4,89

33

ST JOHNS COLLEGE

15

4,75

34

KES

9

4,66

35

NOORDHEUWEL

8

4,50

36

GREY COLLEGE

5

4,16

37

GARSFONTEIN

9

4,16

38

CAMBRIDGE

6

4,00

39

ST CHARLES COLLEGE

8

3,96

40

HANS MOORE

6

3,87

41

MILNERTON

5

3,58

42

TRINITY HOUSE

6

3,57

43

ST ALBANS COLLEGE

7

3,49

44

AFFIES

11

3,29

45

KEARSNEY COLLEGE

7

3,29

46

KINGSWOOD

6

3,03

47

PRETORIA BOYS HIGH

10

3,03

48

DHS

8

2,50

49

JEPPE

9

2,40

50

QUEENS COLLEGE

5

2,30