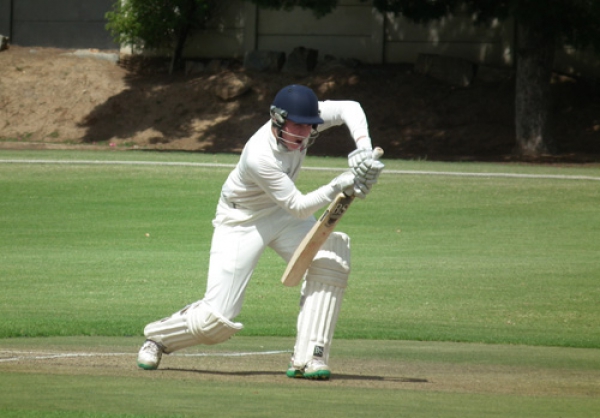 The past week saw St.Stithians cement their place at the top of the Belgotex First XI Top 50 Rankings for yet another week as they stretch their unbeaten run to ten matches for the season.
Joshua Richards was again amongst the runs with two half centuries as Saints took care of both St. Davids and St John's College in a clinical display of winning cricket.
Wynberg are enjoying a strong run at the moment winning all three of their matches last week which included a solid five wicket win overy SACS. These results nudge Wynberg into second spot followed by the still unbeaten Michaelhouse who played out a draw with Maritzburg College.
There were some notable performances from several players last week which included at brilliant 118 runs off 111 balls by St Andrew's College batter David Rushmere who was involved in a 173 partnership with skipper Chris Benjamin when they beat the touring UK side Wellington College.
Please send through all your outstanding results to [email protected] to ensure they are all included in the rankings.
FIRST XI CRICKET RANKINGS 14 February, 2017

RANK

TEAM

PLAYED

AVG PTS

1

ST STITHIANS

10

10,32

2

WYNBERG

14

8,90

3

MICHAELHOUSE

7

8,87

4

HILTON COLLEGE

6

8,65

5

MARITIZBURG COLLEGE

5

8,24

6

RONDEBOSCH

13

7,77

7

GREY HIGH SCHOOL

11

7,58

8

SELBORNE COLLEGE

10

7,57

9

NELSPRUIT

8

7,45

10

WESTVILLE

7

7,34

11

ST ANDREWS SCHOOL

7

7,21

12

ST ANDREWS COLLEGE

8

7,18

13

HUDSON PARK

9

7,07

14

PAARL GIM

11

6,72

15

WATERKLOOF

13

6,60

16

PAUL ROOS GYM

10

6,58

17

WOODRIDGE

10

6,36

18

CLIFTON

10

6,34

19

DURBANVILLE

6

6,23

20

GLENWOOD

10

6,19

21

CENTURION

7

6,16

22

PAARL BOYS HIGH

13

6,06

23

BISHOPS

11

5,76

24

PEARSON

12

5,53

25

SACS

13

5,24

26

NOORDHEUWEL

7

5,09

27

POTCH VOLKIES

9

5,02

28

ST DAVIDS

10

4,96

29

NORTHCLIFF

11

4,95

30

MONTANA

8

4,89

31

MENLOPARK

7

4,50

32

ST JOHNS COLLEGE

14

4,33

33

AFFIES

8

4,28

34

GREY COLLEGE

5

4,16

35

CAMBRIDGE

6

4,00

36

GARSFONTEIN

8

3,90

37

HANS MOORE

6

3,87

38

TRINITY HOUSE

6

3,57

39

KES

8

3,55

40

ST CHARLES COLLEGE

5

3,52

41

KINGSWOOD

5

3,50

42

KEARSNEY COLLEGE

7

3,29

43

ST ALBANS COLLEGE

6

2,88

44

DHS

7

2,77

45

JEPPE

8

2,61

46

PRETORIA BOYS HIGH

9

2,58

47

BOLAND LANDBOU

7

1,67

48

SOMERSET COLLEGE

7

0,99

49

STIRLING HS

7

0,77

50

NOORD KAAP

5

0,64