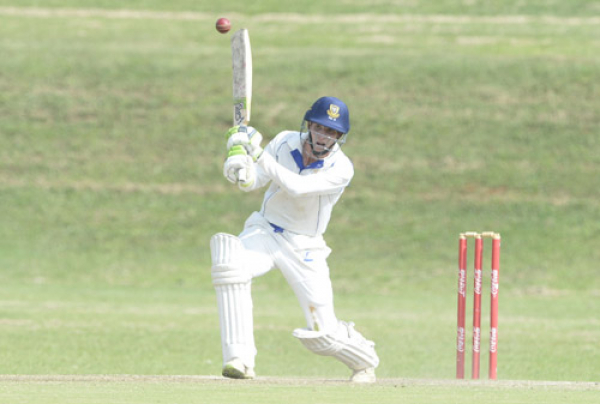 Jeppe remain on the top of this week's First XI Rankings by a whisker after succumbing to their neighbours St.Stithians which has served to tighten up the field at the top of the table.
Saints had a golden opportunity to perhaps take the pole position after a couple of T20 wins but came up against a buoyant Pretoria Boys High side that put in their best performance of the year. Nathan Meyer and Ruan van Rooyen both reached half centuries to help set a solid foundation for their 87 runs win.
SACS got the better of Wynberg with a fine unbeaten 74 runs by Nathan Ansell who was ably supported by Daniel Smith who also reached struck a half century.
Jeppe however did manage to secure a comprehensive win over St Albans College which turned out to be a run feast for their batters as L.Manje (104), B.Hicks (68), D.Nicholas (62) and L.Ndlovu (55) all cashed in with some valueable runs. Thanks to this win Jeppe narrowly remain at the top of the table.
As the first half of the 2019 season draws to an end please send through your results to [email protected]
FIRST XI CRICKET RANKINGS 5 March, 2019

RANK

TEAM

PLAYED

AVG BONUS POINTS

1

JEPPE

9

8.86

2

HILTON COLLEGE

12

8.37

3

RONDEBOSCH

22

8.18

4

SACS

15

8.13

5

ST STITHIANS

19

7.93

6

ST ANDREWS COLLEGE

17

7.71

7

MENLOPARK

7

7.49

8

ST CHARLES COLLEGE

15

7.47

9

PAARL GIM

9

7.43

10

MARITIZBURG COLLEGE

7

7.09

11

KES

12

7.08

12

GREY HIGH SCHOOL

16

7.03

13

WESTVILLE

11

6.95

14

WYNBERG

12

6.64

15

GREY COLLEGE

13

6.62

16

PAUL ROOS GYM

15

6.56

17

BISHOPS

17

6.52

18

HUDSON PARK

17

6.43

19

MICHAELHOUSE

12

6.33

20

PRETORIA BOYS HIGH

14

6.30

21

CENTURION

10

6.04

22

GLENWOOD

11

6.04

23

ST JOHNS COLLEGE

13

5.98

24

KINGSWOOD

11

5.81

25

HELPMEKAAR

9

5.70

26

WATERKLOOF

18

5.67

27

HANS MOORE

7

5.46

28

NOORDHEUWEL

11

5.39

29

DALE COLLEGE

9

5.19

30

PAARL BOYS HIGH

13

4.61

31

KEARSNEY COLLEGE

11

4.46

32

SELBORNE COLLEGE

14

4.46

33

ST ANDREWS SCHOOL

10

4.39

34

GARSFONTEIN

8

4.39

35

MIDSTREAM

14

4.35

36

CAMBRIDGE

12

4.33

37

ST DAVIDS

10

4.27

38

FRAMESBY

13

4.18

39

DHS

8

4.14

40

AFFIES

11

4.11

41

PINELANDS

6

3.97

42

THOMAS MORE

5

3.96

43

MONTANA

6

3.83

44

GRAEME COLLEGE

14

3.77

45

ST ALBANS COLLEGE

11

3.76

46

MARAIS VILJOEN

15

3.51

47

STELLENBERG

9

3.41

48

DURBANVILLE

7

3.37

49

PEARSON

14

3.29

50

CURRO DURBANVILLE

9

3.14

51

MONUMENT

7

3.07

52

SOMERSET COLLEGE

7

2.87

53

CLIFTON

12

2.57

54

ST BENEDICTS

7

2.30

55

PARKTOWN

5

2.28

56

QUEENS COLLEGE

6

2.23

57

POTCH VOLKIES

11

2.19

58

NORTHWOOD

9

1.91

59

BEN VORSTER

5

1.32

60

NORTHCLIFF

7

1.21

61

STIRLING HS

5

1.12