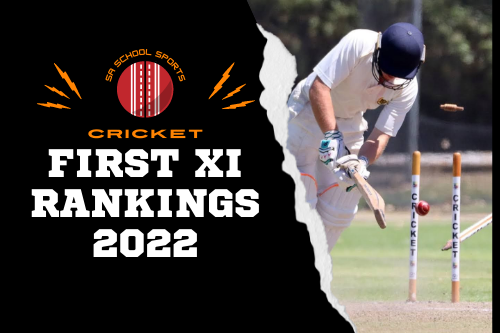 The First XI School Cricket Rankings for 2022 are out and at first glance it is clear that in the early stages of the season the bulk of the performances are coming from the Western Cape.
Hosting their highly successful Peninsula Festival earlier this month Rondebosch, Bishops, SACS and Wynberg put on a dominant display against some of the strongest teams from KZN and Gauteng winning 19 out of 20 matches.
It should come as no surprise to see the four Southern Suburb teams in the leading group with Grey High School and KES flying the flag for the Eastern Cape and Gauteng respectively.
As we have done for the past 15 years 'preseason' results have been included and at this stage the rankings are only reflecting teams that have played a minimum of 3 matches.
The rankings formula takes into consideration factors such as : strength of opposition, home/away status, margin of victory, margin of loss and actual results (W/L/D).
We can expect some rapid changes to the rankings table as more teams are entered and more results are included.
Please ensure your team's results are with us be emailing them to [email protected]
FIRST XI CRICKET RANKINGS 24 January,  2022

RANK

TEAM

 PLAYED

AVG BONUS POINTS

1

RONDEBOSCH

5

14.86

2

BISHOPS

6

14.70

3

GREY HIGH SCHOOL

7

13.94

4

SACS

5

13.86

5

KES

7

13.47

6

SELBORNE COLLEGE

4

12.50

7

WYNBERG

8

12.40

8

MENLOPARK

3

11.70

9

PAARL GIM

5

11.46

10

CLIFTON

4

11.43

11

MICHAELHOUSE

3

11.33

12

KEARSNEY COLLEGE

3

11.30

13

CENTURION

5

10.78

14

AFFIES

5

10.72

15

PAARL BOYS HIGH

6

10.68

16

GARSFONTEIN

3

10.67

17

WATERKLOOF

9

10.28

18

GREY COLLEGE

6

10.25

19

WESTVILLE

5

10.22

20

POTCH VOLKIES

3

10.07

21

ST ANDREWS COLLEGE

5

10.06

22

NORTHWOOD

6

8.98

23

HELPMEKAAR

5

8.80

24

MARAIS VILJOEN

5

8.34

25

HANS MOORE

4

8.28

26

HILTON COLLEGE

6

8.08

27

ST ANDREWS SCHOOL

5

7.62

28

PRETORIA BOYS HIGH

6

7.30

29

GLENWOOD

4

7.25

30

KINGSWOOD

3

7.23

31

CORNWALL HILL

5

7.14

32

NOORD KAAP

3

7.00

33

 PAUL ROOS GYM

4

6.95

34

MONTANA

5

6.20

35

CURRO DURBANVILLE

5

6.18

36

DHS

4

6.08

37

POTCH GIM

6

5.93

38

ST CHARLES COLLEGE

6

5.88

39

MARITIZBURG COLLEGE

3

5.63

40

NOORDHEUWEL

3

5.40

41

NELSPRUIT

3

4.73

42

DF MALAN

3

4.67

43

PEARSON

7

4.64

44

QUEENS COLLEGE

5

4.50

45

PAREL VALLEI

6

3.87

46

ST DAVIDS

7

3.70

47

NORTHCLIFF

5

3.40

48

ST JOHNS COLLEGE

6

3.17

49

BRACKENFELL

4

2.45

50

BOLAND LANDBOU

6

2.40

51

SOMERSET COLLEGE

6

2.03

52

ZWARTKOP

3

1.97

53

MIDSTREAM

5

1.58

54

DURBANVILLE

4

1.10

55

RUSTENBURG

3

1.07

56

CAMBRIDGE

5

0.74

57

STELLENBERG

3

0.40
Photo: Andrew Duncan