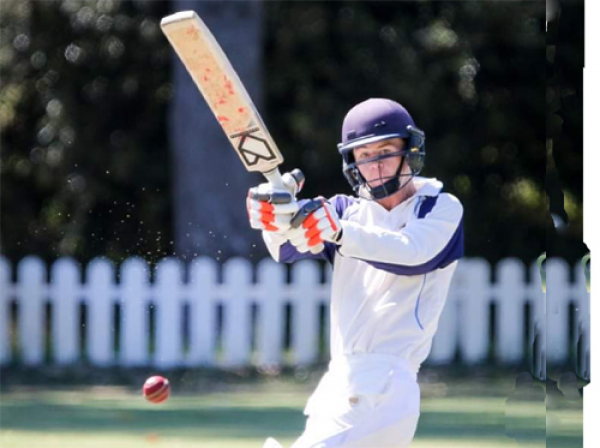 Rondebosch are the team that hits the front after failing to lose a single match in their first 10 outings and take a firm grip on the No.1 spot at the start of the season.
Rondebosch have been in terrific form with the likes of Guy Sheena proving to be a match winner on several occasions already. The spinner was again causing havoc on the weekend taking 5/36 to help to secure the win over Paarl Boys High.
Last year it was Hilton College who reigned supreme and although they have enjoyed some notable success in 2019 they did go down to Rondebosch and last week had to settle for second place when Maritzburg College turned in a big performance. A couple of solid half centuries by Dean Dyer and Ross Klusenar helped to lock down a 4 wicket win for College over Hilton which has helped them to enter the SA School Sports First XI Rankings in the top five. Hilton, who have blooded several younger batters will be hoping to regain the form of 2018 as they play during the season.
Nicholas Keevy and Tiaan van Vuuren from Grey High School supplied their team with a big partnership to steer them to victory over Bishops. Keevy ended unbeaten on 113 runs with Van Vuuren playing his hand with an unbeaten half century. Bishops' Travis Norris also managed to get to three figures without losing his wicket.
Bryce Parson, who seems to have been around for years, along with fellow KES run machine Jason Bracher put Noordheuwel to the sword with two powerful centuries in what turned out to be a resounding win for KES.
As the season progresses please send through your results to [email protected]
Note that the Ranking formula makes use of several factors including: strength of opposition, margin of victory, margin of defeat, home/away status, actual result (W/L/D) and others to determine the final standings. Each factor garners the team a prescribed amount of 'bonus points' which understandably will vary from match to match depending on the various factors.
FIRST XI CRICKET RANKINGS 22 January, 2019

RANK

TEAM

PLAYED

AVG BONUS POINTS

1

RONDEBOSCH

10

9.83

2

GREY HIGH SCHOOL

7

9.16

3

JEPPE

3

9.13

4

MARITIZBURG COLLEGE

2

8.90

5

WYNBERG

5

8.86

6

KES

5

8.80

7

MENLOPARK

2

8.55

8

HILTON COLLEGE

5

8.12

9

ST ALBANS COLLEGE

3

7.10

10

SACS

6

6.78

11

PAARL GIM

5

6.66

12

GREY COLLEGE

6

6.45

13

PRETORIA BOYS HIGH

6

6.35

14

DHS

3

6.10

15

WATERKLOOF

6

6.03

16

PAUL ROOS GYM

8

5.99

17

RUSTENBURG

3

5.50

18

BISHOPS

5

5.42

19

MONTANA

3

5.20

20

KEARSNEY COLLEGE

4

5.03

21

CENTURION

4

5.00

22

ST CHARLES COLLEGE

4

5.00

23

CLIFTON

3

4.83

24

NOORDHEUWEL

8

4.83

25

GARSFONTEIN

6

4.80

26

GRAEME COLLEGE

5

4.66

27

FRAMESBY

6

4.43

28

SELBORNE COLLEGE

6

4.33

29

AFFIES

4

4.10

30

WESTVILLE

4

3.88

31

PAARL BOYS HIGH

5

3.54

32

ST ANDREWS COLLEGE

4

3.53

33

MARAIS VILJOEN

6

3.28

34

GLENWOOD

4

3.20

35

PEARSON

8

1.98

36

NORTHWOOD

3

1.40