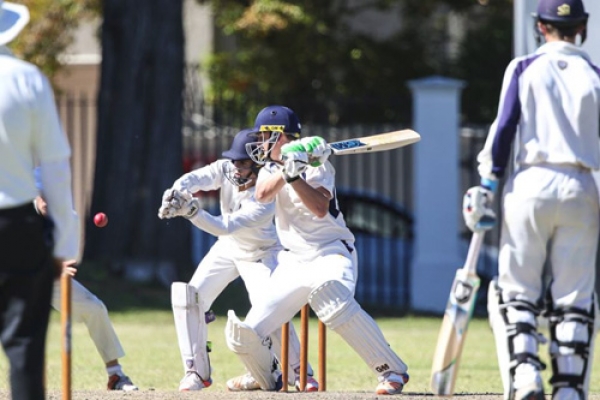 St Stithians are the leading team in South Africa for the moment although a quick look at the latest First XI Belgotex Sports Rankings clearly reveals that the teams in the top section of the table are very close with a result either way capable of causing some impact.
However Saints strung three victories together last week with their match against Parktown perhaps their toughest of the three. It was Cameron Rowe, who hammered a quick 77 runs not out that secured the victory for St.Stithians after their bowlers had reduced the Parktown team to a modest total.
Hilton College of course are the other team who have been in great form this season and could well still have enough in the tank to snatch the No1 spot before time has been called on the 2017 season. They made quick work of a dismal performance by DHS and will be facing Michaelhouse is their next encounter this week. It has the makings for a titanic struggle and hopefully the weather will let this one play out to the end.
Some notable individual performances came from Clifton's Masojada who clobbered an unbeaten 113 runs against Glenwood and Dian Liebenberg reached three figures as well for Affies.
There was also a massive 188 runs by Matt Dewar for Selborne in their win against Western Region and Peter Javis from St.Andrew's College will be happy with his century against Woodridge College.
As the season draws to a close please send your results to [email protected]
FIRST XI CRICKET RANKINGS 31 October, 2017

RANK

TEAM

PLAYED

AVG PTS

1

ST STITHIANS

29

9.08

2

HILTON COLLEGE

21

9.07

3

MICHAELHOUSE

16

8.43

4

GREY HIGH SCHOOL

25

8.29

5

RONDEBOSCH

30

8.21

6

SELBORNE COLLEGE

28

8.19

7

NELSPRUIT

20

8.00

8

ST ANDREWS COLLEGE

28

7.92

9

WYNBERG

40

7.60

10

PAUL ROOS GYM

30

7.59

11

HUDSON PARK

25

7.39

12

WOODRIDGE

25

6.94

13

FRAMESBY

10

6.86

14

PINELANDS

14

6.85

15

ST ANDREWS SCHOOL

22

6.71

16

WATERKLOOF

24

6.71

17

MARAIS VILJOEN

20

6.50

18

ST JOHNS COLLEGE

31

6.40

19

BRACKENFELL

12

6.28

20

WESTVILLE

19

6.24

21

MARITIZBURG COLLEGE

17

5.88

22

CENTURION

27

5.86

23

NORTHCLIFF

16

5.83

24

NOORDHEUWEL

29

5.72

25

UPLANDS

22

5.63

26

GOUDVELD

16

5.61

27

PRETORIA BOYS HIGH

24

5.57

28

HELPMEKAAR

11

5.55

29

SACS

26

5.48

30

PAARL BOYS HIGH

23

5.47

31

GREY COLLEGE

12

5.40

32

KES

20

5.30

33

GLENWOOD

20

5.18

34

ST BENEDICTS

17

5.18

35

ST DAVIDS

16

5.15

36

POTCH VOLKIES

21

5.13

37

ST CHARLES COLLEGE

16

5.08

38

BISHOPS

23

5.07

39

DURBANVILLE

11

5.05

40

AFFIES

24

5.03

41

HANS MOORE

25

5.01

42

CLIFTON

25

5.00

43

PAARL GIM

20

4.97

44

GARSFONTEIN

18

4.87

45

MENLOPARK

25

4.70

46

PEARSON

18

4.65

47

NORTHWOOD

17

4.42

48

MONTANA

22

4.34

49

KEARSNEY COLLEGE

16

4.01

50

STELLENBERG

12

3.68

51

DALE COLLEGE

13

3.68

52

MILNERTON

10

3.53

53

CAMBRIDGE

13

3.41

54

JEPPE

15

3.37

55

KINGSWOOD

11

2.84

56

TRINITY HOUSE

14

2.52

57

DHS

15

2.33

58

QUEENS COLLEGE

12

1.99

59

BOLAND LANDBOU

12

1.88

60

ST ALBANS COLLEGE

17

1.81

61

SOMERSET COLLEGE

12

1.80

62

NOORD KAAP

10

1.78

63

MONUMENT

10

1.75

64

STIRLING HS

10

0.75