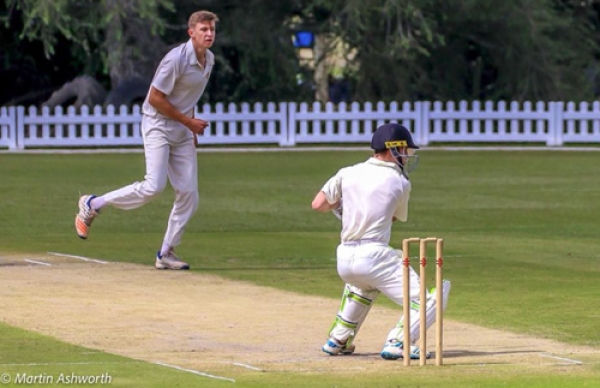 Hilton College rise to the top of this week's Belgotex Sports First XI Top 60 Rankings although they are joined there with St. Stithians who have led from the start of the year.
However Hilton have played very solid cricket this season and went on to complete a comfortable win over St. Charles College. Hilton College have grown into a formidable powerhouse of school cricket under the directorship of ex- Dolphins and Protea's player, Dale Benkenstein, and will be hoping to stay on the top for season to come.
Yet Saints have led from the start and with the remaining matches still to be played one has to believe that St.Stithians will doing everything they can to own the No.1 spot by the conclusion of the season. An easy win over a weak team in the form of Monument was all they took away from last week yet few would bet against them finishing the season strongly.
There were also a couple of tight finishers last week with Grey College just managing to edge out Affies with a 4 run win and then it was Grey's turn to taste their own medicine when KES beat them by 1 wicket. Pretoria Boys High also sneaked home with a 1 wicket win over Jeppe, thanks to Liam Treadwell returning figures of 4/37.
Grey High School's, Tristan Stubbs was again in the runs with an unbeaten 109 runs against St Andrews College. Stubbs found good support in Luke Beaufort and Heath Richards who both notched up half centuries. St. Andrews College's charge was led by David Rushmere who scored a beligerant 104 runs but it was sadly in a losing cause, SAC falling short by 51 runs.
Please ensure your results have been sent to [email protected]
FIRST XI CRICKET RANKINGS 24 October, 2017

RANK

TEAM

PLAYED

AVG PTS

1

HILTON COLLEGE

20

8.83

ST STITHIANS

26

8.83

3

MICHAELHOUSE

16

8.43

4

GREY HIGH SCHOOL

25

8.29

5

RONDEBOSCH

27

8.16

6

ST ANDREWS COLLEGE

27

8.01

7

SELBORNE COLLEGE

26

7.88

8

NELSPRUIT

19

7.73

9

WYNBERG

38

7.69

10

HUDSON PARK

24

7.48

11

PAUL ROOS GYM

29

7.41

12

WOODRIDGE

23

7.07

13

FRAMESBY

10

6.86

14

PINELANDS

13

6.78

15

ST JOHNS COLLEGE

28

6.64

16

WESTVILLE

18

6.54

17

MARAIS VILJOEN

20

6.50

18

WATERKLOOF

23

6.42

19

ST ANDREWS SCHOOL

20

6.25

20

BRACKENFELL

11

5.88

21

CENTURION

26

5.87

22

NOORDHEUWEL

27

5.68

23

UPLANDS

22

5.63

24

MARITIZBURG COLLEGE

16

5.57

25

PRETORIA BOYS HIGH

23

5.56

26

SACS

25

5.56

27

KES

19

5.52

28

NORTHCLIFF

15

5.51

29

PAARL BOYS HIGH

23

5.47

30

GOUDVELD

15

5.27

31

ST DAVIDS

14

5.26

32

POTCH VOLKIES

21

5.13

33

ST CHARLES COLLEGE

16

5.08

34

DURBANVILLE

11

5.05

35

HELPMEKAAR

10

5.03

36

HANS MOORE

25

5.01

37

ST BENEDICTS

15

4.98

38

PAARL GIM

20

4.97

39

GARSFONTEIN

18

4.87

40

AFFIES

22

4.76

41

MENLOPARK

25

4.70

42

GREY COLLEGE

11

4.68

43

GLENWOOD

18

4.67

44

PEARSON

18

4.65

45

CLIFTON

23

4.58

46

BISHOPS

21

4.58

47

MONTANA

21

4.53

48

NORTHWOOD

16

4.21

49

STELLENBERG

11

3.98

50

KEARSNEY COLLEGE

15

3.80

51

DALE COLLEGE

13

3.68

52

MILNERTON

10

3.53

53

JEPPE

15

3.37

54

CAMBRIDGE

12

2.88

55

KINGSWOOD

11

2.84

56

DHS

14

2.45

57

QUEENS COLLEGE

11

2.06

58

ST ALBANS COLLEGE

15

1.99

59

TRINITY HOUSE

13

1.92

60

BOLAND LANDBOU

12

1.88

61

SOMERSET COLLEGE

12

1.80

62

NOORD KAAP

10

1.78