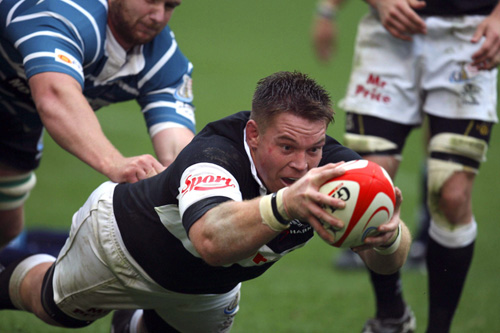 A world away from the cringe-worthy mêlée of schoolboy rugby today, John William Smit's formative years were rather spent in a manner far more conducive to a healthy upbringing.
First picking up a ball at the age of eleven at Fields Primary School in Rustenburg; his sole ambition was still to grace the courts of the major tennis arenas of the ATP Tour. It was only in Standard Nine (Grade Eleven) that a culmination of Craven Week success and Rugby World Cup hysteria led him to make the now telling realization that he had a pragmatic shot of making a career out of the game; but always in conjunction with a tertiary qualification. It was in matric that this became a reality when he signed his first junior contract offered by the Sharks; and so began the first step in one of the most decorated careers in the history of the game.
"Pretoria Boy's High was the best gift my parents could have given me"
"I think the journey I followed (at a standard co-ed primary school) was good to give me a balance as a very young guy. My dad was an engineer who got transferred from mine to mine and he wanted to give me stability by putting me in a central school and Pretoria Boys High was the best central school in his opinion. I can confidently say that Boys High was the best gift my parents could have given me."
The glisten in the eye of the new Sharks CEO is immediately apparent when he takes a moment to reminisce on a simpler time when schoolboys were encouraged to act the part by throwing caution to the wind and exhibit enthusiastic and enterprising rugby; rather than over-structured and highly orthodox modern phase play that lists winning not as an ambition, but an operational necessity.
Not only does his smile extend to the memories made on the field, but the image of his parents pulling out a deck chair, taking it easy and enjoying the game he so loved. "I don't think overbearing sideline parents understand the damage they do to their kids. I was so fortunate that my parents never stood there shouting and screaming at me. They just hoped I wouldn't injure myself! If my dad ran up and down the field, I would forget what the sport is really about."
"The sad fact is that today, kids of Eleven or Twelve are being told that they need to focus on one sport and I think that is wrong, to be honest. To focus on one segment of your life at such a young age is a complete waste. I was fortunate that we didn't have professional rugby as an alternative to studying.
To focus in your early teens on something so specific will mean missing out on so much else and that's just sad."
As crippling as parental pressure may be, the self-induced perception (and widely held South African belief) that 'bigger is better' is of grave concern to the former Bok Captain. A largely unregulated supplement industry and lack of age-restrictive nuance from suppliers has led to body augmentation that is far from natural. For Smit, the buck stops at home:
"Parents have a huge responsibility (regarding gym and supplements) and for a teenager to be pushing weights and taking supplements as they do; it's just crazy. We need to allow our kids to be kids. I truly believe that (with boys maturing later than girls) we need to let bodies develop to a certain stage before we try and manipulate them. To allow a contract to be the carrot to make 17 year old kids take supplements that are often illegal is a sad situation and a sad reality in our country. If I could have any success with my son, I will allow a platform for him to enjoy high school. I don't want to see him pump iron at 15 so that he can play first team the next year."
What is abundantly clear is that under Smit's reign, the junior structures of the Sharks will be marked by a single ideal: Balance. He is pensive, fair and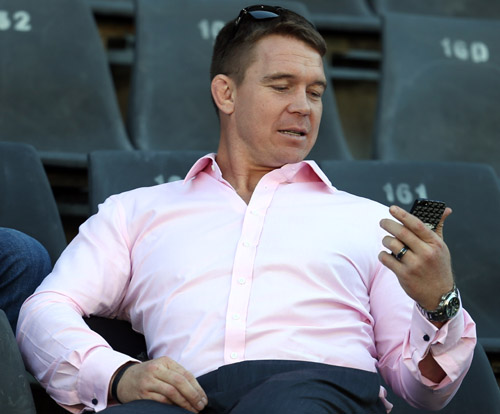 actively seeks to consider both sides of an argument. He casually weighs up the question of whether televised schoolboy clashes bring forth too much pressure on young shoulders. He resolves that though this is the case, it's fantastic preparation for the upcoming stresses of matric exams and first-class rugby after school, should players choose to walk that path.
"We need to put more emphasis on balanced rugby players. The same effort that goes into the big games and sponsorships and junior contracts should be placed on academics. I like the focus on our young players because it feeds the South African rugby system, but we have to enable them for life after rugby, whether they become professionals or not."
With humility in abundance, the most significant statement was one that all school-leavers should covet and take to heart; for one of John Smit's few disappointments is the fact that he didn't finish his BCom at UKZN.
"I am lucky that it worked out for me (playing for the Sharks and Springboks); but in hindsight, having a degree would have made my current job a lot easier. You only realize after being a seasoned professional how much spare time you had as a youngster and it's a massive regret of mine."
John Smit retired from the game of rugby as the most capped Springbok of all time and led South Africa to a World Cup title, Tri-Nations' glory and the nail-biting series victory over the British & Irish Lions in 2009. His three World Cup appearances pale in significance when compared to the pride he has for his children. This says it all about the man and indeed, the game he loves: It is a wonderful game that can unite, inspire and motivate those who would otherwise opt for apathetic indifference. But in a schoolboy context at least; it's still just a game.