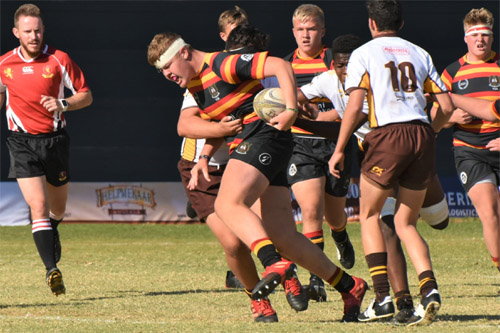 The warning from EG Jansen rugby first XV was loud and clear when they put together one of their finest performances of the season to outclass Helpmekaar. 'We Wont Back Down!"
Helpmekaar would have gone into this match believing that victory was possible. However still bruised from their unexpected loss to Marais Viljoen, Helpies at times resembled the great Mohammed Ali in his final fight. All the tricks but no power in the punch.
The men from Boksburg showed with this 47-24 victory over Helpmekaar that they have the team to match virtually anyone in the country and simply cannot be underestimated in 2021.
It was Eben Hyman who hammered the first nail in Helpies coffin as the nippy inside-centre gathered the ball after the kick-off to score the first try. Only one minute of the match had been played and already someone was asking for chalk to write on the wall.
More tries followed as both the EG Jansen scrumhalf, Louis de Bryn and their loosehead prop Jonathan Redelinghuys crossed the try-line to hand Jansies a 21-10 halftime lead.
EG Jansen sensing that Helpies were struggling to come to grips with the pace of the match came out swinging in the second-half with flanker Werner Groenewald, fullback Jason Edwards, their No.10 Kyle Benade and eighthman Brandon "This Train Don't Stop" Smit all getting white line fever and causing the mountain Helpmekaar had to climb to get ever steeper.
Helpies threw everything they had into the final minutes of the match and did restore some respectability to the score but at the end EG Jansen were too good on the day.
Elsewhere in Gauteng there was Noordheuwel took on the giant killers of last week Marais Viljoen. Perhaps believing that they could deliver yet another victory, Marais Viljoen were quickly rocked back to reality as Noordheuwel handed out a 20-10 defeat to the team from Alberton.
Throughout the day every match played between the Noordheuwel and Marais Viljoen teams had a similar ending with Nories claiming victory for all their teams and handing Marais Viljoen four whitewash defeats.
There is much for MV to work on this week, and they will need to try and recapture that winning feeling they briefly touched in the Helpmekaar match.
Nelspruit's No.10 Christiaan Gates singlehandedly led his team to a 42-3 thumping of Transvalia with two tries, two conversions and two penalties in a dominant display at pivot.
Transvalia struggled throughout the match and were forced to field several 2nd team players who stood in for their captain Zander Zaayman who picked up an injury at the Falcons' trials and prop Reno Hirst who is off to Paul Roos Gym.
Montana and Ben Vorster were locked in a titanic arm-wrestle but at the end Ben Vorster got the upper hand to win 33-26.  The team from Tzaneen can thank their left wing Ndzamala 'Faster than a Buttered Bullet' Twala for helping in the win. The electrified winger scored twice which left Montana wondering why they had given him so much space.
There was a last gasp try in the match between Zwartkop and HS Middelburg that ultimately separated they two teams. Jarno Snyder of Zwartkop, with the blast of the final hooter ringing in his ears,  pinned his ear back to cross the tryline and notch up a 14-7 win in a match that was as hard a hamburger filled with rusty nails.
Photo Mannie du Preez