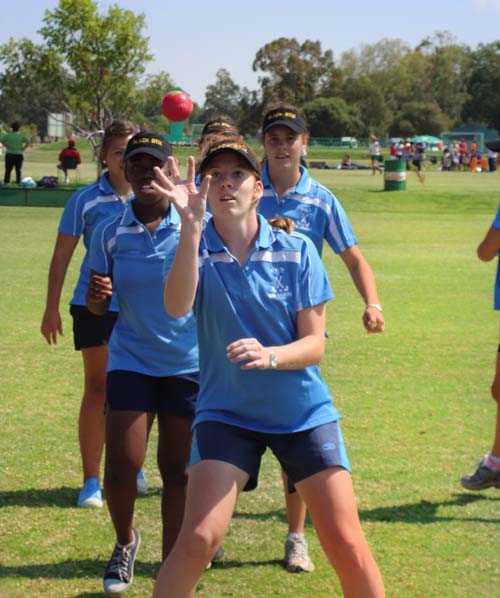 Prior to joining the Springboks, Sherylle helped England win the World Cup and she also achieved good success working with the All Blacks of New Zealand.
Sherylle's story is intriguing, magical, and unbelievable, but she seems rather unfazed by all the fuss. For her, it's been an incredible journey of learning since her time as a hockey player for South Africa in the 1990s when she first realized that she could see things others couldn't. When she realized she was onto something, Sherylle quit playing, put a training program together with everything she had learnt as a player and a coach, put it into a PhD and proved that if you train the eyes in a certain way and train the body in a certain way and you combine the two, you can improve performance. She recently was interviewed for SA Schoolsports.
How did your involvement in sport and visual fitness start?
I have played sport from a young age and also represented South Africa in hockey. My work regarding visual performance skills and fitness has been a life's work – from a young age I have always explored ways of performing better and more effective.
I used to play visual games, reaction, and how quick I saw something… what I did, I took that, the way I trained hockey and coached hockey, and put that into a training program, just put it into a PhD and proved that if you train the eyes in a certain way and train the body in a certain way and you combine the two, you can improve performance.
People think it's just vision. Vision is only an aspect of what I do. It's the ability to coach and the ability to believe in yourself.
Did you expect to achieve everything that you have when you first started?
Well I basically started with zero and built the science to what it is today – even though I always knew it worked I never thought the whole sporting world would embrace it in the way they have.
What is the role of visual fitness and how is the world of sport taking to this concept?
Importantly this is sport science (definitely has nothing to do with optometry as often mistaken as we worked with amongst others the eyes).. This has now been acknowledged as a new science producing cutting edge performance.
Tell us about your time with the Springboks and how you landed the opportunity?
I worked with the All Blacks and then England (winning the 2003 World Cup). The Boks and Jake White then asked me to join the Boks. It was a fantastic experience and special to work with my own country.
How did the Springbok players and other top athletes respond to you and your ideas?
They trained effectively over the 3 years – playing a role in winning the world cup – Jake Whites quote:
"Since our squad started using the Visual Performance Training drills, our accuracy of passing, handling, awareness of space and decision making have all improved dramatically. I'm a firm believer that visual skills training can add another level of performance to an individual player's game. I wholeheartedly endorse Sherylle's work – I've seen it work!" Jake White
What has been your most memorable moments?
Winning World Cups with both England and South Africa
At what age would you say an athlete should be training to be visually fit?
We have programs for young kids from 6yrs to various other programs adapting to the needs, e.g. remedial/schools/sport/corporate/international sport.
Which sports in particular benefit from visual fitness?
Yes all sports will benefit from visual fitness. We are able to provide schools and their athletes with good expertise to benefit them.
How do the school athletes and coaches respond to what you introduce?
We have had great results and thus great response.
"Thank you so much for your contribution to the success of our sportsmen,
especially our 1st rugby team.
The team has been very successful this season and compliments on their
skills, awareness and vision have been received from many people who have
watched them play this season.
Die feit dat hulle gereeld en met oorgawe jul oogoefeninge doen, het
definitief n positiewe verskil gemaak en word vorentoe aangee en aanslane
tot n minimum beperk.

Grey College
Johan Volsteedt
Who have been the most memorable athletes you have worked with?
Bryan Habana, Jean De Villiers, Jonny Wilkinson
Why are visual performance skills so important to aspiring athletes?
It is the missing link in scholastic and sporting performance. We improve learning skills and sporting skills by improving visual motor performance.