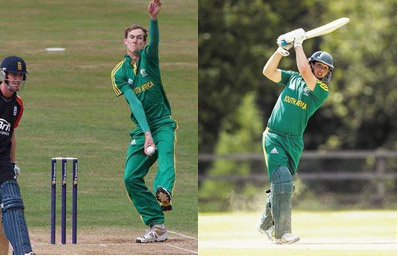 Quinton De Kock's batting has been virtually too hot to handle and one of the bright sparks in the gray and inclement weather of England.
The SA U19 Cricket team is currently enjoying a wonderfully successful tour in England which sees them for the most part getting the upper hand on their English counterparts.
De Kock is one of the SA U19 team's top batsmen and in the first six ODI's managed to score a whopping 263 runs at an average of 43.83.
In addition the left handed Johannesburger has taken two catches and three stumping to help the Baby Protea to lead the series 3-1.
"It's a very good experience to play in another country and also to play on the fields that I have only ever seen on television," said Quinton. He did add however that, "England is not a place that would like to live in. The weather is bad and the people a little different."
De Kock was also named the best player in the Kaya Majola Cricket Week in Bloemfontein last December and in that week he amassed a huge total of 346 runs at an average of 69.20.
He is a product of the King Edward V11's "cricket factory" which has already been responsible for producing the likes of Neil McKenzie and Graeme Smith.
However it is neither those KES Old Boys that are his favourite players. "I quite like David Miller, who players for the Dolphins, and Adam Gilchrist. I realise it is increasingly difficult to play the game as a batsman and wicketkeeper, but I can't choose which to specialise in. So I will try to do both, just like AB de Villers."
Another player who has shown that he has a bright future in the sport is Maritzburg College's Calvin Savage. Savage was was part of a remarkable win as our young Proteas chased 300 runs in a 50 over game in Taunton.
In his bowling spell of 10 overs, his return of 0/42 was the most miserly of all the SA bowlers and then he contributed with 46 off 43 balls in the SA reply. This helped them to victory by one wicket – the winning runs coming off the very last ball.
"This is a phenomenal feat by a very special team of young men," Cricket South Africa (CSA) Schools Cricket Manager Niels Momberg said. "To come back in the way they have done, showing such determination against all odds bodes well for the under-19 World Cup in Australia next year."