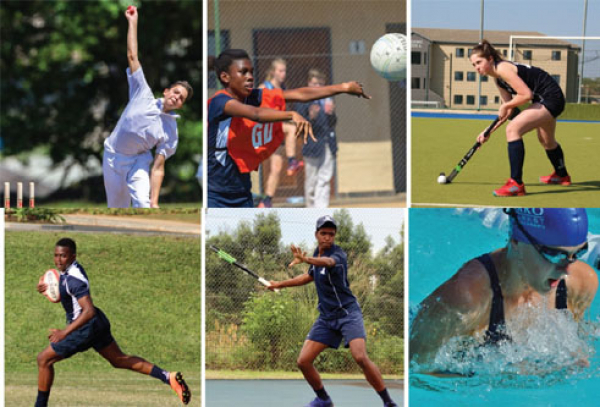 The amount of Co-educational schools in the country that can compete against the traditional monastic schools in the sporting arena can be counted on one hand.
Pretoria has Waterkloof and Menlopark, the Cape has Paarl Gim, Gauteng has Monument and the Eastern Cape arguably has Hudson Park and Kingswood College all of which are able on their day to match most of the top sporting schools across a variety of codes.
However, KwaZulu-Natal seems to struggle to produce a Co-ed school that can perform consistently against the traditional schools. Naturally there are many reasons for this even though many top co-ed schools boast facilities that are at least on a par with that offered at the monastic schools.
There is however one relatively new co-ed school in KZN that aspires to shake up school sport and in time give the traditional powerhouses a run for their money.
With it's 50 metre long heated pool, Hockey Astro Turf and indoor hockey fields, rugby fields, six tennis courts, including a clay court, cricket fields, indoor and outdoor netball courts and a gym, Curro Hillcrest are well equipped with the infrastructure to provide any young athlete with the opportunity to develop their talent.
Another advantage that Curro Hillcrest has is their new Executive Head, Mr Paul Guthrie who has gained vast experience during his nearly two decades at Hilton College, in various roles, and as a Senior Master, more recently as Headmaster of Kingswood College, and previously at KES and Potchefstroom Boys' High School.
Not only can Paul look back on coaching the Hilton College Cricket First XI for several years, but he also gained valuable coaching experience as coach of the KZN U19's and KZN U15's teams. Currently he is Cricket South Africa's U17 National Convenor of Selectors and National Tournament Director. Earlier this year he also accompanied the SA U19 Cricket team on their tour of India. So, sport and cricket in particular is very close to his heart.
Yet the challenge of taking a new co-ed school and getting it into a position to compete at the highest level is not lost on the new Head of Curro Hillcrest.
Paul is quick to admit that, "there is long term ambition, because it is not going to happen tomorrow, but I want prospective parents to have Curro Hillcrest on their radar as a school of choice. Having been the Director of Marketing at Hilton College I know that you have got to have people talking about you, and you can only have people talking about you if you are playing amongst the best, and that is what we are aiming for."
There are big ambitions for Curro Hillcrest cricketing future and in Paul Guthrie a person who has the vision and experience to take their players to the next level. With their new indoor cricketing centre, which boasts four lanes, going up at their Prep school, Curro Hillcrest will be able to cope with the challenging weather in KZN.
"You know unfortunately cricket is under threat across the country, it is a concern for Cricket South Africa, and we need to enhance and promote our game. Our responsibility for people like myself who is involved with cricket in this country is to produce Proteas for our national team as well as the provincial set up. CSA talks about having a 'pipeline' of continuous talent to grow the sport and that is what we aim to achieve.
I am excited when I look at our Curro Hillcrest U14's, there is great talent and for the first time our top cricketers from our prep school are not going to the monastic schools in the area, but they are coming to the high school. So that is an exciting pipeline of talent we hope to develop," adds Paul.
With regards to other sports, Curro Hillcrest is fast becoming one of the leading tennis schools in the country and they have recently won the Curro Nationals with three of these players ranked in the top 5 in South Africa. They have been so competitive in tennis that some traditionally strong monastic schools have been wary to play them.
Their swimming fortunes are also improving and thanks in part to their 50 metre heated pool and professional swimming coach Angela Marlton they have been able to attract top swimmers from the monastic schools.
There is also hopes that their rugby will also imitate their other sporting codes and improve as the school grows and the numbers increase.
" Smaller schools can compete in the higher league, it is all about creating the ethos, using our great facilities and coaching which will get us there, there are a number of examples of schools in the country who compete with small numbers" says Paul.
It is true however that generally a parent's first instinct is to seek the best for their children, and for many it is assumed that a strong sporting school with a strong tradition must be a 'good school'. This may or may not always be true, however Paul Guthrie is determined to get Curro Hillcrest well placed as a school that can hold their own against the competition on all fronts.
Mr. Paul Guthrie confidently says, "Yes I do have ambition for the school, but I also know that you need to have the right people in place with the strategies to achieve this.
So when parents are choosing a school, academics has got to be first and foremost, but if you have got a kid who is competent at sport and has got ambition you need to try to realise their ambition. Maybe the best level they can achieve is playing KZN U19, but you want to at least afford them the opportunity to do so. Parents need to ask, 'does the school have the ability, the facilities and personnel for my son or daughter to realise their dream.'  At Curro Hillcrest I can say 'Yes' we do!"