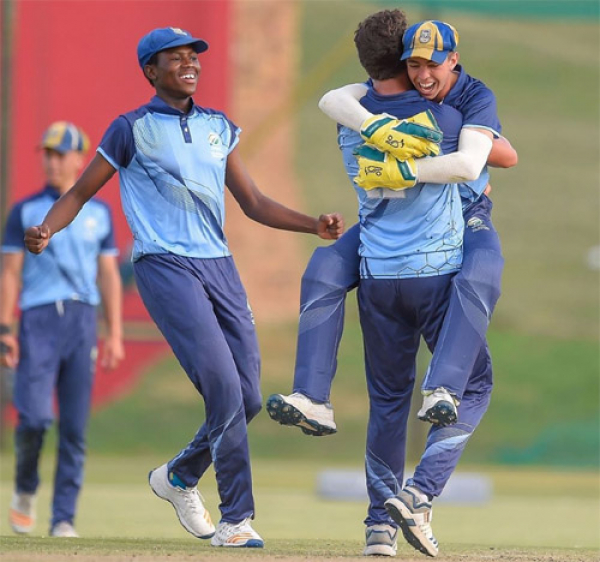 SACS have reclaimed the lead at the top of this week's First XI Top 70 Rankings with a close to perfect run at the Coke T20 School Challenge finals.
---
Brimming with confidence going into the final match against Waterkloof, SACS were the clear favourites to clinch the title. However, the T20 format is as unpredictable as the path of a tornado and Waterkloof put together a gutsy performance to snatch victory and head back home with the crown of T20 School's Champs.
The T20 feast delivered up some interesting encounters with Kearsney College also enjoying a good win over Waterkloof but failed to make good against SACS. 
With the season all but over for this half of the year please send through any outstanding results to [email protected]
FIRST XI CRICKET RANKINGS 10 March, 2020

RANK

TEAM

PLAYED

AVG BONUS POINTS

1

SACS

25

14.28

2

KEARSNEY COLLEGE

17

13.24

3

GREY HIGH SCHOOL

19

12.86

4

HILTON COLLEGE

14

12.70

5

GLENWOOD

8

12.60

6

ST ANDREWS COLLEGE

15

12.53

7

JEPPE

16

12.18

8

AFFIES

10

12.00

9

RONDEBOSCH

20

11.89

10

KES

8

11.74

11

SELBORNE COLLEGE

14

11.49

12

WATERKLOOF

34

11.00

13

GREY COLLEGE

10

10.54

14

GARSFONTEIN

12

10.40

15

CLIFTON

14

10.36

16

ST STITHIANS

19

10.35

17

ST CHARLES COLLEGE

8

10.31

18

BISHOPS

24

10.11

19

MICHAELHOUSE

13

10.02

20

NORTHWOOD

11

9.88

21

WYNBERG

15

9.81

22

NOORDHEUWEL

9

9.69

23

MARITIZBURG COLLEGE

8

9.51

24

PAUL ROOS GYM

21

9.15

25

HELPMEKAAR

11

9.14

26

PRETORIA BOYS HIGH

9

9.00

27

CURRO DURBANVILLE

15

8.74

28

ST JOHNS COLLEGE

17

8.58

29

QUEENS COLLEGE

13

8.45

30

DHS

8

8.43

31

PAARL BOYS HIGH

21

8.42

32

ST ANDREWS SCHOOL

16

8.13

33

HUDSON PARK

11

8.10

34

MARAIS VILJOEN

8

8.05

35

KINGSWOOD

12

7.90

36

PAARL GIM

13

7.85

37

WESTVILLE

9

7.39

38

ZWARTKOP

8

6.83

39

HANS MOORE

14

6.79

40

MENLOPARK

7

6.16

41

QUEENS HIGH

8

6.04

42

CENTURION

15

5.87

43

HTS DROSTDY

6

5.60

44

CAMBRIDGE ACADEMY

5

5.56

45

SOMERSET COLLEGE

15

5.40

46

CURRO HILLCREST

7

5.33

47

FRAMESBY

11

5.12

48

PEARSON

8

4.95

49

ST ALBANS COLLEGE

7

4.81

50

DURBANVILLE

11

4.75

51

ST BENEDICTS

10

4.72

52

MONUMENT

5

4.40

53

NORTHCLIFF

5

4.26

54

GRAEME COLLEGE

15

4.24

55

THOMAS MORE COLLEGE

7

4.00

56

ST DAVIDS

12

3.76

57

BOLAND LANDBOU

14

3.73

58

STRAND

10

3.51

59

CAMBRIDGE

11

3.37

60

DALE COLLEGE

7

3.33

61

MIDSTREAM

11

3.29

62

MONTANA

7

2.46

63

PINELANDS

4

1.85

64

NICO MALAN

4

1.70

65

NELSPRUIT

7

1.29

66

BRACKENFELL

8

1.19

67

PAREL VALLEI

7

1.10

68

STIRLING HS

5

1.08

69

STELLENBERG

4

1.08

70

Middelburg HS

5

0.44

71

GOUDVELD

5

-0.12