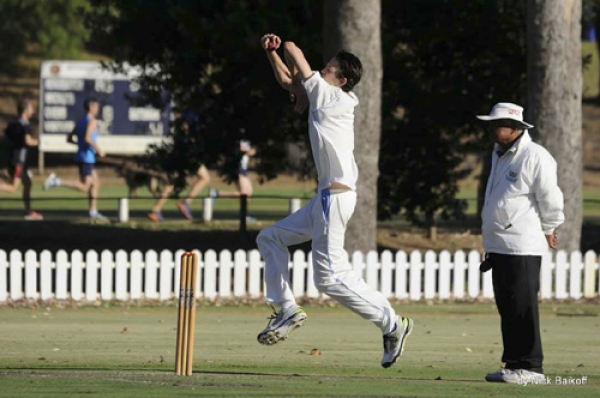 There was some good quality cricket on display last week especially at the Independent Schools festival which gave the KZN teams a chance to measure their skills against teams for some of the other provinces.
Hilton College once again managed to show all and sundry what a class act they have become as they won all their matches with big margins to underline why they have led the Belgotex Sports Top 50 Rankings from virtually the first ball of the season.
In their match against St Benedict's it was the openers James Ritchie and Robert Mcgaw who put together an unbeaten 150 run partnership to trounce the JHB team by 10 wickets.
Ariq Chetty from Clifton College was also in top form with a 101 runs not out innings which helped to furnish the Durban side a strong win against St Albans College.
KES consolidate their position at number 2 with a win against Pretoria Boys High that was a little bit too close for comfort but saw them finally winning by just 2 wickets in a nail biter of a finish.
Bishops perhaps had their best week of the season as they drew with St Stithians but proceeded to beat St Andrews School and Cornwall Hill fairly convincingly. This as help the Cape side to make up some valuable ground on the table.
As the cricket season draws to a close please ensure all outstanding results are sent through to us at [email protected]
FIRST XI CRICKET RANKINGS 6 March , 2018

RANK

TEAM

PLAYED

AVG PTS

1

HILTON COLLEGE

12

9.74

2

KES

15

8.52

3

RONDEBOSCH

20

8.37

4

SELBORNE COLLEGE

13

8.24

5

SACS

17

8.08

6

GREY HIGH SCHOOL

17

7.78

7

KEARSNEY COLLEGE

14

7.61

8

MARITIZBURG COLLEGE

8

7.60

9

ST ANDREWS SCHOOL

14

7.58

10

ST DAVIDS

15

7.33

11

PAARL GIM

16

7.08

12

ST STITHIANS

18

6.67

13

GLENWOOD

9

6.66

14

NOORDHEUWEL

14

6.61

15

AFFIES

11

6.60

16

ST ANDREWS COLLEGE

13

6.50

17

CLIFTON

16

6.48

18

GREY COLLEGE

16

6.19

19

PRETORIA BOYS HIGH

13

6.13

20

WOODRIDGE

5

6.12

21

WATERKLOOF

13

6.02

22

PAUL ROOS GYM

21

5.86

23

ST CHARLES COLLEGE

11

5.82

24

MARAIS VILJOEN

12

5.79

25

ST ALBANS COLLEGE

15

5.43

26

JEPPE

8

5.34

27

HUDSON PARK

14

5.29

28

GRAEME COLLEGE

12

5.25

29

WESTVILLE

10

4.99

30

PAARL BOYS HIGH

13

4.93

31

MICHAELHOUSE

11

4.93

32

BISHOPS

13

4.90

33

MONTANA

12

4.80

34

POTCH VOLKIES

9

4.70

35

ST JOHNS COLLEGE

16

4.63

36

KINGSWOOD

8

4.35

37

WYNBERG

17

4.28

38

RUSTENBURG

7

4.20

39

MENLOPARK

11

3.92

40

ST BENEDICTS

8

3.90

41

CENTURION

7

3.63

42

HELPMEKAAR

9

3.62

43

GARSFONTEIN

5

3.52

44

CAMBRIDGE

11

3.51

45

NORTHWOOD

10

2.98

46

NORTHCLIFF

8

2.98

47

FRAMESBY

12

2.81

48

SOMERSET COLLEGE

10

2.34

49

DHS

7

2.16

50

NOORD KAAP

5

1.60