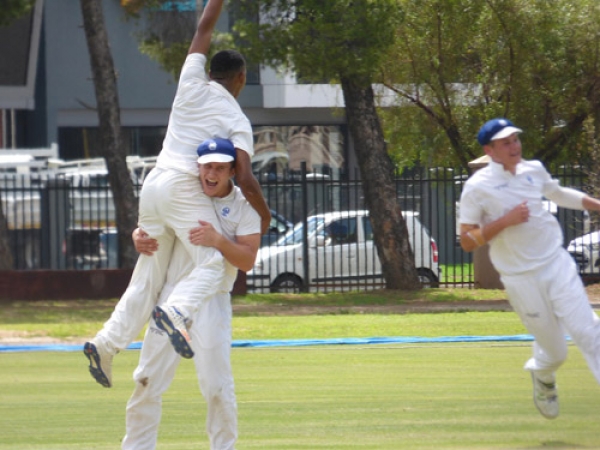 It is Hilton College that narrowly regains the number one position on this week's Belgotex Sports First XI Rankings after a valuable win over a strong Clifton side.
Hilton's upsurge is also due to Rondebosch coming unstuck against Affies who handed the Cape side their first defeat of the season by over 100 runs. Earlier in the week, the skill of the coin toss helped Rondebosch secure the WP T20 Knockout tournament when the weather intervened and the only way a result could be obtained was by the toss of the coin. In one of the matches the coin favoured Bosch at the expense of SACS.
Affies make some positive moves up the table after a good week with wins against Rondebosch and PRG and a sensational tied result against Wynberg.
Kai Curran hammered an unbeaten 135 against a struggling Bellville outfit and Westville's Gibbon also got the three figures against DHS.
KES have clearly hit their straps and are claiming scalp after scalp as they move up to the second spot on the rankings. St John's College were their latest victim thanks in part to Bryce Parsons who ripped out four wickets for 28 runs.
The minimum qualifying matches before appearing on the rankings is now 5 matches. So please send your team's results to [email protected]
FIRST XI CRICKET RANKINGS 20 February , 2018

RANK

TEAM

PLAYED

AVG PTS

1

HILTON COLLEGE

9

8.59

2

KES

10

8.55

3

RONDEBOSCH

18

8.30

4

KEARSNEY COLLEGE

10

8.21

5

SELBORNE COLLEGE

11

8.12

6

SACS

15

8.05

7

ST ANDREWS SCHOOL

11

7.59

8

GLENWOOD

8

7.40

9

PAARL GIM

14

7.34

10

ST DAVIDS

11

7.25

11

ST ANDREWS COLLEGE

10

7.02

12

MICHAELHOUSE

7

6.93

13

GREY HIGH SCHOOL

13

6.77

14

CLIFTON

13

6.72

15

MARITIZBURG COLLEGE

6

6.53

16

WOODRIDGE

5

6.52

17

ST STITHIANS

13

6.38

18

ST ALBANS COLLEGE

11

6.21

19

GREY COLLEGE

16

6.19

20

WESTVILLE

8

6.08

21

PAUL ROOS GYM

17

6.01

22

NOORDHEUWEL

12

5.88

23

PRETORIA BOYS HIGH

11

5.86

24

GRAEME COLLEGE

11

5.66

25

WATERKLOOF

12

5.62

26

HUDSON PARK

12

5.38

27

JEPPE

8

5.34

28

AFFIES

10

6.28

29

MARAIS VILJOEN

11

5.22

30

MONTANA

12

4.80

31

RUSTENBURG

6

4.78

32

PAARL BOYS HIGH

10

4.71

33

POTCH VOLKIES

9

4.70

34

ST CHARLES COLLEGE

8

4.70

35

MENLOPARK

10

4.24

36

WYNBERG

13

4.08

37

ST JOHNS COLLEGE

10

3.84

38

KINGSWOOD

6

3.67

39

BISHOPS

10

3.65

40

CENTURION

7

3.63

41

GARSFONTEIN

5

3.52

42

FRAMESBY

10

3.26

43

NORTHCLIFF

8

2.98

44

CAMBRIDGE

8

2.84

45

SOMERSET COLLEGE

9

2.56

46

BOLAND LANDBOU

6

1.48

47

NORTHWOOD

8

1.06

48

DHS

5

0.86

49

HANS MOORE

5

0.40

50