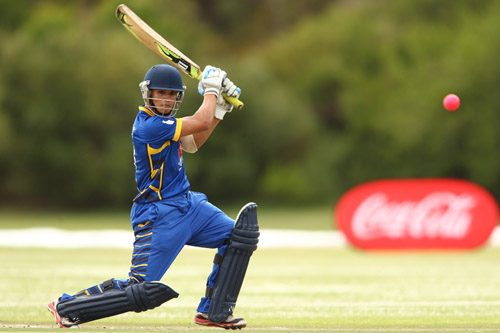 However, with the headlines being grabbed by Bosch's S.A. U19 duo of Dayaan Galiem and Hayes van der Berg, along with the heroics of senior players such as Kay-Schovgaard Petersen, Zubayr Hamza and Riaz Sader, an unsung hero has largely been overlooked.
Matthew Christiansen is a name that is starting to do the rounds in the cricketing fraternity. He has quietly gone about his business as others hog the lime-light, but at an average of 54, 8 runs for the season; he can no longer be disregarded.
Matthew starred for Bosch in the annual National T20 Schools tournament earlier this year, accompanied by some crucial declaration cricket knocks throughout the first term. One of the highlights of the term would definitely be the sensational knock against a strong Affies outfit. His 88 run innings helped Bosch pile on a big total against their upcountry rivals, forcing them to save their blushes and hold out for a draw.
Bosch also went on to win the National T20 Schools finals tournament, largely due to the significant contribution made by the talented opening batsman. A memorable 72* against Westville Boys High and a temperamental knock against St. Stithians elevated him to the status of "top run scorer" in the tournament. His efforts did not go unrecognised, as he was awarded the U19 Schools T20 player of the year at the annual Cricket South Africa awards ceremony earlier this year. Matthew is very honoured at being awarded this much coveted trophy. After enduring numerous criticisms for his strike-rate in this format of the game, he took on the challenge: "I trained five days a week, excluding school and provincial training sessions. Winning this award just puts the cherry on top for all the hours of hard work I put in."
This term Matthew has started like a house on fire, as the 17- year old demolished schools at the St. David's Marist T20 Schools tournament. Matthew notched up his season's highest score of 92* against the hosts at an impressive strike rateof 124. Matthew also ended as the tournament's top run scorer as he continues to stamp down his authority as a run machine. The 2013 Cape School's week once again provided Matthew with the opportunity to showcase his talent as he piled on the runs. A sublime 80 against Eastern Cape outfit Dale College was enough to steer the Bosch cricket team to yet another victory.
Matthew is a talented opening batsman, whose greatest asset is his ability to bat for long periods of time. Accompanying his flawless front and back foot stroke-making, is his ability to play knocks that are conducive to the situation and format that he is playing in. Matthew's ability to absorb pressure, see off the new ball, score all around the park and rotate the strike is what is fast adding to his already stellar reputation as a top-of-the range opening batsman. When asked about how he goes about constructing an innings he says: I do not focus on the end goal, but rather on the process leading to the goal and other than that, I just watch the ball." Matthew works hard on his fitness and this is evident in his overall performance in the field.
Matthew's statistics for the season makes for impressive reading: Played 33 matches to date, batting 32 times, scoring 1236 runs at an average of 51, 5 at a strike rate of 71. He has scored 24, 6 % of the total Bosch runs, smashing 10 fifties with a top score of 92*.
Since Matthew's arrival at Bosch in 2010 he has come on in leaps and bounds. Highly-rated Rondebosch Cricket Pro Peter Harold, who has kept a watchful eye over Matthew, describes the opening batsmen as a "phenomenal talent". He believes Matthew has stepped up in the most important way, by scoring runs consistently. According to the much lauded pro-coach: "Matthew has a bright future if he continues performing in the same way he is playing now".
Former Boland First Class cricketer and successful, incumbent Bosch 1st team coach Rob Dalrymple believes Matthew is a prodigious talent: "He has really worked out his game plan and is technically excellent- which makes the execution of his plan consistent." Rob believes "If he works very hard at his game, both in the nets and on his fitness and general conditioning and if he maintains his focus and desire, he can go all the way in the game." Regarding Matthew's personality Rob added: "Matthew also remains humble and is a good listener, basically a coach's dream." Rob believes Matthew's breakthrough innings was the 100 he got against Bishops last year, but does add: "the innings against Westville and St Stithians in the National T20 Schools finals tournament were superb as well."
The people, who have had an influence on Matthew's development, include his parents, especially his dad who has supported him at almost every single match throughout his cricket career. He says "Rushdi Hendricks, my private coach, has mentored and coached me from a young age, and together we have put in many long hours to improve my game". When asked about his cricket icon, Matthew was somewhat undecided: "I don't have a cricket icon. Instead I try to focus on the bigger picture and take the positive qualities from a variety of players such as Michael Clarke's attacking cricket and frame of mind, as well as the temperament, patience and concentration powers of Jacques Kallis and Hashim Amla."
Matthew's goal is to score as many runs as possible for school and province: "I would like to score as many runs as possible and go into Coke Week with form. I would like to perform at Coke week and be selected for the Cubs week, which is one step away from making the World Cup team that is going to Dubai." In the long run Matthew would like to be contracted by one of the domestic franchises. "Obviously it would be a dream come true to be selected to play for the Proteas one day" said the Western Province opener. He does however ambitiously add: "if you are going to dream, you might as well dream big. I would like to be one of the greatest batsmen our country has ever seen."
Matthew is a humble boy who goes about his business quietly, he finds it amusing that people tend to think that he just pitches up at games and automatically scores the runs: "what they don't see is the planning and the mental preparation, along with the hours of extra practice which I put in during the course of the week. I try to keep it simple and watch the ball." Matthew enjoys a game of soccer and a round of golf in his free time as well as participating in Mixed Martial Arts. He loves Nando's and he is a loyal Arsenal supporter, despite their trophyless run.
The name Matthew Christiansen might have slipped under the radar thus far, but with the youngster consistently producing the goods, his statistics are doing the talking. Matthew was selected to represent the Western Province U19 team at the Coke week to be held in December and if he continues with his current, rich vein of form, he is definitely in line for higher honours.