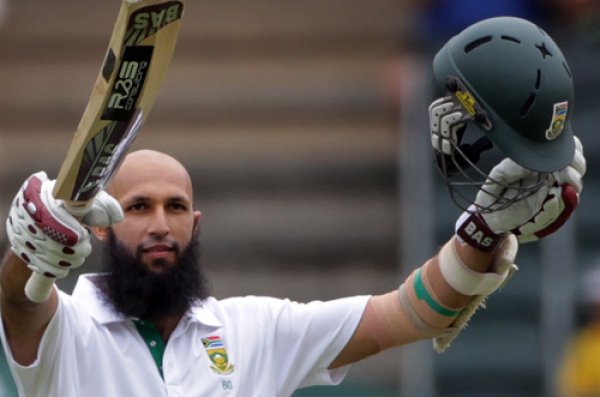 At the age of just 21 Hashim Amla was already a test player and at the tender age of just 17 had started his first class career in KwaZulu-Natal with the Dolphins. Now he has become a fixture in the Protea's lineup and one of the leading batsmen in the world in all formats of the game. With 28 Test centuries to his name Hashim has proven that there is still place for gentleman in the sport who are able to dominate the opposition and still remain humble. But where did it all begin? Hashim Amla talks exclusively to School Sport – The Magazine about his schooldays.
Let go back a few years Hash, what schools did you attend?
My high school that I went to was Durban High School but before that my primary school was in Tongaat.
Now of course DHS is renowned as a sporting school is that one of the reasons that it was the school for you?
Yeah I would say so. My dad really wanted me to attend a school that was going to give me some good sporting opportunities and a good friend of mine was also attending DHS, so my father was encouraged to send me there as well so it sort of worked out well.
"This guy can play a bit"
So would you say from an earlier age it was spotted that you had a certain amount of cricketing talent?
Yes I think so, you see I was already playing club cricket in Tongaat before I even attended DHS and one of the players in the club was a cricket coach at Durban High School, Allan Norton and he spoke to my father and said "you know this guy can play a little bit" and that he should try get me into DHS.
How did you find it when you went to DHS as a youngster, was it quickly picked up that here was a player with promise or did it take time to prove yourself first?
Yes it's quite funny really, you see I went to DHS from grade 9 so I was not around in the under 13 team so when I arrived I found it pretty difficult to get noticed as a player. The first few weeks it crossed my mind whether it was the right decision to come to DHS and the thought of leaving came to me once or twice but thankfully I decided against it! But eventually you know things started to get easier obviously and once I made the under 14 team I progressed well.
Was cricket the only sport you played or did you play other sports whilst at DHS?
I played a little bit of rugby, a very little bit of rugby! I was somewhere in the lower divisions! Just to keep fit really in the off seasons but as the years went by I didn't pursue the rugby career. Maybe I missed out on a great rugby career? No I wasn't really big enough for that game!
You could drop kick a six
What are your earliest sporting memories?
Oh yes I remember under 14 days at DHS we used to play on a small ground at the school known as 'Top Field' and the more I think about it I don't know why I didn't score many more runs on that field because it was as big as my back yard! I should have scored more hundreds really; you could just drop kick a six! Yes I would say those are my earliest sporting memories that along with my first hundred when I was playing for Pirates Cricket Club when I was about 14.
Who were your sporting heroes as a youngster growing up?
I can't remember really having any heroes. I obviously used to watch the tests and provincial matches and I would see Jonty and the other guys playing but I must be honest and say that I never viewed those players as heroes but the guys that I did admire was Jonty, because of his fielding and as the years went on others like Steve Waugh and Brian Lara I enjoyed watching play and admired them for different things.
What are some of your favourite memories at school?
One of my favourite memories at DHS was at break time. There is a spot there at DHS which has a gap in the wall, basically it is a hole in the wall where we used to hang out during break time. It was a very memorable place for me as it was almost like a little sanctuary for my friends and me; we had a great time there with many laughs. Other than that what really stands out was when I was in grade 11 and we toured the United Kingdom. We played 12 matches and we won all 12 games and as captain having guys in the team that were slightly older than me to pull that off was a very proud moment and great memory.
Were you always a natural sportsman?
Yes I would say so, from a young age I always enjoyed sport whether it was soccer or table tennis I always fancied myself as having a go.
What are your worst sporting memories at school, maybe going out for a duck?
Never! It never happened! No seriously I tend to try and forget about going out for a duck or bad sporting memories. I suppose when I was captain of the 1st cricket team in grade 11 we didn't as a team have a very good year and I remember thinking at the time " ..You know what, maybe I am not captaining very well." You see my performances were going well but as a team we were not getting the results and I suppose that is what made me a little sad that I could not improve my success rate as a captain.
What level or teams were you able to get selected for whilst at DHS?
Yeah I played KZN Schools and South African Schools at most of the age groups.
Who was your most inspirational sports teacher/coach?
Yes there was a cricket coach at DHS that stood out for me his name was Jeff Griffon he sadly passed away in my Matric year he was a very professional coach and when I look back he really was a great motivator for me and the rest of the team. As well as Allan Norton he was the other coach at DHS, they had different styles as coaches but both very good.
Received the worst abuse on the field as a 14 year old
How important is it for you to be a role model for youngsters?
It is extremely important these days. A sports person doesn't really have a choice you are going to be a role model no matter what happens. My opinion has always been that you should conduct yourself in a dignified way whether I am on or off the field. I try to be consistent in my behaviour.
Did you find the step up from playing school boy cricket to international cricket with regard to sledging or verbal abuse that you received a shock?
No. You know probably the worst abuse I have ever received is when I was playing club cricket at the under 14 level not at international level. I remember playing a club game when I was still at school and I received the worst abuse I have ever had in my life. You see at international level there are regulations now to control it. Club level you get away with a lot, you see I was playing against 30 and 40 year olds, seasoned club players and along comes this little kid and they did not hold back. But that experience of taking a player out of their comfort zone really builds character and it is a test whether you can make it at international level.
Which would you say is better to play as a club cricketer or to play for a school team?
Well most provincial players come from sporting schools but the club system plays a big part in developing players because you play against older players and sometimes even provincial players. I remember in grade10 playing club cricket and I was facing Andrew Tweedie who was the Dolphin's opening bowler and I remember thinking "…wow! This is the quickest bowler I have ever faced!" At club level you don't just rock up there and hit the ball wherever you want, but it is a great opportunity and the experience you get is invaluable.
Were you ever told you weren't going to be a success and how did you cope with that?
No not really. At school level not many players think they will make it at international level you might dream about it but it stays a dream until you start making some inroads provincially.
What would you have been if you hadn't been a sportsperson?
I would have pursued my studies, I don't know what I would have become but would have tried to do something with regard to finance or business. These days' cricketers have a longer career and more opportunity so hopefully I will be playing for a little while still.
What sacrifices have you made to get to the top?
I suppose time is the biggest sacrifice. Time for training, time when you travel. Time is a major sacrifice for any sports person; you spend a lot of time away from home and away from family. So anyone who wants to make a career of sport must realise that they must be prepared to give up loads of time to their sport.
Selectors have no option but to pick you
How important are schools in the development of sport and what can be done to improve sport in school?
Schools are extremely important. Firstly children at school are impressionable so from an early age schools can help children to really develop in positive ways. Values that you get from schools stay with you as you become older. However it is vital that the mind is also developed, sporting is one thing and if you can make it a career then that's fantastic but schools need to be balanced so that when you are finished with school your mind has been exercised.
What's the best advice about sport you were given when you were young?
Best advice was given by my friends' father, he always said to me "…don't worry about anything else but just put the runs on the board and you will make any team you want to make." That's what helped me. Very simple.
What advise would you give to any young aspiring sports stars today?
I would give the same advice. Nobody can argue with a good performance. If you are a batter just put as many runs on the board as you can, if you a bowler then take the most wickets, the coach or the selectors will have no option they will just have to pick you. Also to practise as much as possible, to be disciplined and dedicate time to be mentally and physically strong.