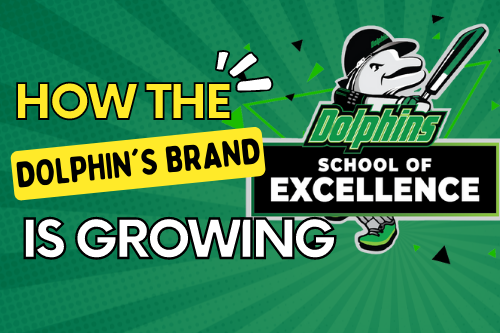 How do you get young cricketers to develop loyalty to a team? How do you get them to invest their time, energy and emotion to a cricket franchise for the rest of their lives?
It is a question that many franchises across the cricketing world are grappling with as interest in cricket ebbs and flows among future generations of cricket players and enthusiasts.
However, the Dolphin's cricket franchise has come up with a unique way to lock in the loyalty to their brand and provide young cricketers in KwaZulu-Natal with a place they can call 'home'.
The Dolphins School of Excellence
The DSE is a concept that for the first time allows all young cricketers in the province an opportunity to play, practice and get coached at the iconic Hollywood Kingsmead Stadium.
However, it is also open to coaches, umpires, scorers, and ground staff who receive exposure to cricket at a higher level.
Heinrich Strydom, CEO of KZN Cricket Union mentioned to SA School Sports that they created the Dolphin School of Excellence, "as a department on its own, it has the Dolphins brand and Hollywood Bets Kingsmead, it speaks to the whole KZN community, but it is not part of our formal pipeline that is regulated by CSA, so it is a separate entity that feeds into the formal pipeline. So, when we chose teams or selects coaches it is controlled by us and so it gives us more scope in involving more people. The phrase we like to use is that the DSE was created to serve the whole 'cricket ecosystem' in KZN, from umpires, scorers, groundsmen, coaches and obviously the players. So, all cricket stakeholders can get an opportunity to be part of this program."
School Players Drafted into DSE T20 Tournaments
It is the selection of teams and coaches that really has captivated the interest of the young KZN cricketers. The DSE has set up the Under 11, Under 15 and U18 T20 Bash where players from around KZN are selected into 'franchise-type' teams with their own coaches to play in a competitive T20 competition.
Former KZN cricketer, Kushen Kishen, who is tasked with administering the Dolphins School of Excellence mentions that the draft is a very exciting part of the tournaments they arrange.  "When all the young cricketers are registered, we have a draft, we create a draft matrix and the coaches, right here in the Kingsmead board room start selecting which players they want in their team. So, our primary goal is that we want to give an opportunity to everyone, but the word "excellence" is also in our name, so we also want to assure that the quality in each tournament is up to scratch."
When we are doing the draft, we know where all the boys are from and we encourage the coaches to choose players from different schools, Richards Bay, Port Shepstone etc. and the coaches buy into this. So, more activities like this will allow those tier 2 cricketers to put their name in the hat and compete."
Playing Cricket at the iconic Kingsmead 
Once a player has been selected to one of the teams which carry the names of current Dolphin's players like the Zondo Zebra's, Maharaj Mustangs, Miller Mavericks or Du Pavilion Daredevils, the young players are exposed to a tournament that is on a higher level than what many would be exposed to at school.
They get the opportunity to be coached by  CSA qualified coaches right at the home of cricket in KZN, the Hollywood Bets Kingsmead. They get to play in quality kit and in the case of the U18's even play on the famed Kingsmead pitch.
As Kushen mentions, "although all the schools have their own specific programme, with the DSE we can literally touch the lives of every single kid. The whole idea is to create more cricketers so that there are more jobs for everyone in the ecosystem."
High level of interest
So far, the T20 Bash tournaments have attracted a high level of interest with quality players in the various age groups playing alongside players they may not have come up against on the school circuit. This is ensured by a draft that has as its backbone the development of cricket in the province.
"Although the draft is exciting we also constantly remind the coaches to make sure they have good balance, in terms of different schools being represents, different races, different backgrounds. For example, in the previous tournament we had a kid from home schooling playing with kids from Northwood, Hilton etc. So, the whole idea is to get everyone playing in the same team and getting to know one another. In addition every tournament and in every team will have at least 2 players from our township areas and the assistant coach will be from one of our HUBS, so it adds a lot of value to our development program.
We also assign sponsored private coaching packages which we assign to kids with talent and potential but cannot afford it. So, the playing fields are leveled to some degree, "adds Heinrich Strydom
We want KZN school cricketers to say 'I want to play for the Dolphins'
In its first year of setting up the Dolphins School of Excellence the enthusiasm from young cricketers across the province has been high. The level of professionalism they are exposed to breathes life back into the dream that a lifelong attachment to cricket and the Dolphins can become a reality.
This is something that Kushen Kishen noticed when interacting with school masters and principals when they have attended the DSE tournaments. "The first thing that they mentioned is that the culture that is here at the DSE and the tournaments is so much better than what they have found in school sports, and its something that  we want continue to develop at KZN cricket, to ensure that the kids are not used as performance tools for the coaches, but to look after them," he added.
No politics in the DSE System
The DSE also adds content to the cricket calendar and gives players an opportunity to measure themselves against the rest of the province. During the recent DSE T20 Bash, cricketers who belong to so-called Tier 2 Schools and have never been selected for any of the KZN Schools teams acquitted of themselves well against their peers, winning Players of Match awards with one of the U18's scoring an undefeated half century at Kingsmead.
Heinrich Strydom says that "already we have unearthed one or two players which probably in the formal framework were not in consideration. We don't have any politics in our system. Cricket should be accessible to anyone who wants to play it and for us if there are kids with potential we want to give as much opportunity to them.  We are sharing the Dolphins culture, so what happens at the top-level filters down. We want a 10-year-old kid to say 'yes I want to play for the Dolphins, this is my place, this is where I want to play."
The Dolphins School of Excellence is a terrific initiative that is working hard to ensure that all school cricketers in the KZN have an opportunity to form a lifelong attachment not just to the Dolphins brand but to the great sport of Cricket.
As the DSE continues to grow hopefully it will ignite other franchises across the country to develop their own programs that will help in  strengthening the foundation of cricket in South Africa and once again provide a pipeline of quality cricketers for generations to come.