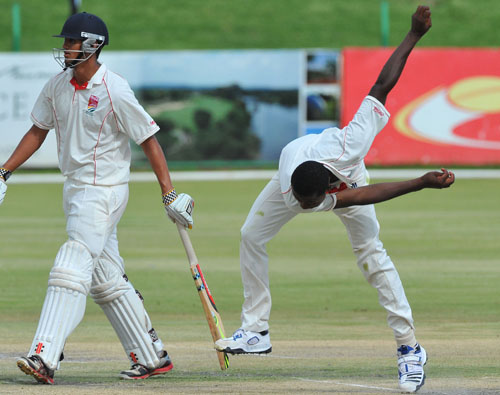 Rabada is a grade 12 pupil at Johannesburg's St Stithians College and, apart from his cricketing prowess, he is doing very well in the classroom and has aspirations to become a lawyer one day.
He earned his place in the national side thanks to his blistering bowling, but he is now proving that he is no slouch with the bat either. He shared a 79-run 10th wicket partnership with Jan Frylink in the second Test to help his team get to 228 in their first innings. He managed an impressive 46, then took 1/34 in 16 overs as England were restricted to 231 in their first innings, leaving the game evenly poised going into the third day.
Recently Rabada featured in one of the Powerade Performance Sessions head-to-head matchups with Proteas all-rounder Ryan McLaren and came out of it having learnt a tremendous amount. "It taught me how to prepare for a cricket match, and I put this into practice before joining the Coca-Cola under-19 team. This is particularly relevant for the Tests as I need to peak at the right time to be able to play consistently well over 4 days," he said. "But more than that, Ryan gave me a few tips on bowling which I believe have made me a better bowler."
Rabada did not play in the first Youth Test against England but was brought in after Craig Kirsten got injured. "It was very unfortunate for Craig, but I have been given an opportunity now and I hope to make the best of it, contributing to the success of the team," he said.
As far as his batting heroics on the first day of the Test are concerned, Kagiso says that it showed that in cricket you should never get too confident. "The funny thing about cricket is, you feel you are in control and all of a sudden things change and you find out you are not. This happened to England. They thought they were in control when they had us on 68/6 at lunchtime, and would bowl us out easily, but we frustrated them," he said. "Jan and I talked to each other after each over and encouraged each other not to take chances but also to hit out when there were bad balls."