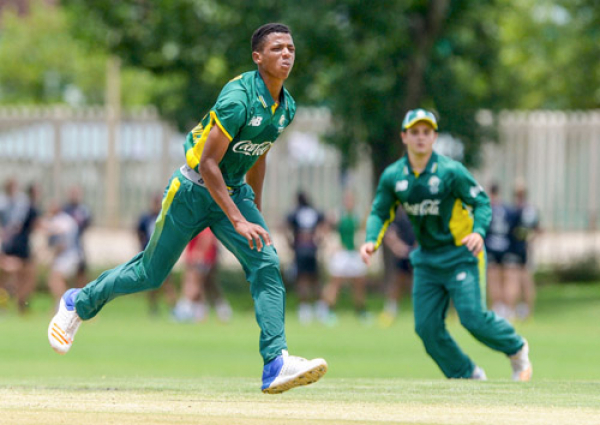 FOR those of us who were there, it was the finest hour.
First term 2018. Picture the scene – gorgeous Goldstones. The teams – hosts Maritzburg College and visitors Michaelhouse. Format – 2,5 day declaration game.
In reply to a hard-fought Maritzburg College first innings total of 246 it was the Michaelhouse top-order's turn to bat. The compact 16-year-old grade 11 Maritzburg College fast bowler Mondli Khumalo gliding in menacingly from the Princess Margaret Drive End. The tall KZN Inland U19 quick Jayden Gengan at his belligerent best pounding in from the College Road End.

Michaelhouse harbouring a confident, experienced free-scoring batting line-up that had torn opposing pace attacks apart in 2017 and 2018. Mondli, with the able assistance of Jayden and 2017 KZN Inland U17 quick Cameron Hollaway, had other ideas.

Well folks, it was utter mayhem. Michaelhouse 5 wickets for 2 runs read the Goldstones electronic scoreboard. Then 9 runs for 6 wickets. An exhilarating demonstration of accurate, varied and sustained pace and aggression backed by brilliant catching in the slip cordon, Maritzburg College batsman Jacques van der Walt clutching on to an absolute blinder at second slip just one of them.

One Mondli Khumalo over in that lot is one I will never forget: Six successive, quite exquisite, wholly contrasting, deliveries – in-ducker and out-ducker through the air; leg-cutter and off-cutter off anexcellent Goldstones pitch that offered something for the batters and bowlers; in-swinging bouncer that forced the batter to sway like the best ballet dancer, before an in-swinging yorker threatened to crush the beleaguered willow-wielder's foot – only to shave the wrong side of the leg stump.

Mondli Khumalo, the Umlazi Express, went on to take 7 for 23 with Jayden picking up 2 sticks and Cameron one.

Magical Mondli took 10 wickets for next to nothing in the match as Maritzburg College first XI recorded an historic first: An innings victory over long-standing KZN midlands friends and rivals Michaelhouse.

For one Jono Cook, that "finest hour" I have ever seen over decades of watching cricket on Goldstones, was the moment I knew for absolute certain that the quietly spoken Mondli was one to watch.

I never tire of watching the smooth run-up, the acceleration, the rise and gather into the delivery stride, and the explosive release and follow-through. In the 50-over return match on November 3, 2018 at the to-die-for Roy Gathorne Oval in Balgowan, Mondli – once again in tandem with Jayden Gengan – generated tremendous pace and bounce, his venomous deliveries earning the Durban Dynamo a 3-fer that could have been another 7-fer such was the frequency with which he beat the bat.

SA U19 cricket coach Lawrence Mahatlane on Mondli Khumalo: "First time I saw Mondli was as a top-order batsman at junior school. I had also heard about his all-round potential. Mondli is a very determined young man who puts a lot of work into his cricket.

"He's a great team man who is always trying. Mondli quite simply has awesome skill with ball in hand and lots of potential with the bat, and is an outstanding fielder. But perhaps the one thing that stands out for me is that Mondli is always smiling, be it a quiet smile or at full wattage. I think Mondli is happiest on a cricket field, no doubt about it."

The fast, not-so-medium leather flinger that was Dave Pryke in his prime – he of the windmill action and MCC, Natal, North West and SWD – snaredexactly 100 first-class wickets and 53 List A poles so one can safely take it that the Maritzburg College first XI head coach knows a thing or twore: matters bowling.

So here's Prykie on Mondli: "The young man is maturing as a cricketer and deserves everything that has come his way.

"Mondli is first and foremost a supreme athlete who has the added advantage of exceptional hand-eye co-ordination and all-round ball skills."

A highly intelligent man with faultless academic qualifications and great people skills, Prykie, in his pomp, made a study of his opponents – the opposition batters. So given his keen eye for what makes a quality batter, this is his assessment of Mondli with the willow:

"Mondli is a more-than-capable batsman who has the potential to be a genuine all-rounder at the highest level. Add Mondli's batting to his fast bowling attributes and fantastic agility, great hands and throwing prowess in the field, it sets the tone for a complete cricketer-in-the-making if he continues to work smart and hard on his game."

More particularly, Prykie cites Mondli the bowler, for which the unassuming Umlazi township-raised lad is better-known: "Mondli's strength as a bowler is in keeping it simple, bowling wicket to wicket; his accuracy, knowing where he wants the ball to go and consistently delivering on that want.

"His excellent slower ball is fast becoming a key component in setting up quality top-order batters – by creating uncertainty in their minds. The Mondli yorker, his swing in the air, movement off the pitch and ability to hit the deck with extremely high percentages is adding up to the complete fast bowler's package."

Now for those who don't know one David John Pryke, I can educate you on one thing: Prykie don't give praise easily.

Ergo, all things being equal, Mondli is going to continue to make his mark in the cricket theatres of the world.

Mondli started cricket age10, and – significantly – began gymnastics at age 11; hence the suppleness and agility. "I went for KZN Coastal U13 cricket trials in 2013 at the age of 12 and made the B side as opening batsman," says the Umlazi Express.

"It was at the Week that I decided I was going to work hard on my cricket and find out how far 'the best cricketer I could be' would take me," Mondli says with a deferential smile. "In 2014 I moved from school in Umlazi to Glenwood Prep. After school I would go to King Zwelithini Stadium in Umlazi and train in the Umlazi Cricket Club nets behind the football stadium.

"I got interested in cricket because my older cousins Sakhelephi and Sphephelo Maphlala played the game; they're one year older. We'd practice in the nets and play mini-cricket at home. That year I was selected as opening batsman for KZN Coastal U13A for the national week in Potch. I was nervous playing provincial A for the first time. And although the standard was high, I got used to it.

"In 2015 and my grade 8 year, I went to Maritzburg College on a Sunfoil Cricket bursary. I was nervous because it was the first time I had been away from home for more than a week. The first two weeks as a boarder were very tough. But after that it started getting better as I got more used to it."

"In that grade 8 year I made Maritzburg College U14A batting in the top 5. In my first Maritzburg College match I made a 50 and in my second got a hundred at Hilton College. I had a good year and was selected for KZN Inland U15A for the national week in East London.

Then came a loss of batting form in Mondli's grade 9 year that signalled the embryonic emergence of one Mondli Khumalo the burgeoning bowling threat."I think my batting dropped at U15 level in 2016 because back home in Umlazi I would bat in the nets virtually every day– training 6 days a week all year round, which included a club match on Sundays during the season.

"So with my batting not going well I began looking at my bowling in order to add another weapon to my cricket skill set. Every day during the second and third term I would bowl on my own in the Maritzburg College indoor nets. I knew that cricket was my game and started setting goals that I was determined to achieve."

And so it was. In the fourth term of 2016 Mondli started taking wickets for College U15A and began catching important eyes with regards to the new-found pace. "In December 2016 I played KZN Inland U16A for the second year and my highlight was a 77 and four-wicket haul in one of the national week matches."

It was in 2017 – the grade 10 year of Mondli Khumalo the cricketer – that things really took off. "I played for College U16A in the first term and my bowling form continued from where it left off at the end of 2016. I was selected for the Cricket South Africa (CSA) U16 camp in East London and loved that experience, the high standard, the cricket talk, and the learning.

"The high quality of the players there also confirmed that I would need to work even harder at my cricket in order to make a breakthrough to the next level."

And then the Mondli Khumalo world exploded in the best possible way; the years of training on his own,with his older cousins, with his Red Black and White schoolmates and coaches, had banked enough hours for the next step.

In the first week of the fourth term of the 2017 school year, Mondli was called up to the CSA U17 camp in Pretoria. "I was feeling stronger and stronger with my form and as I was not yet in the Maritzburg College first XI, I was picked for the CSA Talent Acceleration Programme Invitation team to take part in the Oppenheimer Michaelmas Cricket Week, which is always hosted by my school.

"In those four Michaelmas Week games against very strong opposition – all Michaelmas Week games you face strong opponents – I took 10 wickets and from there went into the Maritzburg College first XI squad. I had a good fourth term with College firsts and was picked for SA U19 in a Tri-Series against England and Namibia in Potch. I was 16in an U19tournament,so it was a good experience."

And then… Boom! At age 16 and in just grade 10 the Umlazi Express that is Mondli Khumalo made KZN Inland U19 for Coca-Cola Khaya Majola Week in Johannesburg and was the event's top wicket-taker with 13 scalps in 4 games. SA Schools (U19) selection was the reward.

In an incredible sequence Mondli had transformed from a Maritzburg College U16A fast bowler to SA Schools in less than 90 days… "I was too young to go to the U19 Cricket World Cup in New Zealand in January 2019 but was selected for the SA U19 side that went to England in July. I loved bowling in England, the ball moved a lot and being primarily a swing bowler the conditions were very much to my liking."

SA U19 head coach Lawrence Mahatlane again: "Mondli showed good control and varied skills in the junior series against England. It was nice to see."

Back to Mondli: "We lost the two Tests against England U19 but in the 50-over matches we won both."

A call-up to the KZN Inland men's team for the Africa T20 Cup in Pietermaritzburg was the next port of call for Mondli and again he benefited from the experience and saw the next benchmark his cricket journey would have to traverse.

And as we speak to Mondli, it's nearing the twilight of the fourth term, so the next stage is another Coke Week, in Cape Town from December 16 to 20, in what on paper is a strong KZN Inland U19 side.

So what can we expect for the 17-year-old Umlazi Express going into his 2019 matric year? A third SA Schools cap perhaps; possible KZN Inland senior team call-ups maybe. No-one can crystal-ball the future but if the Mondli Khumalo train ride doesn't derail due to circumstances beyond his control, there's no reason for the Umlazi Express not to speed up even further.

You go get 'em, my boy. See you on Goldstones.