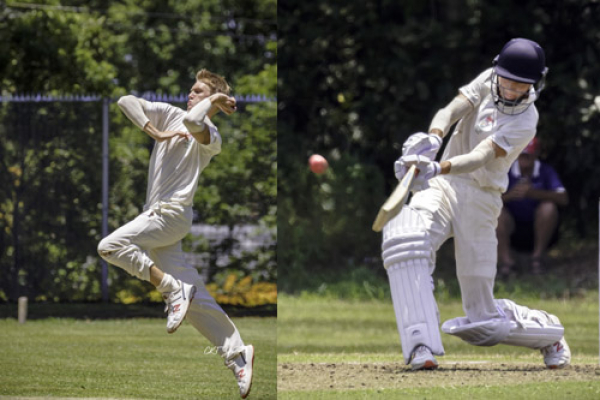 Lance Trueman is quickly becoming one of the rising stars to watch on the school cricket field. His left-handed medium-paced bowling technique coupled withhis natural abilities with willow in-hand,make Lance an all-round player who easily racks up wickets and runs.
His love for the sport began at just the tender age of seven when his father Grant was bowling to his older brother, Justyn, in their back garden of their Polokwane home. His father asked him to throw a few balls and Lance says his passion grew from there.
Lance, now 16 years old and studying in Grade 11 at Stanford Lake College, was still studying at PEPPS Preparatory School when his older brother made the transition to Stanford Lake College. At this point, Lance knew that SLC was the school for him too.
"I saw the vibe, the views, the people. I was besotted," he says.
Lance's schooling career at SLC began in 2016 as he joined the school as a fresh-faced Grade 8. He quickly became immersed into the school's culture and an asset to the cricket team. Under the coaching of Shane Friedrichs, Lance's techniques were polished and refined.
Lance speaks highly of his SLC coach, "I like MrFriedrichs, he's different. As much as he is a great coach, he is also supportive. If he sees your potential, he'll support you all the way."MrFriedrichs also gets a special mention when it comes to Lance's favourite academic subjects, "I like History and Geography but mainly because MrFriedrichs is my teacher."
When it comes to balancing his academics with sport, Lance says, "It is difficult but you need a good time management schedule. If sport fails, you have to have something academically to back you up." Lance's dream is to become a professional cricket player but he is well aware that he needs to perform academically too.
Lance was awarded as Player of the Year in the Premier League across all ages in Limpopo in 2018 and further was named as the Bowler of the Year of all ages in the Capricorn District. He attributes much of his success in the game to the lessons that he has learned at Stanford Lake College, "Honestly it hasn't even been through the cricket practice at school, it has been through the skills I have learnt from the treks, life in the boarding house, the school's value system. All of this I have implemented in cricket and it just works!"
Although Lance is strong in other sporting codes such as hockey, squash and athletics, he says his calling is cricket: "I like the battle between the batsman and bowler, you have to dig deep and I like the camaraderie in the game too. You don't see it as much in other sports."
Lance is known for his unique bowling style. As a medium-paced left-handed bowler, he relates his style closely to that ofSam Curran's of the English cricket team. Curran is also one of Lance's role models in the game, and Lance says that he sees himself when Curran plays.
He also greatly admires Mitchell Stark, "He is also a leftie. I love the lefties! I just like the raw pace that he bowls at."
Perhaps Lance's biggest idol, and someone who he recently had the chance to meet in person, is Dale Steyn of the Proteas, "It's like he just flicks a switch and goes up a level. He is also plays with such elegance."
Lance had the opportunity to meet Dale after the U/17 interprovincial tournament that took place in Durban in December. Lance was selected as an all-rounder for the U/17 Limpopo Impala Cricket provincial team and his performance figures were astounding, leaving him as the tied top scorer for Limpopo during the tournament. His bowling figures included ten maidens in 36 overs and he took 12 wickets in total for a meagre 129 runs.
His performance afforded him an invite to join a net session at Supersport Park in Centurion, where he bowled to both the Proteas and Pakistani teams. His recent meeting with Dale left Lance reeling, "He was just so open and he could relate to everything I was saying."
The Head Coach of the Titans and a few professionals that play for the team are assisting Lance with some professional coaching once a month. He is currently undertaking a conditioning program because in his own words,he is a "a bit lanky". Mark Charlton, the Titans high performance manager has really shown an interest in Lance and under his guidance has taken Lance to the next level. Lance is responding well to the technical coaching and believes that with a positive mindset, he will go far in the sport.