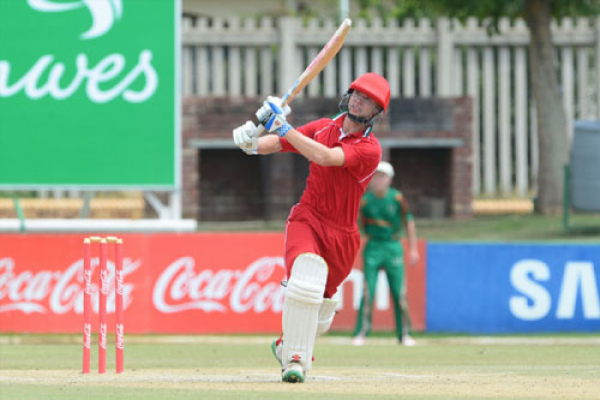 Heinrigh Pieterse can bat. Random examples – 190-odd last year against a quality Maritzburg College bowling attack while in grade 10 at KES during the Fasken St David's Marist Inanda Festival.
Day 2 of the 60th annual Oppenheimer Michaelmas Cricket Week hosted by Maritzburg College – the now grade 11 Hein smashed 167 out of a KES total off 337 off the Michaelhouse attack (defence in this case?). Hein blitzed an unbeaten 100 off the Clifton bowlers on Day 3.
SA School Sports wanted to find out more about his achievements and recognition so far.
"It is a great privilege to be selected for the Gauteng U19's [for the 2019 Coca-Cola Khaya Majola Cricket Week which is to be held in Pietermaritzburg and the KZN midlands and hosted by Michaelhouse, towards the end of December]. I have represented Gauteng through the age-group levels, so the U19 side is another special milestone to me.
"Having said that, it has been an even greater privilege to be selected for the SA U19 side this year. I feel that to represent my province and my country is the ultimate acknowledgement for all the hard work that I have put in over the years so far."
The hard work? "I do one-on-one training with coach Siya Sibiya.
"Every day I work hard to improve my fitness, strength and conditioning for the game."
"I practice every day in terms of technical parts of the game. Either at school or at home – batting, bowling and fielding. I try stay away from videos of other players due to the fact that want to be myself and do things the way I want to do them."
So why cricket? A boy with Hein's hand-eye co-ordination had a range of sports codes that spoke strongly to his talents.
"What attracted me to the sport; to me it is all about the little battles within the big battles between the two teams. It is also that I just have had a lot of love for the sport since I was a young boy.
"My dad and my brother have definitely had the biggest influence on my cricket. Between them they both have taught me how to play the game and have always supported me."
Along with another massive talent in captain Bryce Parsons, Hein is one of the two leading KES first XI batsmen. It's certainly a leadership or senior batting role, so what has it taught Hein about his own game as far as the responsibility is concerned.
"Something I have learned this year that is important for my batting is that I need to spend time at the crease and give myself an opportunity to score big at the end of the innings."
"I have been taught that I will always be able to catch up my strike rate at the back-end of an innings."
Hein is quietly confident and ambitious in terms of his cricketing future.
"My short-term goal is to be selected for the SA U19 team [for the 2020 U19 Cricket World Cup, which is to be held in South Africa early next year] and then to hopefully get a semi-pro contract.
"I would like to learn and gain as much knowledge as possible during this time. Hopefully doing this will allow me to achieve my long-term goal of one day playing for my country."
The KES first team this year is, unsurprisingly (given the rich history of this great cricket school) a very strong outfit. What is it about the team that makes Hein look back with fondness as the school year draws to a close.
The Heinrigh Pieterse answer is immediate andunequivocal. "The friendships and relationships we have built as a team have definitely been a highlight for me. The team have been extremely close and we have created a brotherhood which I believe has been an important component in the team's success."
It goes without saying that King Edward VII School is one of South Africa's foremost sporting and educational nurseries, so what has this meant to Hein, who ventures into his matric grade 12 year in a few months' time.
"KES is a place of brotherhood and tradition, and our cricket teams have that as well as the school, and it is very special to be a part of it. All the knowledge and the sharing of knowledge – from the teaching and coaching staff and with each of us as schoolmates – is incredible.
"We play together as one and fail together as one even though we do not like to fail."
"Similar to the tough patches in cricket, so in life. Cricket has taught me that no matter how tough things are in life, you will always get past it – you will get through it."
Why KES? "I attended Laerskool President Steyn. I saw that KES have the most international cricketers and I've always had that dream of playing professional cricket – and that gave me the choice of attending this school.