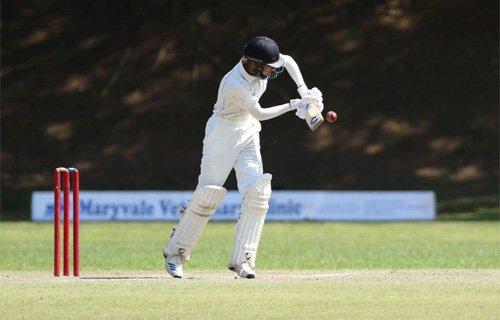 After a long absence the First XI School Cricket Rankings makes its appearance in 2021 after most of the leading schools have been in actions.
Hilton College head the table after completing an unbeaten run in the Oppenheimer Week which included some comprehensive wins over St Stithians and St Johns College.
However, with the current Cape Schools week being played we can expect the Cape teams to start making inroads with Rondebosch a perennial challenger for the top spot.
Several schools were able to get some matches in before the COVID-19 restrictions at the start of the year and these results have been included.
Please send through your First XI results to [email protected]
FIRST XI CRICKET RANKINGS 7 OCTOBER,  2021

RANK

TEAM

 PLAYED

AVG BONUS POINTS

1

HILTON COLLEGE

3

18.87

2

RONDEBOSCH

3

17.27

3

GREY COLLEGE

4

15.68

4

AFFIES

8

15.46

5

WESTVILLE

8

13.33

6

WYNBERG

3

13.20

7

MICHAELHOUSE

4

12.55

8

MARITIZBURG COLLEGE

9

11.98

9

GLENWOOD

5

11.82

10

KES

7

11.61

11

POTCH GIM

6

11.30

12

POTCH VOLKIES

2

10.95

13

PAARL BOYS HIGH

6

10.17

14

ST STITHIANS

13

10.16

15

SACS

4

10.05

16

PRETORIA BOYS HIGH

4

10.05

17

ST ANDREWS COLLEGE

4

10.05

18

ST JOHNS COLLEGE

14

10.00

19

PEARSON

7

9.94

20

BISHOPS

7

9.93

21

HANS MOORE

4

9.83

22

WATERKLOOF

8

9.68

23

PAARL GIM

3

9.03

24

JEPPE

9

8.93

25

ST ALBANS COLLEGE

4

8.80

26

KINGSWOOD

3

8.50

27

QUEENS COLLEGE

7

8.30

28

ST CHARLES COLLEGE

3

8.17

29

KEARSNEY COLLEGE

3

8.07

30

GRAEME COLLEGE

5

7.82

31

CLIFTON

6

7.80

32

GREY HIGH SCHOOL

7

7.61

33

DHS

4

7.55

34

WOODRIDGE

4

7.30

35

CENTURION

7

6.86

36

 PAUL ROOS GYM

2

6.80

37

CURRO DURBANVILLE

5

6.64

38

HUDSON PARK

3

6.63

39

DURBANVILLE

2

6.40

40

Middelburg HS

3

5.83

41

PAREL VALLEI

3

5.53

42

NORTHWOOD

8

5.41

43

CURRO HILLCREST

3

5.13

44

SOMERSET COLLEGE

5

5.04

45

MUIR

3

4.83

46

QUEENS HIGH

3

4.63

47

MARAIS VILJOEN

3

4.40

48

DALE COLLEGE

2

4.35

49

DAN PIENAAR

3

4.33

50

ST DAVIDS

8

3.89

51

MILNERTON

3

2.77