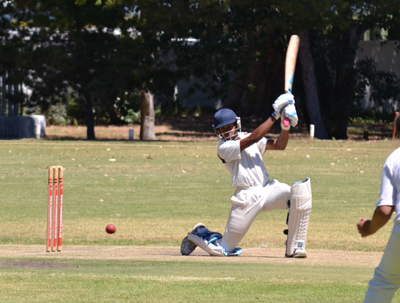 Young Rondebosch Boy's High cricket prodigy, Dayyaan Galiem, notched up his personal best against DF Malan's modest U/15A team with both bat and ball last year and announced his arrival. His bowling figures of 9/1 in 7 overs and an unbeaten 196 off a mere 76 balls in a mature batting display in the 20/20 clash made many dispute the fact that he is just 15.
No flash in the pan
Dayyaan's relentless personal onslaught against DF Malan was not just a flash in the pan either. The DF Malaners should have been forewarned.
In his debut for W.P. U/19 in January against Border Dayyaan went in at number 8 being the youngest in the team, but scored a blistering 102* from a 124 balls. It included 14 fours and three sixes.
Now in Grade 10, Dayyaan has achieved a lot in his short cricket career. He has won numerous man-of-the-match, highest run scorer and best bowler awards. His natural talent started showing when he was just 12 playing in the Rondebosch Boys Prep school's U13A side. Dayyaan scored nearly 900 runs with a batting average of 71. Dayyaan has been part of the Western Province youth structures since U11 and made the U13 Western Province side at the age of 12. He was again selected for the Western Province U13 side the following year where he was the leading run scorer in the National Standard Bank U13 week.
Last year Dayyaan was one of two 14-year old boys picked to represent the Western Province U15 side and followed on from where he had left off the year before, with an impressive batting average of 118.
Genuine all-rounder
Dayyaan has made his mark as a genuine all-rounder capable of making his school's 1st XI and provincial teams as a stroke-making middle-order batsman or a crafty opening-bowler. This
pure all-rounder, who many believe can follow in the footsteps of Jacques Kallis, achieving excellence with both bat and ball at a high level of the game.
When asked about his winning recipe, Dayyaan puts it down to hard work, a rigorous training programme and setting challenging goals from a young age. His says his mental approach to matches was to remain calm at all times, keep a clear head and to remain quietly confident.
Dayyaan says his dad is his biggest inspiration and has guided him to what he has achieved so far. "My dad's passion for cricket and his support have helped me to succeed so far. I dream of the day when I can also do the honours for the beloved Proteas," Dayyaan enthuses.
"Some of my immediate goals are to score as many runs as possible for my school's 1st XI and to make the SA U/19 team in the not too distant future. From there I would try make my way through the South African franchise system", a humble but confident Dayyaan said.
But for now, being a young aspiring cricketer in the highly competitive Western Cape school boy cricket league, this Rondebosch superstar's favourite opposition includes both Wynberg Boys High School and neighbouring school, Bishops, where the infamous rivalry has inspired him to deliver some of his best performances.
Balanced life style
Dayyaan plays a number of other sports both socially and competitively including rugby, tennis and squash. Other "hobbies" include partying and hanging out with friends says this outgoing cricketer but he knows the importance of a balanced lifestyle and pays attention to all aspects of his life such as his religion, his academics and his social life.
"But my primary focus is cricket", said Dayyaan as he demonstrated his favourite shot, the cover drive on one knee.
Big Future
Former Boland first class player, current Rondebosch 1st XI coach and Western Province schools selector, Rob Dalrymple has much admiration for Dayyaan.
"He has huge natural ability, a mature approach to the game, loads of enthusiasm and a great work-ethic. If he maintains this, he has a big future in cricket". Dalrymple said.
Dayyaan's team mates echoed Dalrymple's sentiment. "He believes in himself, he trains hard, he is a good natured person and a talented cricketer" said Alex Mather, current Rondebosch 1st team player. Murray Commins agreed and said Dayyaan was "a really cool guy who fits in nicely into the team, he is a confident and is a classy player with lots of self-belief".
Former Western Province U19 coach, Wayne Myers commenting on Dayyaan's knock in the recent U19 three day game against Boland said: "Dayyaan deserves credit for his century on debut, he came to the crease at 150 for five, with the game evenly poised. He showed great skill and maturity beyond his fifteen years, playing low risk cricket for his first 50 and explosive power hitting for his second. It was exciting to see the depth in talent available in Western Province".
Dayyaan's right-arm fast bowling and the unique ability of swinging the ball both ways and still maintaining a consistent line and length is formidable. Couple this with his aggressive stroke-making off both back and front foot and he has all the makings of becoming a mighty ruler of the much loved game of cricket.