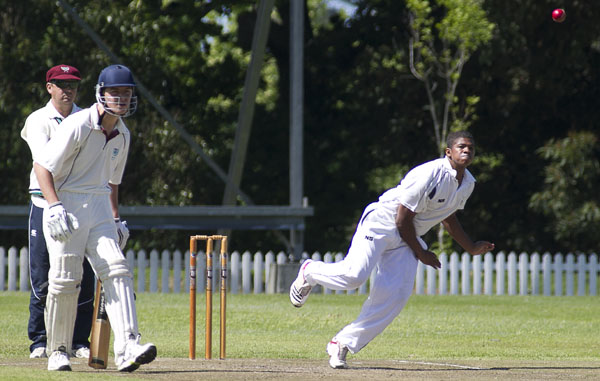 Imran Taahir appeared to have nailed down a long-term spot in the national side before falling victim to complacency and dependence on our world class seam attack. With 33-year-old Robin Peterson currently at the helm, it is time for young talent to emerge.
Although still very much a work in progress, the talent of Wynberg Boys' High spinner, Dyllan Matthews, is clear for all to see. The 15 year old right arm leg spinner already has a skill-set that many international spinners don't have in their armoury. He is able to bowl some of the variations with great consistency and success, including the googly, slider and top spinner. When asked about the indispensable weapon in the arsenal of any top class leg break bowler, namely the flipper, he keenly answered: "Although I am working really hard on perfecting it and ensuring that I can execute it consistently, for now I will simply stick to the other variations along with my conventional leg spin delivery". Testament to his modesty, although no slouch with the bat, Dyllan confessed that he would like to improve his batting to make him a more attractive proposition as a cricketer. He averaged approximately 20 for the Wynberg U15 side – proving he is a handy batsman that can do a job for his team. When asked about his best knock with the bat, he said: "I scored 90 against Michael House in 2011, an innings that I really enjoyed".
For most cricketers, it starts with a plastic bat and a tennis ball in the back garden. Dyllan Mathews is no exception and admits to playing outside with his dad as a toddler. Of course the time comes when too many windows are broken and the ball keeps flying off the bat into theneighbour's yard. So Dyllan joined Edgemead cricket club, which is based in the Northern suburbs of Cape Town, and took up a spot in their U10 side. He applied to Wynberg Boys' High to give his cricket the best chance to flourish and started playing in the U14A side for WBHS in 2011 and by the middle of 2012 became a fixture in the first team.
Dyllan had a phenomenal 2012 for both school and province alike. He finished the season as the top wicket-taker for both the 1st team and the U15A team, despite only playing a term of cricket for each of the sides. In his first season for the 1st XI he took 36 wickets in 13 games, whilst his U15A figures echo this quality. As if that is not impressive enough, he finished the National U15 PG Bison cricket week as joint top wicket-taker – taking 14 wickets in 5 games. When asked about the week he responded: "It is a huge privilege to represent my province. The week was rather challenging and I had to work hard for wickets, but I really enjoyed it out there."
Dyllan describes himself by saying: "I'm committed and outspoken, and I love my cricket." He is an absolute sports fanatic and it does not come as a surprise that he plays golf and soccer socially in the little spare time he has between schoolwork and cricket. Upholding the notion of "if you are good at one sport, you may well be good at another," he was also a crucial member of the Wynberg U15A rugby team. DyllanDyllan took up a position in the side as a flyhalf and has been described as imperative to the team's success on the rugby field. When he is not playing cricket, Dyllan enjoys the company of his friends and family. He is also a music lover and was quick to disclose 'Heart boxing' by Jimmy Nevis as his favourite song.
Provincial representation in cricket has not eluded Dyllan in his relatively short cricket career. He has represented the U11 Invitational team (2008), U13A (2010), U15B (2011) U15A team (2012) and the U17 A team. Dyllan's best bowling figures at provincial level read 6/14 in 14 overs.
Long-serving and much revered Wynberg 1st team coach, Eric Lefson talks about his kingpin leg-spinner and says: "Dyllan is a very mature leggie. He bowls like someone a lot older.. His pace, variety and control is beyond his fifteen years." When asked about his views of Dyllan's future, Lefson replied: "He also has two attributes which I believe will give him a bright future in the game. Firstly, he has a very good cricket brain – he understands tactics and what he is trying to do. Secondly he has a passion for cricket, works very hard at his game and always wants to improve."
Dyllan's goal for 2014 is to take 100 wickets for Wynberg and to hopefully then get selected for the WPU19 team. The fact that he is only in Grade 11 this year means he will have ample opportunity to gain provincial selection, but Dyllan is not aiming to stop there. His long term goal is to play for the SA U19 side. Further down the line he would like to be firmly entrenched into the amateur cricket setup and eventually hopes to play for the Proteas and complete the puzzle!
Photo: Gavin Withers