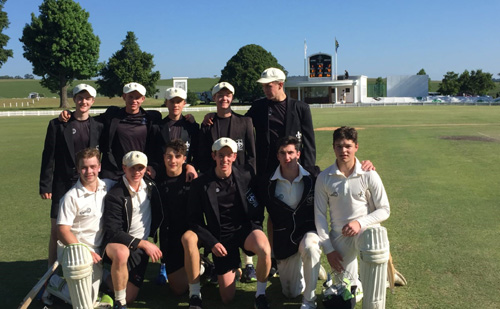 Coaching That Reaches the heart of Cricket in South Africa
For thousands of school children across South Africa, 2020 has deprived them of competitive sport completely due to the covid-19 pandemic, but what has been an unfortunate season lost for many has given coaches the opportunity to reflect and make changes to the way in which they prepare.
The end of 2020 has seen coaches and schools pile their energies into getting their next crop of cricketers ready for the 2021 season and despite the lack of matches, players and coaches have had a defined pre-season to get them prepared for next year.
Over the year the CoachED Cricket Online Cricket coaches programme has been invaluable for many coaches who have been restricted to their offices. The programme has been a shining light for many coaches who have been searching for renewed energy and a different way of approaching cricket coaching.
There are a large number of high-profile cricket coaches and directors of the various schools' cricketing programmes that have been part of the Elite Accreditation intake over the past two courses that have taken place this year.
Amongst them has been the like of St Andrews College's Director of Cricket Carl Bradfield, Kingswood College's Director of Cricket Murray Ranger as well as Hilton College's Director of Cricket Warren Kirsten.
The Hilton College First XI have been consistently one of the top performing sides in the country over a long period of time and Kirsten's approach to his coaching and the way in which he passes his ideas onto the various coaches that the school is a testament to that.
He has taken part of the Elite Accreditation course with Gary Kirsten which features some of the best minds in the game and despite a plethora of new knowledge; he believes that the course has also reassured him in areas.
"I've felt that this course has reassured me that what I am doing is working well," Kirsten said. "Being in the same space with like-minded people and bouncing ideas off each other is vital and something that we have never had before."
The end of 2020 has helped Kirsten and his coaches have a hard look at how they approach their preparation and given them almost a clean slate to work on going into the new year. There are a number of aspects to pre-season that he picked up through the Elite Accreditation that he is using with the Hilton teams.
"One thing that I have taken from the course is the ability for coaches to incorporate their physical training with their actual skills training.
"As a school's coach you might only have one hour and fifteen minutes with the side twice a week and we have to use that time productively.
"Incorporating our weight training and our skills training into one session has been a great way for us to maximise our time.
"It's something that is done overseas so we are trying to get our sides to use that method," he added.
Kirsten has seen huge value in the CoachED programme and how the different modules have been set out to make learning easier. He's also seen huge value in the elements of cricket that are away from the field.
"Data capturing is something that we are going to put more focus on going forward," he explained. "We want to be able to be more aware of the phases in the game that are important. For example, how many boundaries are we conceding in the power play of a 50 over game and our results away from home.
"We are trying to gather as much information as we can from the other venues that we play at and use that to make us a more aware side.
"Also I've learnt that it's crucial that you integrate all aspects of your team from your physio to your bio to your video analyst to the coach.
"You need to get all those cogs working together to get the side going in the right direction."
Although the holidays are coming up shortly, Kirsten and his coaches at Hilton have been able to start preparing their sides for next year's season. He feels it's important to make sure that you don't get too specific in your training too early in the players development.
"With our junior sides we try and get the boys doing a lot more at training so with the Under 14's next year we'll have thirty of them doing a number of different things.
"When they get into the senior age group then we narrow the focus and our top 24 players have all got individual programmes that they use," Kirsten mentioned.
Kirsten sees huge value in the CoachED courses whether it be the standard Accreditation package or the Elite Accreditation, he feels his coaches could only benefit from the course.
"Obviously we'll have to look at the budgets but I would love to see my A side coaches on this course if they are keen to take part.
"There is huge value in it and to learn from some of the world's greatest coaches is an incredible experience," Kirsten said.

The CoachED Elite Accreditation's next cohort starts on 18 January 2021. To apply to be part of the next intake head here for more info https://coachedcricket.com/coached-elite-accreditation/
Deadline for applications is 1 December 2020.
Should coaches just want to upskill in a learn as you go environment then the CoachED Accreditation course provides coaches with information that will help them push their coaching career to the next level.
Coaches can also sign up to the Library which is a comprehensive database of information and modules to help sharpen your coaching skills.