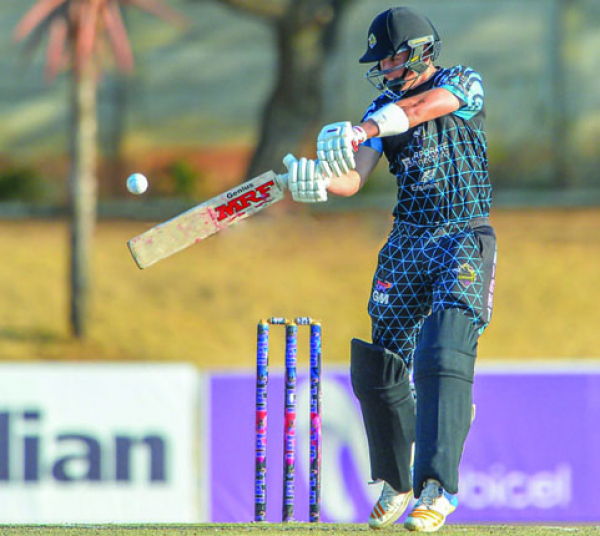 Day one of Oppenheimer Michaelmas Cricket Week a few months ago (September 21) the champion St Stithians College first XI demolished their fellow Coca-Cola Schools T20 Challenge National Franchise Finals finalists St Charles College by 7 wickets in a 50-over match on the splendid Saints Oval.
Against a quality and varied bowling attack, Cameron Rowe's unbeaten 92 was the backbone of the innings – and the quintessential trademark role expected of every team's premier opening batsman… "Bat through to the end".
Here's another random sample of the Rowe run-making ability from over a year ago, the end August/early September Fasken Cricket Festival at St David's Marist Inanda.
Cameron Rowe got 156 and 90 in his two innings during the four days.
Cameron was named Batsman of the Tournament and also won Man of the Match awards at the 2019 Coca-Cola Schools T20 Challenge National Franchise Finals competition on the cricket ovals of Pretoria's Tuks in March, where – as mentioned – the Saints of St Stithians romped home in the final.
So, it's not nothing new, the "Rowe-Flow" of runs.
Saints head coach Philip Koen on Cameron Rowe:
"Cameron is an attacking opening batsman who has the ability to place many bowling attacks under pressure. He thrives on the challenge of the new ball and is well-known for his all-round hitting ability. Cameron controls the innings and rotates the strike very well in the middle overs of his team's innings.
"His ability to find boundaries seemingly at will means that he is able to relieve pressure when necessary. Upfront, Cameron has been a vital and pivotal member of the St Stithians first XI batting line-up. He has taken the responsibility to make sure the side gets off to a solid start. He is level-headed in the middle and has learnt the art of batting for longer periods in a game.
"Cameron's biggest strength going forward will be his calm temperament and will to succeed.
"Cameron has many strengths as a cricketer and will continue to fine-tune his abilities. As a batsman I would like to see him bat for 3 hours every innings. Bat for 3 hours and you will be scoring more hundreds than you think. I believe Cameron can also develop into a very accomplished bowler and would like to see him continue to develop this skill.
"As he enters the senior phase of his career, patience and manipulation of fields for runs will be his biggest tools – remembering to hit the ball where there are no fielders, play every ball on merit and continuing to place bowlers under pressure.
"Cameron is a caring and tolerant young man. He is understanding of his team-mates and always encourages those around him. He displays empathy, and also has the ability to be stern and fair.
"In my opinion his best quality is his nurturing nature. He nurtures the young members of the squad and advises them on their cricket. Cameron is a fine example of honouring God, honouring others and honouring self. He has been himself, and known himself, and made a massive contribution to St Stithians College cricket."
Cameron Rowe scored his first 100 in grade 8 and in the past 4 years has scored 15 centuries with a highest score of 174.
The Cameron Rowe cricket journey began from the age of 3 at Wonderland Pre-primary in Fairlands, Johannesburg, where he joined the mini-cricket team. It was the same year he got his first cricket set as a gift for Christmas.
From Wonderlands, Cameron moved on to Trinityhouse Primary school in Randparkridge, where he juggled cricket and swimming during the summer terms each year. It soon became clear that any spare chance he got, Cam would have a bat and ball in his hands. Garden cricket at home, and impromptu beach cricket on holiday with strangers that quickly gathered and formed teams, became the Cameron Rowe trademark.
SA School Sports Mag wanted to find out more from the young man himself, a young man who has demonstrated the necessary focus to clock up consistent big scores.
"I'm always looking for any opportunity to further my love for the game. St Stithians first XI keeps you cricket-fit and the amount of games we play ensures that we remain game-ready.
"My St Stithians College first XI highlights definitely include winning the Coca-Cola Schools T20 Challenge National Franchise Finals title at Tuks in Pretoria earlier this year… I couldn't be more proud of my team on this, as well as winning the Johnny Waite competition, plus our Gauteng Lions Franchise T20 final.
"The team's players have formed everlasting friendships and bonds, and this is why I believe we did so well this last year, because we all trusted and backed each other to achieve our goals.
"The cricket community at Saints is an invaluable support system, and should never be underestimated. The standard of play elevates every cricketer's ability to become a better player. The amount of games that Saints play, which allow 'time in the middle' in the real-world environment, is a key element of Saints' success.
"The standards and sense of community on the sports field naturally spills over to the classroom; this balance is also a valuable contributing factor for sportsmen at the school towards the team's success.
"During peak season we [the St Stithians College first XI] practice basically 5 days a week, and I also have club games at Wanderers Cricket Club once a week, where I'm fortunate enough to be part of the Premier League first team.
"I must also make special mention of Jeff Levine from Wanderers CC who has helped me with the more technical side of the game since grade 8. My dad also helps me practice in the cricket net at home. Dad feeds balls to me every chance we get."
Cameron is also a great believer in watching videos of the master craftsmen at work. "All the time. My mom is testament to this! I often watch Virat Kohli's and Steve Smith's batting."
What I found particularly interesting – and unexpected – in talking to Cameron, is that this grade 12 is already a veteran Open Water Swimmer. The competitive cricket/swimming combination is not something you see every day in our promising opening batsmen.
"Yes, I swim and have taken part in many Open Water Swimming events, including 17 crossings of the Midmar Mile. My swimming has been invaluable in preventing injury. I also cycle with my dad and have come to love the sport."
So what made the cricket bug bite? "As mentioned, I received my first cricket set when I was 3 years old, but it was the garden cricket at family braais with cousins and uncles that nurtured my love for the game.
"Andrew Aungiers was my first cricket coach. He has had an invaluable impact on my cricket career when things didn't always go well. Andrew didn't just teach me the basics about the game and the sport, but also the fundamentals of being a sportsman, and he always found a way to make things fun.
"Jeff Levine has been a huge support in my life on and off the field. The monthly one-on-one coffee meetings have kept me on track and sometimes remind me that there's more to life, because we talk about a variety of issues."
Cameron then mentioned another key component in his success so far. "The entire St Stithians cricket community, including the parents, is an unmeasurable support structure and my cricket would not have been at the standard it is, if it were not for them.
"Special mention must be made of my Saints coaches over the years: Mr Fontaine, Mr Strachan, Mr Adams, [first XI head coach] Mr [Philip] Koen, [first XI assistant coach] Mr [Charles] Coventry, [Saints director of cricket] Mr [Wim] Jansen, and Mr Stringer.
"My dad has been my biggest supporter; he shows up without fail at each cricket game. His silent strength and moral compass has been a great learning tool for me. I always enjoy having him next to the cricket field, even though he sometimes believes that he may be bad luck! Luckily I'm not superstitious."
Sure, being a team's go-to batting mainstay sounds pretty glamorous, but it also comes with responsibilities, accountabilities and that not-insignificant little thing called "pressure".
Cameron?
"I always enjoy facing the new ball first up, because of the challenges it presents. I look to contribute to a fast start to our batting innings. Definitely batting first. There is always a lot less pressure when batting first. Bowlers are often fresh when bowling first, and this makes it more challenging and fun for me, when batting.
My senior batting role has taught me how to take responsibility and do the best for the team within the situation presented. I have learnt to take ownership of my actions because, at the end of the day, it's up to me to get the job done.
"Having said that, it has also been extremely important for me to make sure that the next few years of Saints first XI batsmen have a confident mindset to play first team cricket. So the batsman with me at the crease has also been a focus point.
"A cool, calm mindset on the field and a respectful attitude towards everyone else on the field has stood me in good stead."
It's not surprising, then, that Jacques Kallis is special to Cameron. "He epitomises the values and characteristics of a true cricketer and sportsman. His contribution to the game has been invaluable."
As far as the near-future is concerned, Cameron is taking a pragmatic approach.
"I hope to carry on playing for the Gauteng Lions Academy. I'm taking a gap year in 2020 to focus on personal interests and my cricket. I hope to debut for the Strikers at some point. As well as the Lions, in the next 5 years, if possible. I'd also like to remain a valuable contributor to the Wanderers Premier League team as long as my career allows.
"Cricket has taught me to never give up. Just like you take one ball at a time in a game, you should take it one day at a time in life."
Perhaps it's not altogether surprising, then, as to what Cameron would like to do or be in terms of a working career outside cricket.
"I would like to be a professional wildlife artist and run my own conservation efforts in this field. The dream is to own my own game reserve and lodge."
Admirable goals indeed.
"Cricket has been a constant in my life. Through being involved in it, I have learnt more than just about the game. This game challenges you and your abilities and value system.
"I will always be grateful for the game of cricket."
And so say all of us.