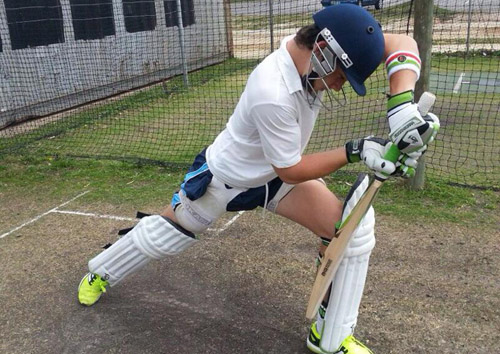 Matthew Paul Breetzke, better known to his teammates as "Pup," on account of him being the youngest in the Grey 1st XI, is a hard-hitting opening batsman who relishes in getting himself in and demolishing bowling attacks with his wide array of stroke-making. Matthew sees himself as an "aggressive opener who likes to keep the scoreboard ticking and put the bad ball away." He has confessed to prefer playing through the offside, as well as taking a particular liking to short pitched bowling. Matthew is a competitor and thus will never back down from a challenge. It is this competitive streak, combined with a very confident approach to the game, which has seen him flourish at a level above his age.
According to Matthew, he has been playing cricket ever since he can remember: "I started playing as soon as I could walk! With my dummy in my mouth and bat in my hand, I was always in search of willing participants to throw the ball to me." He also fondly recalls the first cricket team he played for, namely the Grey U9 A team in 2007.It did not take long for Matthew to start turning heads. The following year he hit 154 not out as a U10 boy against Dale, a rival opposition school that Matthew has taken a particular liking to. In 2011, as an U14A cricketer, he smashed yet another unbeaten 124 against the same Eastern Cape outfit.
Matthew has continued to improve and develop into one of most exciting cricketing prospects in the country. At U14 and U15 age groups he averaged over 75 with the bat. He is a right-handed opening batsman by trade, but when asked about his personal preference regarding where he bats Matthew replied: "Although I currently open for the 1st team, I prefer batting at either number 3 or 4 as I do for the Eastern Province team." Besides for his exploits with the bat, it must be noted that Matthew is no slouch with the wicket-keeper gloves when performing this duty for school or province. "I need to continue working on my keeping as it could help me get to the next level" admitted the talented cricketer.
Matthew immediately made an impact at 1st team level. In January, when he made his debut at the Grey Cricket Festival, he smashed a phenomenal 90 against St Charles from Durban on the first day. "I was ecstatic with my debut, but was rather disappointed that I did not pull through with a hundred after getting so close." He also fondly recalls scoring another fifty at the festival, against another well-respected Durban outfit, DHS. Matthew believes playing against some of the SA U19 cricketers was a real confidence booster. Although only 14 at the time, Matthew finished the festival as one of the top five run scorers, but admits: "while I got all the credit I wouldn't have been able to do it without the support of the team."
Things have subsequently gone from strength to strength. Matthew went on to average 38 for the first term and produced some brilliant knocks for the 1st XI. Some of these knocks included fifties against Old Greys, Muir College and Maritzburg College.
Matthew's integration into the 1st XI has been a smooth one: "Initially I was extremely nervous and didn't think I would be able to cope with it playing 1st team cricket at the age of 14. However, the support I have received from the team has been great. All the senior players, as well as the coaches, kept me calm and boosted my confidence". Matthew really relishes playing at this level and he admits: "It's extremely daunting to see the size of some of the opening bowlers, but I have started to get used to the pace and enjoy the challenge."
Matthew was selected for the EP U11 and U13 team for four consecutive years, representing the latter in 2010 and 2011. In 2012 and now, in 2013, Matthew has been selected for the EP U15 team: "It is always a huge honour to be selected to represent your province in any sport. My goals this year are to be consistent, score plenty of runs and help EP to win the tournament." He has not only excelled in cricket but also played EP U12 Rugby, however he missed out on selection the following year due to prearranged overseas commitments.
Matthew attributes his success to date to his entire support system, which includes family, coaches, team members and friends. He recognises his dad's passion and enthusiasm for cricket and recalls his dad's unwavering commitment: "he started to throw balls to me and bowling to me in the nets from an early age.He has also always been there to support me and never misses a game if he can help it."
Matthew also acknowledges the contribution of older brother and former EP schools' cricketer Chad Breetzke: "He always supports me, advises me regarding my technique and spends hours with me in the nets."
Lastly, Matthew mentions coaching duo, Fred Swaarbroek and Dave Callahan, as instrumental figures whose support and tutelage over the last year has seen him flourish for Grey High school: "They both believe in my ability, which has given me self-belief and enabled me to play my game to the best of my ability. Through their incredible knowledge and understanding of the game they have helped me learn from my mistakes and to play the game according to the situation."
Grey 1st team coach, Richard Gilbert, is very positive and excited about Matthew and his potential. He describes him as a "talented batsman, with a large variety of strokes. He is learning with every 1st XI innings and continues to improve." He also believes: "technically Matthew has and continues to develop a good understanding of what the important basics are for him to nail down early in his cricket career." With regards to his batting Richard says, "Matthew can be aggressive, especially against short pitched bowling and anything loose. He has been completely unfazed playing so far above his age group and believes in his own ability when at the crease. He generally scores quickly and with the large selection of shots at his disposal it is becoming increasingly difficult to bowl at him." Richard believes Matthew has lots of ability, but how far he goes in the game is completely up to him: "His work ethic is strong; he is fit and must remain so. The challenge for him is to dominate at national level when the opportunity arises and start to score big hundreds at school level."
There was no surprise when Matthew claimed incumbent Protea, AB de Villiers, as his cricket icon: "I enjoy his enthusiasm and his positive approach to the game. He has the ability to adapt his game according to the situation and is a true team player. AB has a lot of time for his fans and goes out of his way to promote the game." Ironically, just like his icon, Matthew is currently being sponsored by well-known cricket equipment manufacturer Kookaburra. "When my bat broke I enquired about the possibility of sponsorship, and the support from Kookabura has been amazing."
Matthew currently practices four days a week to prepare him for the weekends' matches. Of these, two are spent training with the first team for three hours per session. The other two days are spent practising privately for two hours a time. Considering this massive investment of time and energy, Matthew's academic output is more than adequate: "In terms of my academics you could say I bat at number 6 or 7. I'm not too bad, but not that great either. I have the ability, but prefer practising cricket instead."
His hobbies include going out with friends, "braaiing" with family as well as fishing and hunting. His favourite movie is Step Brothers and he loves a tasty pizza every now and again. What does he consider his best personal traits? "It is hard to say, but I think I am confident, hardworking and goal driven. I always strive for improvement."
What would a cricketer be without pre-game rituals? Matthew is no different in this regard: "I sometimes can't pick which socks I want to wear, because I don't know which ones I will perform better in. This has often led me to take as many as five pairs of socks to the game and choose a pair once I am there."
Matthew has his sights set on making it as a cricketer and has identified his requirements to achieve his goal "I need to score a lot of runs for Grey and subsequently realise my immediate goal of playing Coke week next year." Although Matthew understands that this will be a great challenge he is: "Willing to put the hard yards in in order to make it." He wants to: "become the best cricketer that I can be with the talent I have been given. I must concentrate 100% and occupy the crease for as long as possible." Ten years down the line Matthew wishes to be involved in the national setup and realise his dream of playing for the Proteas: "It would be a dream come true and I would love travelling the world playing cricket for a living."
The best of Matthew Breetzke is yet to come and we look forward to watching him progress as a top school boy cricketer. We wish him all the best for his future and eagerly anticipate watching him achieve his cricketing goals!