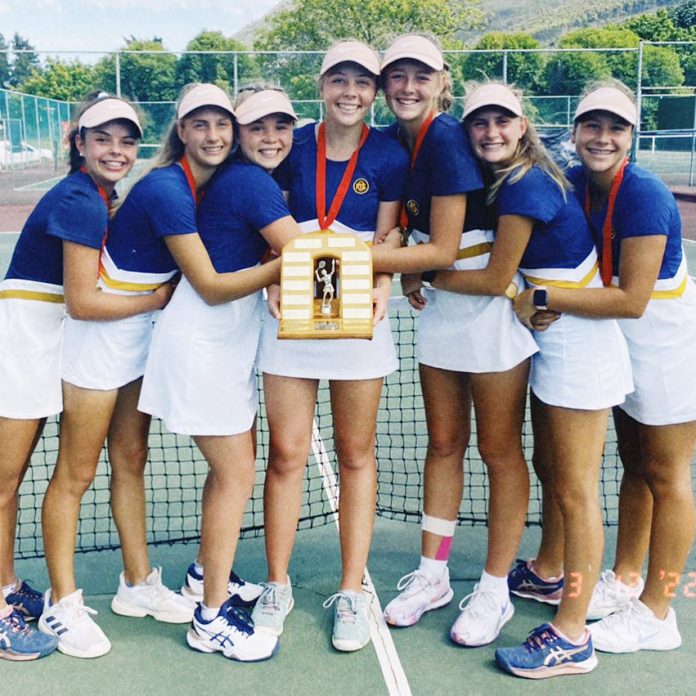 After 7 years, the Gerrie Berner Tennis Trophy is back in Bloemfontein!!
On Saturday Oranje's 1st tennis team won the tournament at Paarl  by defeating Bloemhof in the final by 4 matches to 1.
Finally achieving this after the Bloemhoffers beating Oranje in the previous 5 years' finals. The Orange were the champions between 2012 and 2015.
The Orange also managed this with a very young team. Two members (Ansoné Theron and Donna le Roux) are gr. 9's and two in gr. 10 (Mia and Nina Schimper). Orange was unbeaten after victories over Waterkloof (4-0, semi-final), Invitational team (7-0), Menlopark (5-2), Helpmekaar College (6-1), Paarl Girls' High (5-2) and Rhenish (5-2).
It was extra special for the matriculants Liné Greyling and Lezaan Swanepoel, as they had won their primary school tournament in 2017 in their last year of primary school at Oranje Primary.
Most of the country's strongest school teams were present fighting it out for the trophy, a very exciting tournament to watch.
Sports report compiled by Oranje Meisies
Photo: The winning team- left Ansoné, Nina, Lezaan, Liné (captein), Anzél van Zyl, Mia en Donna