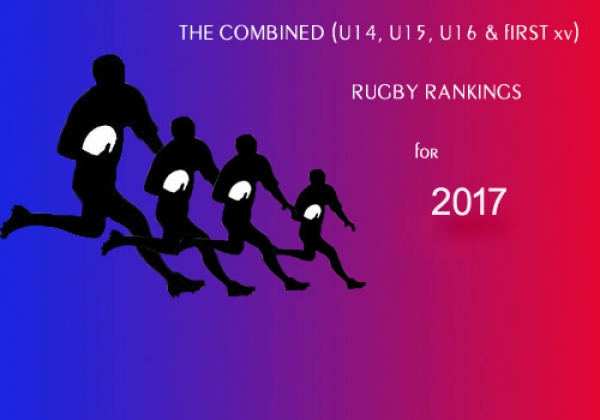 The 2017 school rugby season has finished and once again we have witnessed the sport played in its purest form at an astonishingly high level.
The challenge for the administrators of the sport is how to effectively manage the strong flow of talent that seems to endlessly flow from the school fields in a way that ensures the country takes its place as the leading rugby playing nation.
However challenging that task is, one fact that is guaranteed is that the schools, coaches and players are doing their part in providing a pool of players that will keep the strong traditions of rugby beating strongly in South Africa.
As is the tradition at SA School Sports we have combined all the rankings to produce a Combined Rankings for 2017. These rankings include the First XV's, U14's, U15's and U16's which serves to illustrate the all round rugby strength of a school.
Taking in all the average bonus points achieved by the various age groups we have Grey College taking the top spot just ahead of Boishaai. Across the age groups Grey proved to be consistently at the top with their U16's and U14's performing better on paper than Paarl Boys High which gave them the edge.
The renewed fortunes of Helpmekaar are particularly interesting as all their teams performed competitively throughout the season which underlines the strong rugby culture they nurtured during 2017.
All in all a wonderful season comes to a close with the usual suspects making up the elite rugby schools in the country. However many schools have made promising inroads and are challenging the traditional powerhouses for their turn in the limelight.
It all should make for a great 2018!
COMBINED U14, U15, U16 & First XV RANKINGS 2017

RANK

TEAM

COMBINED AVG PTS

1

GREY COLLEGE

25.636

2

PAARL BOYS HIGH

22.670

3

HELPMEKAAR

21.989

4

PAARL GIM

21.775

5

MONUMENT

20.823

6

SELBORNE COLLEGE

20.496

7

PAUL ROOS GYM

20.065

8

AFFIES

19.931

9

OUTENIQUA

19.874

10

MENLOPARK

19.500

11

OAKDALE

17.620

12

GLENWOOD

17.312

13

HTS DROSTDY

17.179

14

ST CHARLES COLLEGE

16.957

15

ST JOHNS COLLEGE

16.006

16

KES

15.975

17

DURBANVILLE

15.566

18

MARITZBURG COLLEGE

15.409

19

ST STITHIANS

14.893

20

ST ANDREWS COLLEGE

14.486

21

STELLENBERG

14.383

22

HILTON COLLEGE

14.079

23

DALE COLLEGE

14.035

24

JEPPE

13.778

25

TRANSVALIA

13.653

26

WESTVILLE

13.566

27

VOORTREKKER BETH

13.457

28

BOLAND LANDBOU

13.260

29

WELKOM GYM

13.247

30

LEEUWENHOF

13.210

31

HUDSON PARK

12.573

32

OOS MOOT

12.453

33

WITTEBERG

12.437

34

FRAMESBY

12.060

35

NICO MALAN

11.752

36

GREY HIGH SCHOOL

11.503

37

KINGSWOOD COLLEGE

11.053

38

BASTION

10.840

39

SACS

10.832

40

MONTANA PTA

10.798

41

DIAMANTVELD

10.379

42

KEARSNEY COLLEGE

10.364

43

DIE BRANDWAG

10.181

44

BISHOPS

9.975

45

QUEENS COLLEGE

9.871

46

RONDEBOSCH

9.722

47

PEARSON

9.690

48

LIGBRON

9.269

49

HS ALBERTON

9.084

50

ST DAVIDS

9.041

51

EG JANSEN

8.757

52

BEN VORSTER

8.749

53

MARAIS VILJOEN

8.627

54

NOORDHEUWEL

8.307

55

WYNBERG

8.052

56

BRACKENFELL

7.748

57

PIET POTGIETER

7.736

58

FAIRMONT

7.673

59

HANS MOORE

7.378

60

PAREL VALLEI

7.157

61

SUTHERLAND

7.098

62

WATERKLOOF

7.054

63

SECUNDA

7.044

64

LYDENBURG

6.961

65

ROB FERREIRA

6.843

66

HOPEFIELD

6.840

67

NELSPRUIT

6.822

68

MICHAELHOUSE

6.685

69

HERMANUS

6.677

70

WOODRIDGE COLLEGE

6.430

71

PRETORIA BOYS HIGH

6.387

72

BEKKER

6.146

73

WESVALIA

6.084

74

POTCH GIM

5.790

75

ELDORAIGNE

5.640

76

RUSTENBURG

5.541

77

HUGENOTE SPRINGS

5.310

78

FRIKKIE MEYER

5.288

79

NORTHWOOD

5.245

80

PIONIER

4.988

81

MARLOW

4.890

82

GARSFONTEIN

4.841

83

CLIFTON

4.812

84

ELLISRAS

4.723

85

LICHTENBURG

4.571

86

PARKTOWN

4.474

87

DF MALAN

4.315

88

BRANDWAG

3.863

89

GRAEME COLLEGE

3.843

90

KEMPTON PARK

3.684

91

HUGENOTE WELL

3.645

92

KLERKSDORP

3.516

93

RANDBURG

3.493

94

HTS MIDDELBURG

3.081

95

DINAMIKA

3.040

96

CENTURION

2.978

97

DHS

2.870

98

DESPATCH

2.755

99

PIETERSBURG

2.545

100

CURRO NELSPRUIT

2.261