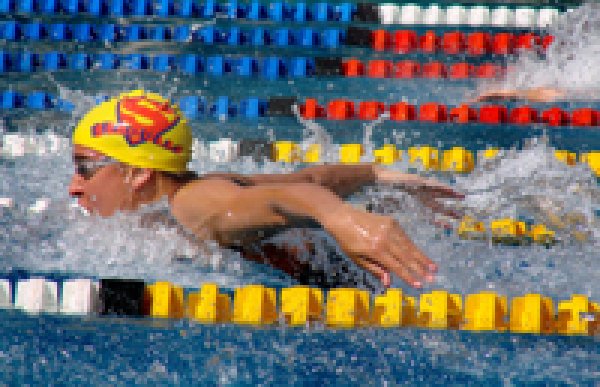 Before you know it, he's walking onto Wimbledon Centre Court beside the Swiss maestro. In a Platteland field, an ardent Jonny Wilkinson fan perfects the English pivot's cupped hands. Months later he's lining him up on the Bok try-line in the torrential Twickenham rain. Far fetched? For ninety-nine percent of us. Chad Le Clos is most certainly a part of the celebrated one percent.
The sad reality is that the average South African would mistaken him for a regular run of the mill grade eleven schoolboy. Try telling that to Michael Phelps. At the FINA Swimming World Cup in November 2009, the self-proclaimed best swimmer of all time was humbled by the South African duo of Darren Townsend (Gold) and Le Clos (Bronze); the pair proverbially smothering him on the podium of the 200 metre Individual Medley in Berlin. With all his bravado and joie de vivre, Phelps was seconds away from being toppled by one of his biggest fans.
When meeting Le Clos, it is clear that he is the epitome of unobstructed intensity; free from the peripheral distractions that have all too often spelt the end of many a talented school sportsman. "I have sacrificed a lot. The December holidays are coming up and my friends will be off to relax and party. My Friday nights are spent preparing for upcoming races." There is no sense of loss or longing in his explanation; only the recognition that such social shortcomings are par for the course for an international athlete competing against the best on the planet. He does admit to one weakness though.
"I try eat as healthily as possible, but I do treat myself now and then. Luckily my dad is really helpful with my diet". When considering that Phelps consumes between eight thousand and ten thousand calories a day, Le Clos is unlikely to find himself sporting a 'boep' any time soon.
Perhaps the most astonishing aspect of Le Clos' meteoric rise has been its whirlwind nature. A member of the Seagulls Swimming Club since grade four, it was only two years later that his talent caught the eye of many an interested party. "I remember going to watch the D & D (Durban & Districts) Galas when I was still at Penzance Primary. I saw the spirit at Westville Boys High and knew exactly where I wanted to be".
Whilst a prodigious talent in grade eight, he still dabbled in rugby, soccer, and tennis, leading many to believe this could hinder his true potential. "Westville was very supportive of me playing many sports, but I knew that if I was going to go far with swimming, I had to put everything into it". Considering he played soccer at a provincial level whilst at primary school, this could hardly have been an easy decision, yet Chad took it in his stride.
A strong influence on his decision was the esteem to which he held Terence Parkin. Parkin was a fellow Seagull when the deaf swimmer competed in the able-bodied 2000 Sydney Olympics and brought home a silver medal. "That victory had a huge affect on me. He was my hero and now is a good friend of mine. He's making a comeback soon. I'm really keen to see how he goes".
At 29, Parkin is seen as a relative veteran in the sport, with most peaking at around twenty-four years old. The intense stamina of middle-distance swimming means that Le Clos may look to retirement at around thirty. "What I might do down the line is possibly concentrate on shorter distances to prolong my career, but anything could happen at any time. I could break my leg tomorrow. You just don't know".
He inadvertently raises a valid point. The unremorsefully fickle nature of professional sport would lead many to be tempted by the promise of unfathomable riches. Would he consider a big money offer to swim for another country, ala the Qatari attempt to hijack Roland Schoeman and Ryk Neethling in 2005? His response is as rigid as it is passionate. "The badge means everything to me. Knowing that I am swimming for my country; money can't replace that feeling".
The word 'admirable' cannot even begin to describe such loyalty. Minor sports (i.e. any other besides the 'big three' of rugby, soccer & cricket) are notoriously short-ended in this country. Talented individual athletes often begrudgingly respond by heading stateside to take up the offer of a scholarship to an American college. Not Chad. "I'm going to stay here after school. I really work well with Graham Hill, my coach at Seagulls and want to continue with that. I might want to study something like Sports Science, but I'll take it as it comes".
To 'take it as it comes' may seem inconsistent with the goal-orientated approach usually found with such prestigious talents. Yet when your achievements far surpass your expectations, it may just be what the doctor ordered. In grade ten he broke two records (as well as scooping a bronze for good measure) at the Commonwealth Youth Games.
It was his first international competition. He swam in the under 19 age group. Did we mention he was still in grade ten?
"The Olympics is everything. That's why Roland Schoeman and Ryk Neethling are well-known to people who don't even follow swimming. I'm on the Olympic team now, so I should be there. That's my focus for this year: getting a qualifying time for London 2012. But I should be at my peak at the 2016 Games".
Le Clos gained a small glimpse into what Olympic glory would bring, whilst walking the streets of Berlin at the World Cup. "People would recognize you because they follow swimming and it receives a lot of coverage in the papers. Its strange because (teammate) Cameron Van Der Berg is the best in the world at what he does, but hardly anybody knows him in his own country".
Chad has proven himself quite the jetsetter over recent years. In 2008, he spent six weeks on international duty. This year it was three months. 2010 promises to be even more.
This has lead to the realization that he might have to complete his matric over two years, rather than one. Any other high school student would equate the discovery to cruel and unusual punishment. Le Clos simply shrugs his shoulders, knowing its par for the course.
Just when you thought he had everything going for him, a ruling by the powers that be will ensure his feats are furthered even more. On the dawn of the New Year, the rubber swimsuits that have caused so much controversy over the years will be officially banned.
This could spell the end to many an international swimmer who has become largely dependent on the rubber hybrids for their success in the water. As for Chad, well he never really took a liking to them. His preference for traditional attire will clearly give him the upper hand when the chasing pack is reduced to reliance on skill over technology.
Chad Le Clos is by all intensive purposes, still a boy. Yet he dominates a man's sporting domain. He is only going to get stronger, faster and more dominant. If promise and the formbook is any measure of future success, he will provide South Africa with unprecedented Olympic silverware in the water.
The year is 2016. The Lions have just won their third successive Super 15 title.
The English cricket team is made up entirely of British-born players. Chad Le Clos dominates the water in Rio De Janeiro. Whilst the first scenario is improbable and the second, seemingly impossible, Le Clos' feats are outwardly undeniable. In the midst of this inspiring success, a hesitant grade four steps up to his school pool, preparing to take the plunge. He no longer wishes to be François Steyn. He's not bothered by the strokeplay of A.B. De Villiers. All he wants is to be like Chad Le Clos.