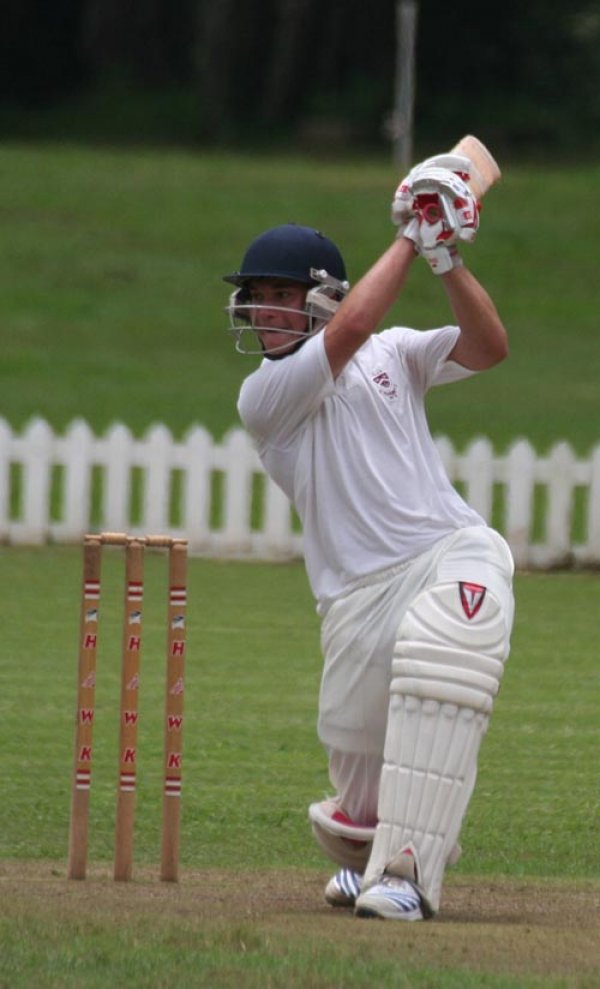 has the depth to dominate world cricket for many years to come. Proof of this is found in virtually every top sporting school in the country where players are honing their skills so that when the opportunity comes knocking they will be in a position to seize it.
"I remember when I was 5 years old wanting to play for South Africa"
Take a look at Kearsney College in KwaZulu-Natal, not only do they have a rich tradition of success but recent form suggests that they are probably one of the best teams in South Africa. Shaping the backbone of their strength are two players who have gained selection to the KZN U19 side and who have entrenched themselves in the Kearsney First Team since they were in Grade 9 and they are already focusing their sights on a long cricketing career in the future.
Chad Bowes who is still only in Grade 11 is the first to explain that his success as an all rounder is down to the fact that it was a goal of his before he started attending any school. "I remember clearly when I was about 5 years old playing cricket in the garden with my Dad and telling him that I wanted to play cricket for South Africa. He said if that is my dream I should do everything I can to get there, "Chad explains. Since that early beginning that dream has slowly grown with each obstacle carefully negotiated and countless hours of sacrifice put into developing his obvious talent.
Regardless of your age, if you are good enough to play First Team cricket you will be given your chance to play at that level is the belief of Coach Andre van Zyl. It is a belief which has produced a well balanced side which has within its ranks a number of players who have played a few seasons at this level and which provide a wealth of experience. By no means intimidated by being so young these cricketers have backed themselves realizing they are in the team because they are talented enough.
Jarryd Phillips who is completing his school career in 2009 and looking forward to playing provincial cricket next year points outs that Kearsney's success is definitely due to this policy. "It is really nice to come in as a junior and work your way up the system. You are always the youngest player in the side but you gain a lot of experience and by the stage you get to Matric you have great experience and you feel you have earned your position in the team and that you belong," says Jarryd.
"We must have the best team vibe of any team"
Both cricketers made it clear that the team's success is without question due to two other factors; the standard of coaching and a professional and exciting team vibe where all players want each other to thrive. Chad has experienced this team spirit for 3 years now and when comparing Kearsney to other teams he knows he is part of a unique squad. "The guys just get along so well, I was just thinking about it on our recent tour to St.Davids that we must have the best team vibe of any team. We bond very well and have fun and when we bring this attitude onto the cricket field we seem to relax and play well. The coaching here at Kearsney is also a great help to our recent success. Possibly we are not a school like KES or DHS who have produced a numerous amount of International players but we have at Kearsney produced top class cricketers and I think the coaching has a bit to do with it. Mr. van Zyl our coach has a good rapport with the players who respect him and it shows in our performances," Chad Bowes says.
Playing out his final matches for Kearsney College, Jarryd Phillips can look back on a career that has already given him many fond memories. Having played in numerous matches for Kearsney and for KZN U19 there have been many highlights. However for Jarryd one game that is still fresh in his mind was this year's match between the Combined Schools XI and the Sahara Legends hosted by St. David's. Jarryd was there at the crease as the winning runs were scored and the schoolboys registered an impossible victory against a team packed with legends of the game. "Yes playing in the Combined Schools side was incredible and just being in the same environment as professionals who you have looked up to for years was hard to believe. A lot of people say that they weren't really trying but they were, especially at the end when the game was slipping away from them. It was very competitive, something to remember. Another highlight in my school career has also got to be the 50 over match against St. Charles last year when I managed to get my highest score of 169 not out. It was a great match for me!" Jarryd recalls enthusiastically.
To reach the top the Kearsney cricketers have realized that they cannot simply rely on their natural talent. To separate them from the rest they have sacrificed plenty hours in their endeavor to develop as professional an approach to the sport as possible. The veteran cricketer Doug Watson is currently Chad Bowes' mentor and the Dolphins stalwart has helped in transforming his mindset from being a normal schoolboy cricketer to wanting to be one of the elite players in the world. Chad explains that "Doug has been able to get my mental toughness right to play and compete at the highest level. For him to be part of my life is very significant and I think it will be one of the deciding factors if I can get to the top or not." Gareth Brown has been inspirational in the development of Jarryd Phillips since the age of 6 and knows the batman's game inside and out. "For the past 11years he has coached me, he knows my game very well, what shots I should play and when I should play them and how to set targets and how to concentrate," adds Jarryd.
"I don't want to be a local club cricketer, and go and play on Sunday and have a jol"
Kearsney College will want to make the most of Jarryd and Chad's experience as the final matches are played out in 2009. Already enjoying some good victories against tough opposition there are a few games in particular that they are looking forward to before the season comes to an end. "Maritzburg College will be a great match, they have a good side and we are expecting a tough match from them along with the night match against St. Charles, " says Jarryd. However the one match that will be top of the agenda will be the clash against Hilton College and a chance to turn the tables on the Midlands side. "Yes that is one match I am really looking forward to! They beat us in the first term so it is going to be interesting to have another go at them. On that day the pitch seemed a bit wet, maybe it wasn't covered, I don't know but the ball was popping on a half length and hitting helmets it was really something else. So we would like to prove ourselves in the rematch. Hopefully if there is a bit of rain about all the pitches will be covered before the match starts," mentioned Chad.
The attention to detail is what often elevates great players from the good ones and it is a factor that has placed Jarryd and Chad in a position to seriously challenge for places in the SA U19 side that will play in the U19 World Cup. With the amount of talent floating around school cricket these days this will be no mean feat but such is the determination of these Kearsney cricketers that few would bet against both enjoying productive careers in the sport long after their school days are over. Summing up their shared single mindedness to get to the top of the cricketing world are the parting words of Chad Bowes, "I am willing to make any sacrifice necessary to become a professional cricketer. Each level you go up to and play cricket requires greater sacrifices, I don't want to be a local club cricketer , and go and play on Sunday and have a jol, I want to play professionally so whatever sacrifice is required I will do it."