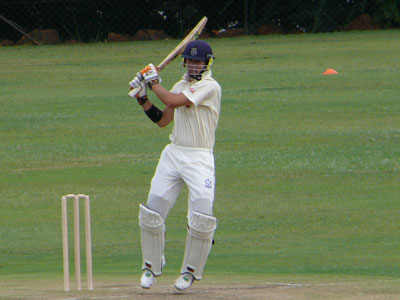 One such star on the horizon is Westville's Cameron Delport. This elegant left hander has already enjoyed a season in the United Kingdom where he turned out for Kent and Hampshire and stands at the threshold of really making a career out of the sport.
The young Delport took to cricket as most do whilst at primary school. Having Eastern Province cricket legend, Dave Callaghan as an uncle meant that the sport was already swimming freely in his blood.
"I just seemed to have quite a good eye for the ball in those days. I started off with hockey first but then started playing cricket and it just developed from there," explains Cameron.
Looking to be a boarder in the Highway area, Westville Boys High School was the obvious choice and it is a decision which he doesn't regret.
"I did apply for some of the other schools but Westville is the best school in the Highway area and I was looking to board which I have been able to do here at Westville. When Westville got Phil Russell as coach he really had a big influence in the way I played and also when Doug Watson opened the academy here I would come early in the mornings and learn not only about cricket but about exercises that will help me stay fit."
And then also the facilities are great here for example the MPC, we can go hit balls anytime we want to. Also with Phil Russell preparing the pitches it has helped so much as before we never had a proper groundsman."
Being a talented all rounder Cameron Delport was soon finding himself a regular in the schools first XI scoring heavily and was rewarded by being selected for the KZN U19 team. However an opportunity came knocking last year that may well have propelled the Westville cricketer into the top flight of the sport in record time.
"Last year I went overseas as a student exchange for Westville Boys. I was able to contact Graham Forde and played for the Kent County second XI. It was awesome; however it was a bit too far to travel to Kent because my school was in Hampshire. Thanks to Graham Forde he managed to get me to play down in Hampshire where I played for their under 17 and under 19 teams and I turned out for a few games for the Hampshire seconds and then got selected for the England U17 team. I was in the squad for the England U19 team but had to return to SA to do my matric."
Success came immediately to Delport whilst in the UK being part of the victorious Hampshire U17 side who where crowned county champions in 2007.
One would be forgiven to despair and wonder if yet another one of South Africa's great wealth of talent has already decided to look to the UK to play the game. Yet Delport is pragmatic about where his loyalties lie.
"I would like to see what I can do here in KZN first before I look to playing anywhere else. I am a South African and I want to represent my country first but if that doesn't all work out I still want to make a career out of cricket so having a British Passport gives me another opportunity," he states clearly. "If I had to write my own script I would really want to represent the Dolphins I would like to get my first class cap here in KZN for the Dolphins and I am working very hard towards that. I have a lot of work to do on all aspects of my game, not only my batting but I have a lot to work on my mental side like staying in there for longer and not scoring too quickly. Of course my ultimate goal is to play for South Africa."
Perhaps this talent is not lost to the UK quite yet, but with cricket being a career and offering financial rewards to those with enough talent few would begrudge a young player seeking fame and fortune abroad if it is not to be had at home.
Still there are few schoolboys who have already tasted cricket at this level and even fewer who have done that whilst playing overseas. Cameron is without doubt that the whole experience of playing for a season overseas has contributed to his overall ability and skill.
"Conditions are very different in the UK and I needed to adjust my game for the first couple of matches. They have slower pitches which are a lot greener, and it was also a different level that I was playing at. It was very competitive and very good. I was probably the youngest in the team. Some of the guys that I played with like Paul Dixie and others have played for the England A team so there was a lot of experience about. In my first match when we played against a combined Sussex and Surrey side I opened the batting with Ireland's Owen Morgan who plays for Middlesex and had just come back from the World Cup so there were many guys who had already played first class cricket."
In that match, Cameron Delport is his first outing for Kent/Middlesex seconds managed to bludgeon 66 runs off just 44 balls hammering 4 sixes and 7 fours along the way!
Playing against professional cricketers and against seasoned campaigners has given Cameron Delport an unique opportunity to hone his skills at a level that few his age would have come against and he is fully aware of how this has benefited his skill level.
"The first game I played I was really nervous because I was up against guys who were professionals and who had played first class cricket and represented their counties. But it did help my cricket and I did well in my first couple of games."
Returning to Westville Cameron Delport has enjoyed a good season playing for their First XI in 2008 although he is quick to admit that the standard of cricket played at the top schools in KZN is at a very high level at the moment and the competition between the schools is tough.
"Schools like DHS who did well this year at the Michaelmas Festival, College and Kearsney have also proved to be very strong this year. Here at Westville we have really come together nicely this season as we struggled a little in the first term, but yes overall the competition in KZN is very tough which means that we should see quite a few good players challenging for places in the senior teams soon."
During ones time with Cameron Delport who can't help but get the sense that here is possibly a young cricketer who does have something which is special. Serious, focused and confident with no sign of arrogance he seems determined enough to reach out and do whatever it takes to make a name for himself in the sport. His recipe for success?
I would say just work your hardest and back yourself. If you have those negative thoughts in you, you are always going to second guess yourself and have no direction of where your career is heading. Just be positive all the way
Also to listen to everyone who is coaching you. I have been surrounded by guys like Doug Watson who has over 100 first class caps, Phil Russell has coached and played overseas, these are guys with incredible experience and you need to take that all in.
Having being selected for KZN U19 side, played for Kent and Hampshire second XI and chosen to play for England U17 and U19 teams, Cameron Delport has had many memories is his career which is still yet to blossom. Yet perhaps his most memorable moment to date serves to underline what heights he has already reached in the sport and how close he may be to being heard about for years to come.
When I was overseas I was 12th man for Hampshire first team when they played Derbyshire in the semi finals of the Friends Provident Shield tournament and I took a catch and we won the match! After the game the captain Shane Warne gave me one of the wickets and that was a great moment. Kevin Pieterson was also there and I got quite close to him whilst at Hampshire which was pretty good and I also learnt a lot from Shane Warne about his career and how he dealt with the ups and downs. The whole experience was wonderful!