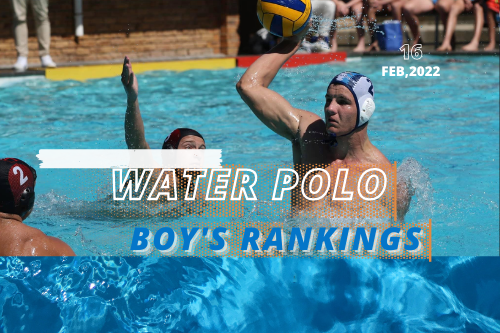 St John's College manage to hold onto the leading position in this week's edition of the Boys Water Polo Rankings, but there is a chasing pack that are challenging hard for the top spot.
SACS produced a powerful display at the Vides Tournament hosted by Selborne College, to enter the rankings within an arms reach of the pinnacle.
Playing against hosts Selborne who boasted the tournament's best goalie, Joshua Carr and best attacker Connor Voke, SACS took the fight to Selborne winning 12-7.
There are still many results outstanding so please send through your water polo results to [email protected]
BOYS  WATER POLO RANKINGS, 16 FEBRUARY 2022

RANK

TEAM

PLAYED

AVG BONUS POINTS

1

ST JOHNS COLLEGE

17

5.52

2

RONDEBOSCH

4

5.46

3

SACS

12

5.36

4

WESTVILLE

4

5.00

5

BISHOPS

13

4.87

6

CLIFTON

19

4.00

7

ST DAVIDS

14

3.91

8

HILTON COLLEGE

12

3.85

9

SELBORNE COLLEGE

18

3.49

10

ST STITHIANS

14

3.42

11

 PAUL ROOS GYM

20

3.19

12

ST ANDREWS COLLEGE

19

3.17

13

AFFIES

6

2.84

14

KEARSNEY COLLEGE

8

2.76

15

GREY COLLEGE

10

2.74

16

ST ALBANS COLLEGE

16

2.74

17

GREY HIGH SCHOOL

12

2.70

18

MICHAELHOUSE

10

2.60

19

ST BENEDICTS

10

2.58

20

KES

6

2.49

21

JEPPE

12

2.34

22

NORTHWOOD

8

2.27

23

GLENWOOD

9

2.20

24

WYNBERG

8

2.01

25

PEARSON

10

1.98

26

MARITIZBURG COLLEGE

3

1.81

27

REDDAM Con

11

1.67

28

GLENWOOD HOUSE

3

1.62

29

PRETORIA BOYS HIGH

5

1.61

30

KINGSWOOD

13

1.56

31

ST PETERS

4

1.47

32

STIRLING

11

1.28

33

REDDAM HELDER

6

1.03

34

CRAWFORD LONEHILL

6

0.46