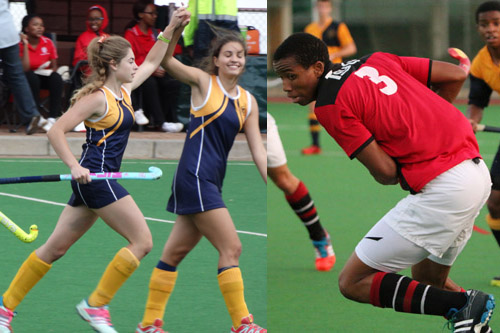 The growth of school hockey in the country has accelerated during the past decade with many more schools able to compete on their own Astro and synthetic fields.
In addition, the amount of festivals and tournaments has also increased further stimulating the interest and quality of school hockey across the various provinces. Covid-19 sadly put an end to any hockey taking place in 2020 and what would have been the biggest year for school hockey unfortunately never even started.
However, as the decade draws to an end we have taken a look at the Boys' and Girls' rankings since their inception in 2012 and generated a Boys' and Girls Hockey Rankings for the Decade.
Amongst the Boy's, Maritzburg College prove to be the dominant and most constant team of the decade followed closely by Westville and Jeppe.
Oranje Meisies are without rival in the Girls Hockey Rankings only losing a handful of matches during the decade and winning every trophy on offer. St Mary's Waverely and St Mary's Kloof round out the top 3 with Paarl Gim just missing out on the bronze.
2021 hopefully will make up for the lose of this year's season and school hockey will once again take its place as one of the top sports in the country.
BOYS HOCKEY RANKINGS FOR DECADE 2012-2020

RANK

TEAM

AVG PTS BONUS PTS

1

MARITZBURG COLLEGE

25.22

2

WESTVILLE BH

23.20

3

JEPPE

22.78

4

RONDEBOSCH

22.75

5

PAUL ROOS GYM

22.44

6

GREY HIGH SCHOOL

22.18

7

BISHOPS

22.12

8

KEARSNEY COLLEGE

21.91

9

PRETORIA BOYS HIGH

21.37

10

SELBORNE COLLEGE

19.99

11

HILTON COLLEGE

19.61

12

SACS

19.57

13

NORTHWOOD

18.98

14

CLIFTON

18.86

15

GREY COLLEGE

18.09

16

ST JOHNS COLLEGE

18.06

17

ST DAVIDS

18.00

18

WYNBERG BH

17.57

19

GLENWOOD

16.99

20

ST ANDREWS COLLEGE

16.64

21

AFFIES

15.88

22

ST ALBANS COLLEGE

15.83

23

MICHAELHOUSE

15.80

24

YORK HIGH

15.55

25

WOODRIDGE

14.79

26

FAIRMONT

14.50

27

QUEENS COLLEGE

14.21

28

KES

14.01

29

OUTENIQUA

13.91

30

GARSFONTEIN

13.78

31

ST STITHIANS

13.78

32

PEARSON

13.68

33

ST CHARLES COLLEGE

13.60

34

WORCESTER GYM

12.57

35

HUDSON PARK

12.32

36

MENLOPARK

12.15

37

KRUGERSDORP

12.12

38

PARKTOWN

12.01

39

PAREL VALLEI

11.72

40

CAMBRIDGE

11.26

41

ST ANDREWS SCHOOL

10.52

42

DALE COLLEGE

10.44

43

KINGSWOOD

10.18

44

OAKHILL

9.95

45

ST BENEDICTS

9.82

46

STELLENBERG

9.55

47

PAARL GIM

9.36

48

SOMERSET COLLEGE

9.34

49

WATERKLOOF

9.20

50

EDGEMEAD

9.11

51

PAARL BOYS HIGH

8.87

52

GLENWOOD HOUSE

8.55

53

UPLANDS COLLEGE

8.55

54

NOORDHEUWEL

7.53

55

BEAULIEU COLLEGE

7.43

56

TRINITYHOUSE

7.07

57

STIRLING

6.90

58

DF MALAN

6.89

59

POTCHGIM

6.79

60

CORNWALL HILL

6.67

61

CRAWFORD LA LUCIA

5.56

62

DHS

5.24

63

JIM FOUCHE

5.12

64

PINELANDS

5.09

65

ALEXANDER ROAD

5.06

66

MIDDELBURG

4.90

67

ST DOMINICS

4.69

68

CURRO DURBANVILLE

3.95

69

GRAEME

3.95

70

FAIRBAIRN

3.94

71

NELSPRUIT

3.80

72

NORTHCLIFF

3.70

73

HELPMEKAAR

3.66

74

BRIDGE HOUSE

3.50

75

CRAWFORD LONEHILL

3.11

76

PIETERSBURG

3.08

77

POTCH BH

2.98

78

VICTORIA PARK

2.97

79

SWARTLAND

2.87

80

MERRIFIELD

2.70

81

PENRYN

2.68

82

HERMANUS

2.67

83

DURBANVILLE

2.32

84

THOMAS MORE COLLEGE

2.23

85

ZWARTKOP

2.20

86

WESTERING

2.12

87

ELDORAIGNE

2.06

88

RUSTENBURG

2.06

89

EVANDER

2.03

90

ERMELO

1.95

91

CHARLIE HOFMEYR

1.69

92

JEUGLAND

1.66

93

CRAWFORD NORTH COAST

1.62

94

MILNERTON

1.23

95

MIDSTREAM

1.03

96

DRIEHOEK

0.79

97

WITTEBERG

0.71

98

HUGENOTE

0.60

99

MONUMENT

0.43

100

WESTERFORD

0.25
GIRLS HOCKEY RANKINGS FOR DECADE 2012-2020

RANK

TEAM

AVG PTS BONUS PTS

1

ORANJE MEISIES

29.86

2

ST MARYS WAVERLEY

25.36

3

ST MARYS KLOOF

24.77

4

PAARL GIM

23.78

5

HERSCHEL

23.61

6

MENLOPARK

22.52

7

EUNICE

21.95

8

ST STITHIANS

21.72

9

CLARENDON

21.69

10

PEARSON

21.58

11

DSG

21.06

12

BLOEMHOF

20.78

13

DURBAN GC

20.07

14

COLLEGIATE

19.70

15

RHENISH

19.38

16

KINGSWOOD

19.33

17

WATERKLOOF

18.71

18

SPRINGFIELD

18.36

19

GARSFONTEIN

18.02

20

HUDSON PARK

17.79

21

PAREL VALLEI

16.89

22

ST ANNES

16.69

23

WOODRIDGE

16.55

24

PMB GIRLS

16.10

25

STELLENBERG

15.86

26

ST ANDREWS GH

15.43

27

RUSTENBURG

15.36

28

VOORTREKKER BETH

14.87

29

PAARL GIRLS HIGH

14.79

30

STIRLING

14.75

31

WYKEHAM COLLEGIATE

14.66

32

SOMERSET

14.50

33

AFFIES

14.32

34

WESTVILLE GH

13.96

35

UNION HIGH

13.72

36

DF MALAN

13.12

37

WITTEBERG

13.10

38

FAIRMONT

13.02

39

ST JOHNS DSG

12.82

40

WYNBERG GH

12.27

41

PRETORIA GH

12.24

42

YORK HIGH

12.20

43

CRAWFORD LA LUCIA

12.19

44

BELLVILLE

11.53

45

DIAMANTVELD

11.52

46

BEAULIEU COLLEGE

11.22

47

LADY FATIMA

10.97

48

MONUMENT

10.94

49

KRUGERSDORP

10.87

50

ALEXANDER ROAD

10.77

51

KINGSRIDGE

9.96

52

DANVILLE

9.73

53

OUTENIQUA

9.59

54

KINGSMEAD

9.44

55

BRESCIA

8.72

56

FRAMESBY

7.73

57

CRADOCK

7.66

58

PETERHOUSE

7.59

59

EPWORTH

7.39

60

ELDORAIGNE

7.22

61

NOOD KAAP

7.20

62

NOORDHEUWEL

7.13

63

ROEDEAN

7.08

64

PENRYN

6.86

65

CAMBRIDGE

6.76

66

TRANSVALIA

6.60

67

ST CYPRIANS

6.42

68

QUEENSTOWN

6.22

69

THOMAS MORE COLLEGE

6.00

70

HUGENOTE SPRINGS

5.61

71

KEMPTON PARK

5.44

72

OAKHILL

5.27

73

FOURWAYS

5.26

74

CORNWALL HILL

4.61

75

GOUDVELD

4.60

76

NORTHCLIFF

4.50

77

LABORI

4.42

78

ST MARYS PRET

4.38

79

PINELANDS

4.34

80

MIDDELBURG HS

4.28
Check who is the leading rugby teams of the decade here
Please consider subscribing to our Youtube Channel