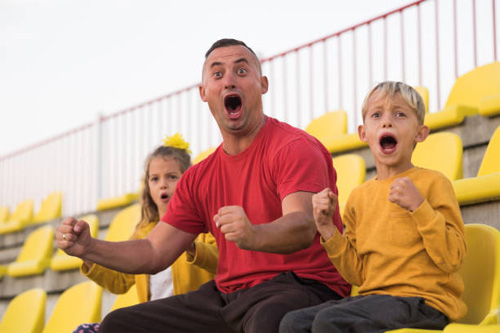 Behind every school athlete is an exhausted parent.
You will find these moms and dads quivering on the stands, wrapped in blankets and coats. They are holding umbrellas while they show up in rain, hail, and snow. They applaud on their kid at every game because that is what they do.
Standing With Every Athletic Teen
You will see them perspiring on the side-lines, soaked near poolside, and roasting behind the boundary in the hot summer sun as the hours groan on. Moms endlessly spray sunscreen. Dads keep the cooler full of replenishing drinks and nourishing snacks because that is what they do.
They will sit in the stands in stuffy indoor centres and cold sports arenas for long hours and even longer days to support their athlete because that is what they do.
You will meet them at every team meeting. They are taking notes, scribbling to complete forms, and scheduling all the dates and times. There's training, conditioning, games, trials, competitions, and tournaments. But they also cram their calendars with many mandatory volunteer positions, and additional responsibilities because that's what they do.
You will realize they are always in the car, driving their athlete to and from all the things related to their sport, filling up days, weeks, and months because that's what they do.
That's What They Do
These parents of athletes are out of town often, traveling hundreds of kilometres with packed cars full of equipment, uniforms, overnight bags, and coolers, adding hotel stays to their growing credit card bills and filling up petrol tanks and hungry stomachs at every stop because that's what they do.
You will wonder why they are so busy, and why they look so exhausted all the time. You will question why they cannot make plans or call you back or take the time to do much of anything else during their child's sports season. But if you looked at their calendar, you would know the reality that is being a parent of a teen athlete.
The truth is parents of teen athletes can't commit to much else. They are rearranging schedules, sacrificing work hours and much of their personal lives to support their kid—because that is what they do.
Parents of Athletes
What you might not see, notice, or appreciate about parents of athletes is all the hard work, the dedication, and the commitment that goes on behind the scenes. They are there, supporting their athlete through all of those celebratory wins and victorious moments, as well as the tough calls, hard losses, missed trys, and all the anguish, hard work, and relentless perseverance that teen athletes endure.

Because the reality is this: The demanding dedication of any teen athlete requires a parent who is equally invested and passionately devoted to their kid. 
Parents of teen athletes realize early on that for their kid to embrace the sport, fuel their passion, develop the skill, engage with the team, grow in character, and enjoy their experience, it takes the sacrificial support from their parents to make it happen.
And when you are a parent of a teen athlete, you will be exhausted, overscheduled, overwhelmed, and over budget, but the payoff is worth every depleting detail of all that you do for your kid.
Because parents of teen athletes get to experience an extraordinary journey with an intimate view, an emotional ride, and a profound sense of pride in escorting their kids down an incredibly challenging and rewarding road.