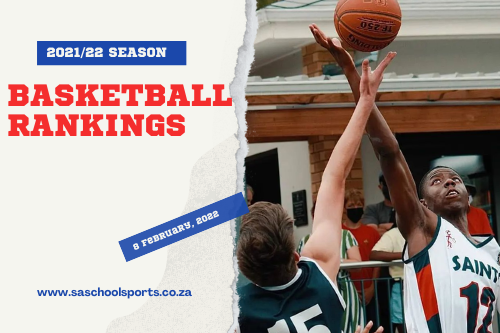 St John's College hang onto the top spot on the the First Team Basketball Rankings after continuing their good run of form from 2021.
Victories over KES, St David's have helped St John's stay at the top but St Stithians put together a dominant performance to take their scalp a couple of week's back and suggest that they too may be the team to watch.
The Basketball Rankings are reflective of matches played during the 2021/22 season.
Please send through your team's results to [email protected]
FIRST TEAM BASKETBALL RANKINGS 8 FEBRUARY 2022

RANK

TEAM

 PLAYED

 AVG PTS BP/ MATCH

1

ST JOHNS COLLEGE

15

3.05

2

ST ALBANS COLLEGE

12

3.02

3

NORTHWOOD

26

2.78

4

PRETORIA BOYS HIGH

8

2.52

5

KEARSNEY COLLEGE

12

2.45

6

ST DAVIDS

28

2.39

7

MARITZBURG COLLEGE

12

2.31

8

MICHAELHOUSE

20

2.23

9

ST CHARLES COLLEGE

26

2.04

10

HILTON COLLEGE

26

2.04

11

ST BENEDICTS

29

1.95

12

ST STITHIANS

25

1.63

13

JEPPE

3

1.62

14

WESTVILLE

9

1.47

15

DHS

4

1.45

16

KES

8

1.06

17

GLENWOOD

4

1.04

18

ST PETERS COLLEGE

4

0.87

19

MICHAELMOUNT

10

0.63

20

PARKTOWN

3

0.61

21

CLIFTON

22

0.63

22

CBC BOKSBURG

2

0.19

23

BISHOPS

4

-0.05