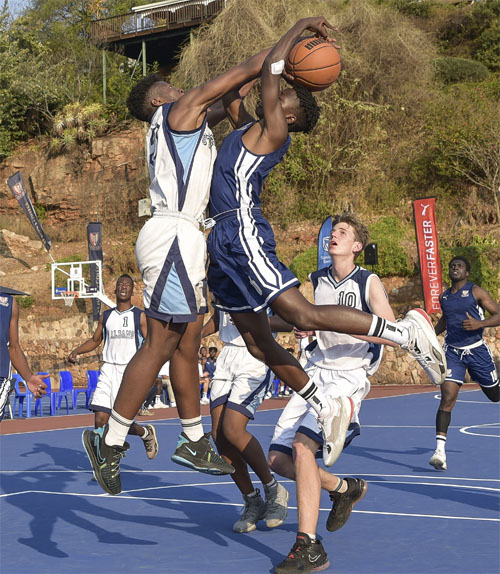 Youth talent was on abundant display as 32 basketball teams thrashed it out over four days at southern Africa's biggest boys' school basketball tournament over the weekend (5 September, 2021), hosted by St John's College in Johannesburg.
 The 15th St John's College Basketball Tournament — proudly sponsored by Standard Bank and brought to you by SuperSport Schools in association with Puma and Shesha Hoops Lounge —  took place from 2 to 5 September. Postponed from its traditional date in February due to COVID-19, the event took place at the St John's courts as a non-spectator event with strict COVID-19 protocols followed by players, coaches and event staff, in line with regulations set out by the Department of Basic Education.
 Our partnership with SuperSport Schools allowed us to stream the games live to friends, families and fans worldwide during the non-spectator event, ensuring that nobody missed out on the action.
 "The St John's Basketball Tournament attracts the top boys' teams, talent and sponsorship in southern Africa. This year's restricted but exceptionally competitive tournament showcased the extraordinary growth of basketball as a school and club sport and the passion and skill on display took our breath away," said Mr Stuart West, Executive Headmaster at St John's College. "Congratulations to the winning teams."
Our headline sponsor for the 2021 Tournament was Standard Bank, whose sponsorship initiatives contribute to sports development, community upliftment and the arts. "As a bank, sponsorship in both arts and sport are essential and this is a valuable part of our social responsibility journey. We thank St John's for the opportunity to assist with the Basketball Tournament this year," said Lindy-Lou Alexander, Head, B&M Consumer & High Net Worth Client Segment, Standard Bank.
 PUMA, with SHESHA Hoops Lounge, brought its signature sense of style to the 2021 tournament, kitting out the St John's College teams as well as the coaches and referees.
 Youth talent was on energetic display, with baskets galore on the newly surfaced facility. 32 teams from across South Africa played over the four days, culminating in an exciting day of finals on Sunday 5 September. As host, St John's was delighted to secure a spot in each divisional final, but strong competition meant victory was far from guaranteed.
 In the U13 final, Michael Mount Waldorf School were too strong for St John's College and won by a convincing 38 points to 20. The U15 final went down to the final minutes. St John's College ran down the clock to snatch a three-point victory against arch Gauteng rivals, St Stithians College, with a final score of 42 points over 39.
 In the U19 final, the St John's College first team came up against Pretoria-based St Alban's College team, who played exceptionally well throughout the tournament. St Alban's drew first blood with an electric lay up in the open minute and continued to lead from the front, making it difficult for the hosts to catch the visitors. Both teams drew level towards the end of the third quarter, where they were squared at 21 points each. But victory belonged to St Alban's as they pulled away in the final quarter, sealing the win with an emphatic 38 points to 23.
 The players received gold, silver and bronze medals for their places in the finals and trophies were awarded to the All-Star and Most Valued Players, along with a hamper courtesy of Puma and Shesha Hoops Lounge.
 Mrs Phiri-Mazarura, Head of Basketball at St John's College has been responsible for the tremendous growth and success of this tournament during her time at the school. It is with sadness that we will be saying farewell to her at the end of this year. "The tournament has been in existence for 15 years and I have been involved for the past eight years. I know that St John's will continue to build on the success of this world-class sports event that supports the growth of schoolboy basketball in southern Africa," she said.
 U13 Category
Winners: Michael Mount Waldorf School
Most Valued Player: Luca Amerseder, Michael Mount Waldorf School
All-Stars: Ama Ntsubane, St John's Preparatory; Shalako Mda, Michael Mount Waldorf School; Siyabonga Mashaba, Phoenix Basketball Club; and Sizwe Ngwenya, Soweto Academy.
U15 Category
Winners: St John's College
Most Valued Player: Nathan Tswatswa, St John's College
All-Stars: Nathi Maseko, St John's College; Galaletsang Masite, Mangaung Knights; Ayanda Sekale, Soweto Academy; and Sima Bobo, St Stithians College.
U19 Category
Winners: St Alban's College
Most Valued Player: Thabo Masilela, St Alban's College
All-Stars: Francois Van Rensburg, St Alban's College; Takudzwanashe Sithole, St John's College; James Laynes, St Charles College; and Nkosinathi Masina, Soweto Academy.