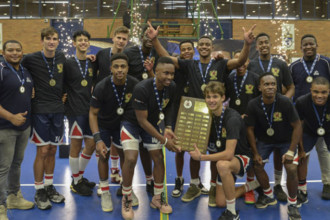 The tournament featured 56 teams from Southern Africa playing in three age groups – U13, U15 and U19 – on the courts at St John's and Wits from 27 February to 1 March. The format of the competition included a round-robin phase with the top sides going on to play in the knockout stages.
St John's College made their first final appearance since 2008 in an exciting game against Michaelhouse from the Kwazulu Natal Midlands. The boys from Balgowan played hard to claim an emphatic 48-40 win over the hosts to a full crowd in the Old Mutual Sports Hall at Wits.
St John's first had to overcome a tough semi-final match-up against crosstown rivals and 2019 champions St Stithians College who they defeated 30-25 in a game that played with the ball moving back and forth at high speed. Michaelhouse faced St David's Marist, Inanda in their semi-final where patience and effort earned them a 23-17 victory to secure them a spot in the final against St John's.
The final had a quick start as both teams hammered away at each other with St John's enjoying early exchanges on the scoreboard. Michaelhouse did not shy away from the challenge, despite a seven point deficit in the early stage of the match up. They went on to dominate in size and strength with a defence that was on top form in the third and fourth quarters, allowing them to command the game. J Oelofse (7) was an instrumental player in the Michaelhouse side, always there to bag the points at crucial moments. In the end, patience and balance in both attack and defence saw Michaelhouse secure a 48-40 win over the hosts.
The inaugural U15 title went to Usutu Forest School from Swaziland who managed to defeat Heideveld Secondary School from the Western Cape with a final score of 53-34 in their final game. Usutu Forest worked hard and well as a unit throughout the tournament, diligently making their way past their opponents. The final was no different, with a reasonably high scoring game. They might have fallen behind early in the early stage but quickly made it up to secure their position as the 2020 U15 St John's College Basketball Tournament champions. Heideveld Secondary earned second place with the third spot taken by the Soweto Academy, who won their game against St Charles College.
The U13s final was played between St Peter's Prep and Sacred Heart College, which saw St Peter's edge past their opponents with a tight score of 28-27. Highbury Prep from Durban earned third place after their victory against Michael Mount Waldorf School.
"The performance by all the boys and level of basketball played was outstanding," said Ngoza Phiri-Mazarura, Head of Basketball at St John's College. "The finalists in the various age groups came from Johannesburg, Kwazulu Natal, Swaziland and Cape Town, showing the depth and growth of basketball in South Africa and the Southern African region. St John's College is proud to host a tournament that showcases this talent."
U19:
1st Micahelhouse
2nd St John's College
3rd St Stithians
U15:
1st Usutu Forest School, Swaziland
2nd Heideveld Secondary School, Western Cape
3rd Soweto Academy
U13:
1st: St Peter's Prep
2nd: Sacred Heart College
3rd. Highbury Prep, Durban
All Star teams from the three age groups were named at the end of the tournament weekend, along with a Most Valuable Player, recognising players who had performed consistently well throughout the competition.
U13 All Star team:
M Mkhize (Highbury Prep), L Amerseder (Michael Mount Waldorf School), O Motaung (Sacred Heart College), and A Sithole (St Peter's Prep)
MVP – S Tekana (St Peter's Prep)
U15 All Star team:
B Makenge (St Charles College), M Mene (Soweto Academy), M Dantu (Heideveld Secondary) and M Shabangu (Usutu Forest School)
MVP – L Manzini (Usutu Forest School)
U19 All Star team:
J Jinah (St David's Marist, Inanda), I Anagu (St John's College), N. Gumbo (St Stithians) and K Khumalo (Michaelhouse)
MVP – J Oelofse (Michaelhouse)