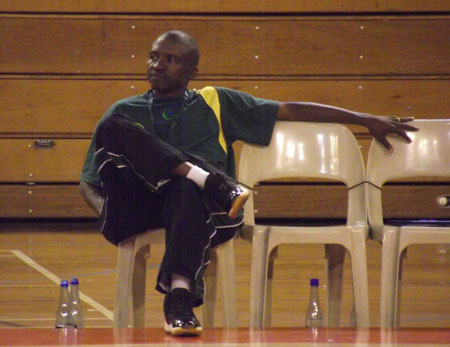 Some coaches believe winning is everything. Others, like Ronald Garura, believed winning without a certain degree of authority and style is meaningless.
The legendary Zimbabwean basketball coach died on Thursday in a South African hospital where he had been admitted following a short illness, but his legacy in the local basketball fraternity leaves on.
Born on February 13, 1971, Garura's character was highlighted by an almost stubborn hard-line stance on discipline, a feat that earned him the moniker "Coach Carter" amongst the many ball players he coached for the better part of two decades.
As a player, his resilience and skill endeared him to teammates and opponents alike.
Garura rose to prominence in the 1980's at St Johns High School (Emerald Hill) in Harare.
Interestingly, after his school days, the multi-talented Garura became a key member of the historical Old Malvernians rugby team.
Playing at centre, Garura helped the side became one of the first black club sides to make a mark on the then white dominated rugby scene.
Coming back to basketball, Garura broke into the Mashonaland Basketball Association league in 1990, where he began a decade-long fruitful journey at the now defunct Kingdom Cavaliers as a player and later as coach.
Despite being a freshman in 1990, Garura needed no further introduction as he went on to scoop the Most Valuable Player award in the Barclays-sponsored tournament.
Garura's talents were sufficiently good enough to earn him a basketball scholarship through the Basketball Union of Zimbabwe and Fiba under Olympic Solidarity, which allowed him to get a college attachment in the United States.
He returned home a year later and re-joined the ranks of Cavaliers.
Playing alongside the likes of then captain Garikai Kapuya, Fred Manyawu, Bright Chidimu and Hugh Hofisi, Cavaliers were invincible and dominated local basketball for the better part of that decade.
It came as no surprise when Zimbabwe's 1995 All-Africa Games basketball men's team was named and the core of that side was Cavaliers.
The 1995 All-Africa Games, hosted by Zimbabwe, proved a turning point for the sport in the country. Zimbabwe produced memorable performances that included narrowly losing to regional giants Angola by just 12 points.
Domestically, Garura went on to harvest multiple MVP awards.
He later formed Waterfall Trailblazers with a group of friends.
He, however, remained a Cavaliers player while coaching Trailblazers at the same time.
Ironically, Cavaliers and Trailblazers became so dominant that they often clashed in finals of tournaments.
On one such occasion, Garura played for Cavaliers whilst the Trailblazers assistant coach was elevated to head coach.
Garura's close friend, Lionel Mushonga, relives Garura's countless duels with Cameroonian Samuel Foko, who played for Sixers.
"Whenever Cavaliers played Sixers, the duels between Samuel Foko and Ronald were something else. They were both a marvel to watch," Mushonga recalled.
At the end of his playing career, Garura was appointed Zimbabwe men's team coach, a post he held for 12 years between 1998 and 2010, before taking over the women's side until the time of his death.
During this reporter's school days at Prince Edward, I had the privilege of watching Garura coach the school's first team, the Panthers.
It was one of the best schools basketball sides of our era. His stance on discipline was his hallmark.
His team include such fine players as power forward Costa Dinha, (now Zimbabwe rugby captain), the late Zimbabwe basketball prodigy Takunda Chidimu as well as the mercurial Ronald Msiska. Despite being quality players, they were never allowed to play to the gallery by the no-nonsense coach, lest they lose their places in the team.
Last year's All Africa Games in Maputo proved to be Garura's last tournament as a coach.
And what a way to bow out.
The Zimbabwean women claimed the scalp of continental powerhouse Democratic Republic of Congo, a first in the history of Zimbabwean basketball.
The team finished in the top 10.
Zimbabwe Olympic Committee chief executive Anna Mguni, who was club-mates with Garura during her second stint with Cavaliers, was at loss for words.
"Ronald was exceptional," Mguni told the Daily News.
"He was such a sportsman. You can imagine Ronald was short, but the things he could do on the court were exceptional, even pulling rebounds on tall players, what a player. I have lost a friend and a brother."
Former Cavaliers captain Kapuya described Garura as a "loyal servant of Zimbabwean basketball."
"After winning that MVP award in his first year, he never looked back. I was never afraid to retire because I knew Cavaliers was in safe hands," said Kapuya.
Garura's body was expected from South Africa yesterday and burial arrangements were not yet confirmed at the time of going to print.
Rest In Peace, Zimbabwean basketball stalwart. You've made your last dunk.
Till we meet again.