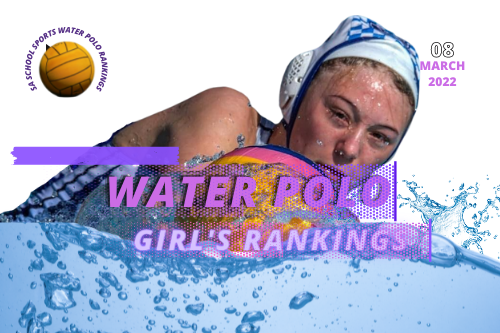 The 2022 season was one which saw two teams duelling it out to hold the No.1 position on the Girl's Water Polo Rankings.
Crawford Lonehill have enjoyed a brilliant season beating the best in the country and picking up the trophies along the way. St Stithians though dug deep in the Reef Cup to hand Crawford a nail-biting 7-6 defeat in the final of the Reef Cup.
Earlier this year it was Crawford who had managed to outplay Saints in the final of the Brian Baker Tournament (13-7) so the Reef Cup triumph would have been sweet revenge.
Please send through your results to [email protected]
GIRLS WATER POLO RANKINGS, 8 MARCH, 2022

RANK

TEAM

PLAYED

AVG BONUS PTS

1

CRAWFORD LONEHILL

25

5.07

2

ST STITHIANS

31

4.95

3

CLARENDON

22

3.92

4

RHENISH

9

3.89

5

HERSCHEL

16

3.77

6

REDDAM CON

17

3.50

7

ROEDEAN

19

3.25

8

ST DOMINICS

24

3.22

9

KINGSWOOD

20

3.19

10

DSG

16

3.07

11

COLLEGIATE

19

3.02

12

KINGSMEAD

20

2.96

13

DURBAN GC

22

2.92

14

DURBAN GHS

3

2.69

15

PEARSON

16

2.64

16

ST MARYS WAVERLEY

23

2.61

17

ST ANNES

8

2.60

18

GLENWOOD HOUSE

15

2.41

19

WYNBERG GH

10

2.18

20

REDDAM UMHLANGA

9

2.13

21

ST MARYS KLOOF

3

2.08

22

RUSTENBURG

10

2.01

23

RANDPARK

20

1.87

24

STIRLING

15

1.67

25

BEAULIEU

8

1.60

26

WESTERFORD

10

1.53

27

ST PETERS

19

1.49

28

REDDAM BEDFORDVIEW

19

1.47

29

MARIS STELLA

9

1.26

30

HUDSON PARK

7

1.18

31

THOMAS MORE COLLEGE

7

1.16

32

ALEXANDER ROAD

16

0.96

33

SPRINGFIELD

10

0.71

34

FOURWAYS

9

0.55

35

DAINFERN

6

0.36

36

PRETORIA GIRLS

12

0.24
Photo: Debbie Adcock