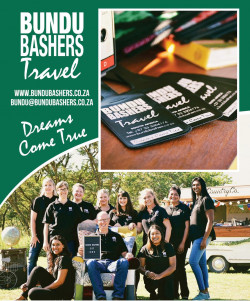 Bundu Bashers Travel is a travel company that specialises in group travel, mainly school groups. We have been arranging tours since 1995 and are very proud of our record. We have had the opportunity to arrange tours for some of the best schools in South Africa and other countries.
We are affiliated with ASATA and IATA and have been working with our local and overseas service providers for many years, some for as long as we have been operating. As such, we are confident of the high level of service our groups will receive both locally and abroad. Bundu Bashers Travel also holds an Air Travel Organiser's Licence (ATOL 5904) issued by the Civil Aviation Authority in the United Kingdom.
We arrange complete packages which include all air and ground arrangements as well as fixtures against other schools / clubs.
Please visit our website for more information and where you will find a reference list of schools that have traveled with us recently.
Address:
64 Main Street
Howick
KwaZulu-Natal
3290